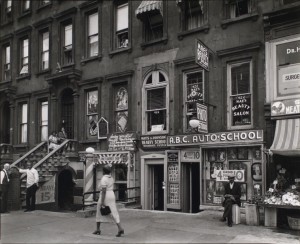 Above: A shave for 15 cents and a haircut for a quarter, found in Harlem on 422-424 Lenox Avenue, photographed by Berenice Abbott on this date in 1938. The business next door advertises '4 radio photo poses' for a dime. The stoop on the left leads up to a small church.
Thanks to everybody for voting last month in the Partners in Preservation initiative, sponsored by American Express and the National Trust for Historic Preservation. Although four sites were ultimately declared the winner based on votes — congrats again to the Brooklyn Public Library, Congregation Beth Elohim, the New York Botanical Garden, and the Bartow-Pell Mansion Museum! — the remainder of the grant money was being distributed to several other nominees, based upon the decision of an advisory committee made up local civic, business and preservation leaders.
Those other grant honorees have finally been announced today, and you can find the entire list of 16 additional winners here.
However I'm happy to say that the subject of our May podcast, St. Marks-in-the-Bowery, was one of the chosen sites and will have their entire grant request fulfilled, to enable them to restore that stunning 1858 portico, designed by the 'king of cast-iron' himself James Bogardus.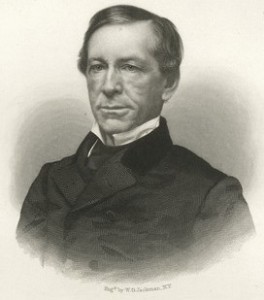 Two others nominees that I wrote about last month — the Henry Street Settlement and the Alice Austen House — have also been chosen and will be awarded their entire amount, to help with improvements and upgrades at both sites.
———————
And on an unrelated note, one of New York's most controversial mayors, Fernando Wood (at right), was born 200 years ago today. A powerful speaker and politician, Wood fanned the flames of partisanship during the Civil War, siding with the 'copperhead' (anti-war, pro-South) contingent and often using local politics as a stepping stone for national recognition.
In other words, a bastard, but one that our city's history could not do without.
Another subject of a solo podcast also celebrates a birthday today: Donald Trump. Here's links to listen to the Fernando Wood show and the Donald Trump show.
Photo courtesy NYPL