WARNING The article contains a couple light spoilers about last night's 'Mad Men' on AMC. If you're a fan of the show, come back once you're watched the episode. But these posts are about a specific element of New York history from the 1960s and can be read even by those who don't watch the show at all. You can find other articles in this series here.
The 1960s were obviously momentous for American culture and for New York specifically. But that decade was especially strange for Central Park.
Olmsted and Vaux's urban oasis was a well-trodden destination for protest in the 1960s, a haven for "be-ins" and demonstration (with a little free love thrown in, I imagine). In December 1967, agitated anti-war protesters even burned a Christmas tree. Two years later, the first gay pride parade would also culminate here. (Here's some video of the second pride celebration in Central Park the following year.)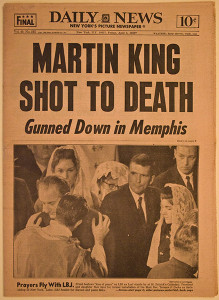 Almost 24 hours after Dr. Martin Luther King Jr was assassinated in Memphis on April 4, 1968, angered New Yorkers — mostly students — gathered for a rally in Central Park at the Naumberg Bandshell to honor the man's extraordinary life and to cope with the sudden, inconceivable loss.
At right: The unusual headline from the New York Daily News. This particular front page popped up on last night's show. Did you catch it?
The city was in a veritable lock down throughout the day, with many businesses and schools closing early on April 5. In case you couldn't make it into the city that evening — and given reports of rioting, many chose to stay home — the ceremonies were actually broadcast by WBAI. (You can download a recording of the broadcast here, courtesy Pacifica Radio Archives.)
Those invited to speak at the gathering were friends and admirers from a variety of fields. Looking at the list of speakers, perhaps the most unusual one that jumps out is Dr. Benjamin Spock, the famed pediatrician and best-selling novelist. Spock was an ardent, high-profile protester of the Vietnam War and a friend of Dr. King's, frequently seen at his side in 1967 at war protest events.
Others who spoke at the rally included actor Ossie Davis and activists Florynce Kennedy and James Forman. Perhaps the most damning words were spoken by Jarvis Tyner, chairman of the DeBois Clubs of America, who declared that Mayor John Lindsay was poised to send armored tanks to Harlem.
Below: Crowds cross 23rd Street on their way to City Hall. Picture courtesy NYT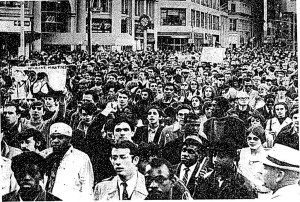 Things got rather out of hand once the rally turned into a march down Broadway to City Hall. According to the New York Times, throngs of students filtered down the streets, occasionally breaking windows along the way. Trying to stem the violence among their number, others were heard shouting. "Let's keep order for Martin Luther King."
The following day, mourners marched from Harlem to an all-faith rally held by local religious leaders in the park.. (It seems likelier that this was the event attended by Megan and her step-children!)
On last night's episode of 'Mad Men', we see Don's own reaction to the tragedy — going to see 'Planet of the Apes' with his son! According to the same article, this was not an unusual reaction after the tragedy. While other forms of entertainment saw a notable decrease in attendance, movie theaters saw no such effect, even with fears of a possible riot awaiting moviegoers when they left the theater. "Times Square movie theaters reported either normal or better than usual crowds and both the Baronet and Coronet Theaters on Third Avenue at 59th Street said they had long lines of people waiting to buy tickets for the early evening shows."
The April 5th rally for Martin Luther King wasn't even the most unusual thing to happen in Central Park that day. That distinction would go President Lyndon B. Johnson, who planned a surprise trip to the United Nations that day and touched down his helicopter in the park!