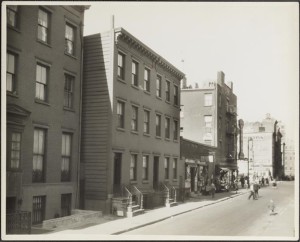 A 1932 photo of 34-36 Barrow Street by Charles Von Urban, courtesy the Museum of the City of New York. Click here to see what this section of the street looks like today
In this week's Ghost Stories of Old New York podcast, Tom speaks of the ghosts at romantic restaurant One If By Land, Two If By Sea, located in an old carriage house that was moved from its original location to its present home on Barrow Street in today's West Village.
Barrow Street is a quiet hook of a path, emanating from the southeast side of Sheridan Square, bending west when it meets odd, little Commerce Street, then wanders westward to the water's edge. If you've ever been lost amid the crooked streets of the West Village — and who hasn't, at some point — then you've certainly stumbled onto Barrow.
The road that became Barrow was close to the estate of Richmond Hill, the esteemed manor that was once home to America's first two vice presidents, John Adams and Aaron Burr. In the heady post-Revolution period, this path was originally named Reason Street, for Thomas Paine's 'The Age of Reason'. Indeed, Paine once lived at a couple nearly locations, at 309 Bleecker Street and 59 Grove Street (where he died).
As legend has it, however, residents soon took to calling it Raisin Street, both as an accented corruption of the original name and a possible insult to Paine (who was not beloved at the time of his death in 1809).
Raisin Street, most notably, became the home of New York's first 'Orphan Asylum' in 1805. Six orphaned children were placed here under the care "of a pious and respectable man and wife." [source]
While many streets in New York City are named for healthy fruits — Brooklyn produces Pineapple, Orange and Cranberry Streets, for instance — few are named for shriveled ones. In 1807, Trinity Church, the principal landowner of Reason/Raisin Street, directed that the street be renamed for Thomas Barrow, a vestryman and agent for the church.
I'm sure it is a happy accident that a principal character in Downton Abbey is also named Thomas Barrow.