The Van Cortlandt House, 1906

PODCAST This is the Bowery Boys 7th annual Halloween podcast, with four new scary stories to chill your bones and keep you up at night, generously doused with strange and fascinating facts about New York City.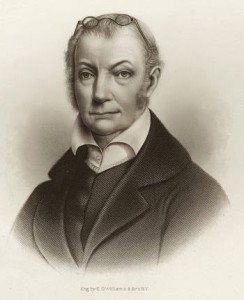 For this episode, we've decided to go truly old-school, reaching back to old legends and tales from the years of the Revolutionary War and early 19th century.   These ghosts have two things in common — George Washington (directly or indirectly) and ghosts! Although no ghosts of George Washington.
We venture to the haunted woods of Van Cortlandt Park for the tale of an Indian massacre and a forlorn servant girl, looking for her master's silver.  From there, we head to the early days of Greenwich Village and tormented vice president Aaron Burr (at right), waiting for his daughter's return.
Meanwhile, over in Brooklyn, the ruins of an old Revolutionary War fort in the future neighborhood of Cobble Hill provide the setting for a horrific tale of a late-night booze run gone wrong.  And, finally, no Bowery Boys Halloween podcast would be complete without an historic cemetery (in this case, the burial ground at St. Paul's Chapel) and the ghost of a dramatic actor — in this case, one without his head!
PLUS: How did Westchester County become so rocky? The Devil did it!
---
A cairn of stones memorializing Danial Nimham at Indian Field in Van Cortlandt Park, in 1906, the year it was placed here by the Daughters of the American Revolution.  The original plaque states that 17 members of the Stockbridge Militia lost their lives, though it's now believed that up to 40 men may have died during the massacre of August 1778. (NYPL)
Looking out the upstairs window of the Van Cortlandt House, looking out in the park. The house has seen its share of strife and, if legends can be believed, more than a few spirits.
Van Cortlandt House as it looked last weekend. What's that in the window?
Richmond Hill, the beautiful mansion home of both John Adams and Aaron Burr.  The carriage house from this old manor was moved to Barrow Street and is today the restaurant One If By Land, Two If By Sea. (NYPL)
Theodosia Burr, the daughter of Vice President Aaron Burr, who was mysteriously lost at sea. Was she shipwrecked, rescued by an Indian prince, or forced to walk the plank? (Courtesy NYPL)
A short remnant of Red Hook Lane still exists in downtown Brooklyn.  You are unlikely to find anything too scary at this street corner however.
A 1822 illustration of the George Frederick Cooke monument and the man who paid for it, actor Edmund Kean.  Kean so admired the late actor that he actually took a very odd portion of his body back with him to England.
The monument to George Frederick Cooke in the graveyard at St. Paul's Chapel, pictured here sometime in the 1940s.  Does his ghost still linger here? [NYPL]
We had a very chilling event occur as we were recording last weekend.   Just as I began to launch into the ghosts of the Stockbridge Militia, our recording equipment went all insane, spewing out a distorted and very disturbing version of our voices.  It went on for about 20 minutes.  Below is a sampling of the audio.  What do you think — otherworldly interference or a faulty mixing board?