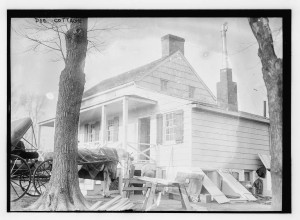 The Edgar Allen Poe Cottage — with horse and buggy! — photographed between 1910-1915. You can visit it as part of Open House New York and even go visit their new visitors center. (Courtesy LOC)
Open House New York is the absolute best time of the year to wander the city and visit dozens of New York City's greatest historical landmarks and architectural wonders. Unfortunately, reservations for many of those places pretty much filled up within ten minutes.
Never fear, for a great many of the most interesting ones don't take reservations and are wander-in-as-you-please type venues. Go to
their website
or pick up a copy of the Open House schedule and stitch together some great weekend plans.
Trust me, I never,
ever
remember to make reservations (although, for the first time ever, I actually did get in a couple this year) so I always rely on the free sites. And there are plenty to choose from.
You can even make a theme day out of OHNY free sites. For instance, do this free tour of Bronx historic homes: the Van Cortlandt House, the Valentine-Varian House, the Bartow-Pell Mansion and the Edgar Allen Poe Cottage, all open this weekend. NOTE: Be aware that the government shutdown has shuttered some of these locations for the weekend. So no Hamilton Grange, no African Burial Ground and no Grant's Tomb!
Below are some my personal recommendations, ten must-see stops for your weekend
. I'll be spending my weekend hitting several Open House sites, including some of those listed below. You can follow along with my trek through the city on Twitter (@boweryboys). I've also made some podcast listening suggestions below; you can download them from the links,
pick them up on iTunes
, or
stream them on Stitcher
and other services.
All the times below are from the Open House New York website. Please check their site before you go for any changes!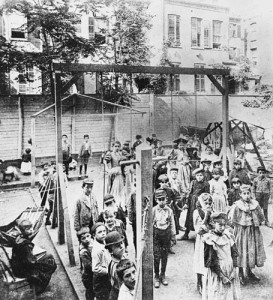 Above: One of the first playgrounds in the city, located in the Settlement yard. You'll see this on your tour. (Pic courtesy Facts on File)
HENRY STREET SETTLEMENT
Manhattan, Lower East Side, 265 Henry Street
Open: Saturday only, with free open tours at 10am, 10:45am, 11:30am, 1:30pm, 2:15pm, 3:00pm, 3:45pm
If you are anywhere near the Lower East Side this weekend, you owe it to yourself to take a look inside here. The Henry Street Settlement is a landmark medical and social-outreach facility, founded 120 years ago by Lillian Wald to serve the over-crowded immigrant community. You have to see how they've stitched together this series of classic old row houses from the inside. Wait until you see Lillian's sleeping porch!
Before you go: Read this profile on the settlement that I wrote last year for the Partners In Preservation program.
NEW YORK MARBLE CEMETERY and NEW YORK CITY MARBLE CEMETERY
Manhattan, East Village, 41 1/2 Second Avenue and 52-74 2nd Street
Open: Sat and Sun, 10am-5pm
Manhattan's two oldest cemeteries are quiet oases from the street, spacious greens interspersed with the grave and vault markers of New York's oldest families. Worth a short visit, even if you've been before. Do you remember a couple years ago when they found some C-4 explosives in the 2nd Street site?
GRAND LODGE OF MASONS
Manhattan, Chelsea, 71 West 23rd Street
Open: Sat and Sun: 11-2pm
I think I recommend this every year. Because it's totally bonkers! These elaborate ceremony rooms dripping in gilded finery will set you imagination ablaze. You'll need three hands to count the number of pipe organs. Paranoid people or those allergic to decorative pomp should probably avoid.
FIFTH AVENUE PRESBYTERIAN CHURCH CLOCK TOWER
Manhattan, Midtown East, 7 West 55th Street
Open Sat 9am-5pm, Sun 12:30pm-5pm
Reservations to the Trinity Church bell tower downtown filled up pretty quickly. But if really, really want to tour a Gothic tower, look no further than this beautiful church's clock tower, which will be open to those in comfortable shoes. Afterwards, just a few minutes east, go take a look at the Mount Vernon Hotel Museum and Garden in one of Manhattan's oldest buildings. (Open Sun 11am-4pm)
FRICK ART REFERENCE LIBRARY
Manhattan, Upper East Side, 10 East 71st Street
Open: Sat-Sun Noon-3pm, tours on the hour
There are a lot of great sites open on Fifth Avenue along Central Park. Start with the Central Park Arsenal and later on, proceed up to the Ukrainian Institute of America, the National Academy Museum and the New York Academy of Medicine, all free. But don't leave out this new addition to the OHNY calendar, the Frick Art Reference Library, built in 1935 and designed by John Russell Pope (better known for the Jefferson Memorial in Washington DC). If you spend your afternoon touring all these buildings along Central Park's east side, you'll feel instantly smarter.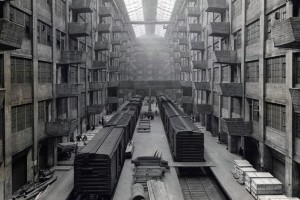 BROOKLYN ARMY TERMINAL
Brooklyn, Sunset Park, 140 58th Street
Open: Saturday 11am-5pm
Believe it or not, this was designed by Cass Gilbert, the same person who gave us the Woolworth Building. Completed in 1919, this was the largest military supply base in the United States through World War II, an awe-inspiring space that today is leased to private tenants.. If industrial architecture fascinates you and you haven't yet seen this building up close, make this your first stop of the day. (Picture courtesy On The Real NY)
Before you go: If you'd like a primer on Gilbert's early New York work, here's my article on Gilbert's three other buildings constructed prior to the Woolworth.
OLD STONE HOUSE
Brooklyn, Park Slope, 336 3rd Street
Open: Sat 9-5pm, Sun 10-5pm
This reconstructed Revolutionary War site is already a favorite for many in the neighborhood. But there's one particularly fascinating reason to visit this weekend — on Saturday, reinactors in period uniforms will play baseball based upon 1864 rules. The Kings County Fiber Festival will also be taking place. You can never have enough fiber in your diet! (Of the crochet variety, that is.)
Before you go: Hear about the history of the Old Stone House in our podcast on New York and the British Invasion 1776. [website] [podcast]
ST. GEORGE THEATRE
Staten Island, St. George, 35 Hyatt Street
Open: Sunday only, 10 am-2pm, with a free guided tour at noon
A few minutes walk from the ferry terminal, this fabulous old theater was built in 1928 and a few years later purchased by William Fox, the powerful movie executive whose name is attached to 20th Century Fox and the Fox Television Network. The stage is frequently used on television and movies. Were you a fan of NBC's 'Smash'? The faux Marilyn Monroe musical was mounted here.
Before you go: Listen to the Bowery Boys podcast on the Staten Island Ferry to learn the origins of the name St. George. [download here] [webpage]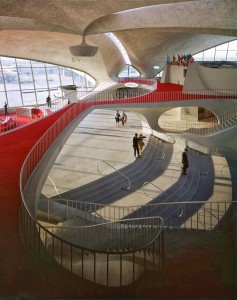 The Trans-World Airlines Flight Center, open this weekend for your intercontinental enjoyment. Pic courtesy Life Magazine.
TWA FLIGHT CENTER
Queens, JFK Airport
Open: 11am-4pm
Yes, this means you'll have to go to the airport without the benefit of having a vacation attached to it. But if you haven't see this Eero Saarinen masterpiece up close yet, it's worth the voyage. One of the most flamboyant examples of modernist architecture still standing, Saarinen's groovy, bird-like structure embodies a way of thinking about flight and broke the mold for fashionable public spaces. I dare you to come out here dressed as a vintage flight attendant.
Before you go: Listen to the Bowery Boys podcast on Idlewild/JFK Airport to discover the secrets to JFK's 'charm bracelet' design. [download here] [webpage]
HINDU TEMPLE SOCIETY OF NORTH AMERICA (GANESH TEMPLE)
Queens, Flushing, 45-57 Bowne Street
Open: Sat-Sun 8am-9pm, free tours at 12, 1:30, 2:30 4pm
One of the most fascinating religious structures in New York, the Ganesh Temple was built in 1970 with granite shrines and imported stone from India. Wandering through with your shoes off is both marvelously peaceful and slightly disorienting. A beautiful, otherworldly gem in the midst of Flushing. And there's a delicious canteen in the basement.