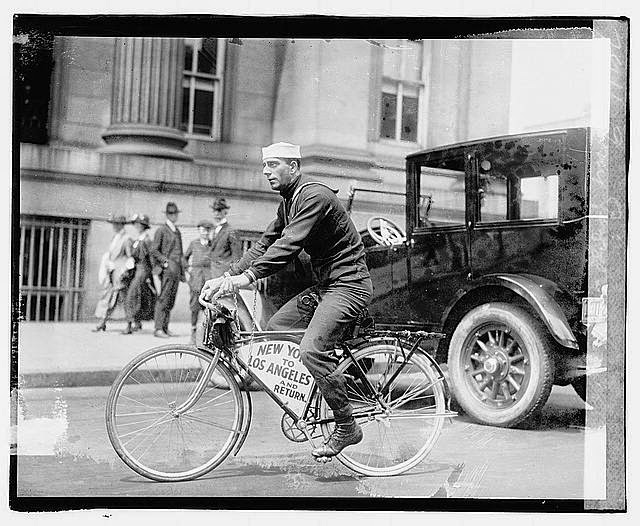 It's Fleet Week! The streets of New York are filled with hundreds of Marines and sailors who arrived yesterday in New York Harbor. I'm pretty sure, however, that none of them hit the streets handcuffed to a bicycle.
That distinction goes to the enigmatic Tony Pizzo who, in 1919, rode his bicycle from Los Angeles to New York City. And then, the following year, he rode it back again.
Pizzo set off from Los Angeles in grand style 95 years ago this week (May 21, 1919), joined by fellow sailor C.J. Devine who was attached to another bicycle. The men were handcuffed to these specially designed bikes during a ceremony in Venice Beach by none other that Hollywood's greatest star — Fatty Arbuckle.
Pizzo embarked on the trip as a dare from Arbuckle, who wagered the sailor $3,500 that he couldn't make it to New York by November 1. Why a military man was wiling away his time doing this in the months after World War I is beyond me. (One press clipping describes him as "a discharged sailor.") In reality this was an elaborate advertising stunt. One newspaper reports that "[t]he men were advertising the Fisk tire, Morrow brakes and Crown bicycles."
"One can hardly realize the trouble that these two riders were put to," remarked the League of American Wheelmen, "for they had to eat, drink, wash and take care of themselves generally while handcuffed to their wheels."
The two men made their way across America, selling souvenir postcards to fund their cross-country journey. Unfortunately, in Kansas, Devine was hit by a car, so Pizzo went the rest of the way alone.
He finally arrived in New York on October 30, greeted by guests at the Hotel McAlpin in Herald Square. He checked into a room still handcuffed to his bicycle and was only separated from the device a day later by Mayor John Hylan.
Pizzo "regarded his bicycle with dislike," according to the New York Times. "[H]e would not do it again for one million dollars."
But, in fact, he did do it again, re-chained to the same bike, riding back to Los Angeles the following year. Fortunately, Devine had recovered from his injuries and accompanied Pizzo as his manager.
Below: From a Philadelphia newspaper, May 1, 1920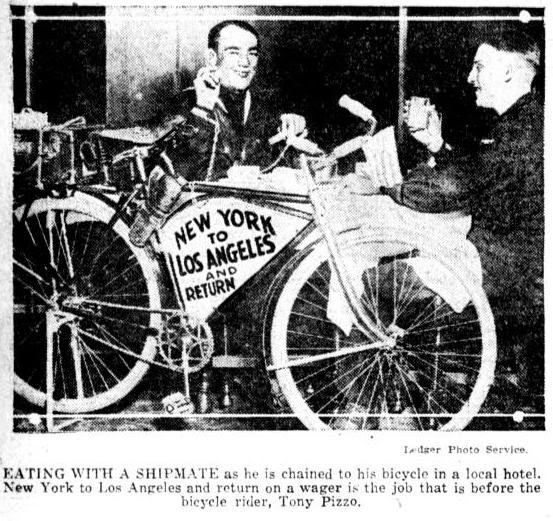 Apparently Pizzo just couldn't stop biking. In 1921, he embarked on another dare, the intent of which is indicated on his retooled bicycle below — to visit the governors of all 48 states. (picture courtesy Flickr/Zaz von Schwinn)