To get this week's episode, simply download it for FREE from iTunes or other podcasting services.

____________________________________________________________________
The young dancer was employed at Maxims on 110 West 38th Street. From a 1916 guidebook: "A famous 'smart' restaurant. A la carte. Music, dancing, cabaret, from 6:30 to close. High prices. Special ladies luncheon at noon." Valentino would use his skills as a struggling actor in Los Angeles and incorporate it into his film work. Below: Valentino with Alice Terry
Valentino's breakthrough film — The Four Horsemen of the Apocalypse. "He paints the town red!" "Each kiss flamed with danger!" Like many of his movies, the plot seems taken from his life. Valentino spent some time as a youth in Paris, dancing and dining his way through the city (and into debt). (NYPL)
The Sheik, the film that made his reputation:
From Blood and Sand (1922) — In this one, the Italian Valentino plays a Spanish toreador. (NYPL)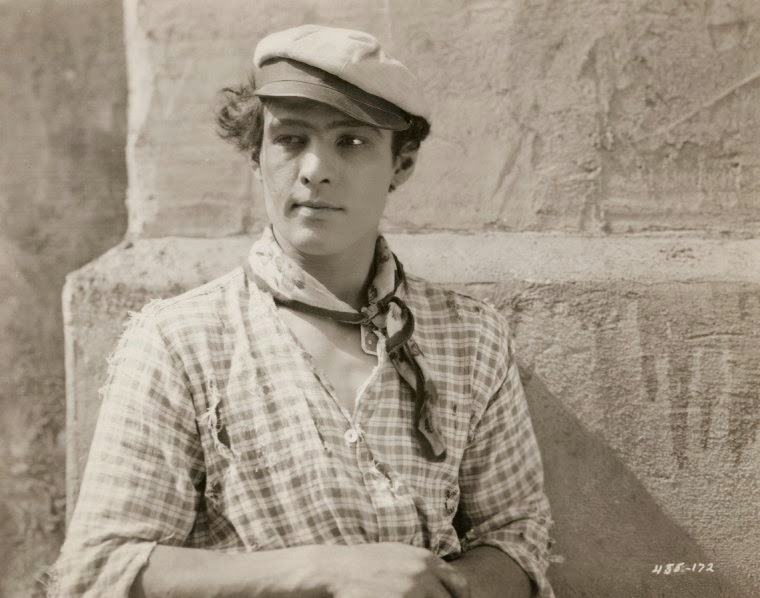 Mineralava Beauty Clay, the sponsor of Valentino and Rambova's cross-country tango trip:
Newsreel footage of Valentino at Madison Square Garden judging the Mineralava Beauty Clay competition:
The Hotel Ambassador at Park Avenue and 51 Street. This is where Valentino boxed the reporter (on the rooftop) to defend his masculinity and where he was staying on August 15, 1926, when he collapsed.
Most people are familiar with the Ambassador due to another iconic film star and her memorable photo shoot (by Ed Feingersh) on the rooftop:
Rudolph in Monsieur Beaucaire, filmed at the Famous Players (later Paramount) studio in Astoria, Queens:
Downstairs, in the studio commissary, with Valentino (at left) and the cast of the film. Today this room is a restaurant named The Astor Room, which features cocktails named for silent film stars. There's even a Valentino-themed cocktail called Blood and Sand!
Polyclinic Hospital at 345 West 50th Street, where Valentino died on August 23, 1926. The building still exists today as an apartment complex. (Picture courtesy Museum of the City of New York)
Pictures of the mad, chaotic crowds outside Frank Campbell's Funeral Church during the week of August 23-30, 1926:
Pola Negri, who made quite a scene at the funeral of Valentino (NYPL):
From the Brooklyn Daily Eagle, August 30, 1926
Newsreel footage of his funeral in Midtown Manhattan — from Frank Campbell's (in today's Lincoln Center area) to St Malachy's on West 49th Street:
SOURCES AND SUGGESTED READING:
Note: Don't say we didn't warn you! There's a lot of material that seems to be based on speculation. Thoughts of possible sexual adventures have sent many authors into wild fits of imagination. ( Â Enter the back catalog of Valentino at your own risk:
Rudolph Valentino: A Wife's Memories of an Icon by Natacha Rambova and Hala Pickford
The Valentino Mystique: The Death and Afterlife of a Silent Film Idol by Allen R Ellenberger and Edoardo Ballerini
Dark Lover: The Life and Death of Rudolph Valentino by Emily W. Leider
The Valentino Affair: The Jazz Age Murder Scandal That Shocked New York Society and Gripped The World by Colin Evans
The Intimate Life of Rudolph Valentino by Jack Scagnetti
Falcon Lair — an indispensable online resource for all things Valentino
Publications sited: New York Times, New Yorker, Newark News, Brooklyn Daily Eagle, New York Sun
Almost his entire film catalog is available to watch for free on YouTube. These include The Sheik, Blood And Sand, The Four Horsemen of the Apocalypse, Son of the Sheik and his Astoria-made film Monsieur Beaucaire. Another film he made in Astoria — A Sainted Devil — has been lost with no extant copies available.