NEW PODCAST  In our last show, we left the space that would become Bryant Park as a disaster area; its former inhabitant, the old Crystal Palace, had tragically burned to the ground in 1858.  The area was called Reservoir Square for its proximity to the imposing Egyptian-like structure to its east, but it wouldn't keep that name for long.
William Cullen Bryant was a key proponent to the creation of Central Park, but it would here that the poet and editor would receive a belated honor in the 1884. With the glorious addition of the New York Public Library in 1911, the park received some substantial upgrades, including its well-known fountain. Over twenty years later, it took on another curious present — a replica of Federal Hall as a tribute to George Washington.
By the 1970s Bryant Park was well known as a destination for drug dealers and most people shied away from its shady paths, even during the day.  It would take a unique plan to bring the park back to life and a little help from Hollywood and the fashion world to turn it into New York's most elegant park.
To get this week's episode, simply download it for FREE from iTunes or other podcasting services or get it straight from our satellite site.
You can also listen to the show on Stitcher streaming radio and Player FM from your mobile devices.
Or listen to it straight from here:
The Bowery Boys #179: The Fight For Bryant Park
_____________________________________________________________________________
The Bowery Boys: New York City History podcast is brought to you …. by you!
Starting with this episode, we are doubling our number of episodes per month. Now you'll hear a new Bowery Boys podcast every two weeks.  We're also looking to improve the show in other ways and expand in other ways as well — through publishing, social media, live events and other forms of media.  And we need your help to make these expansion plans happen.
We are now a member of Patreon, a patronage platform where you can support your favorite content creators for as little as a $1 a month.
Please visit our page on Patreon and watch a short video of us recording the show and talking about our expansion plans.  If you'd like to help out, there are five different pledge levels (and with clever names too — Mannahatta, New Amsterdam, Five Points, Gilded Age, Jazz Age and Empire State). Check them out and consider being a sponsor.
We greatly appreciate our listeners and readers and thank you for joining us on this journey so far. And the best is yet to come!
________________________________________________________________________
William Cullen Bryant, photo taken by Matthew Brady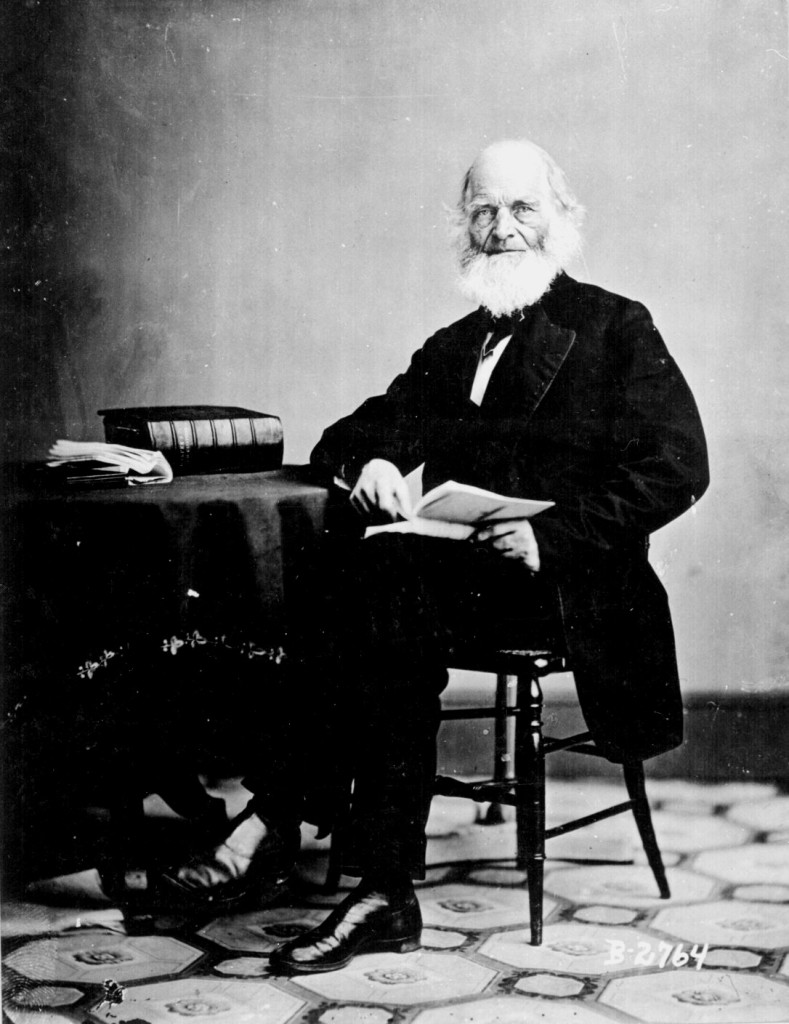 William Cullen Bryant in bust form, but Launt Thompson.  It seems this bust has made its way back to the Metropolitan Museum of Art!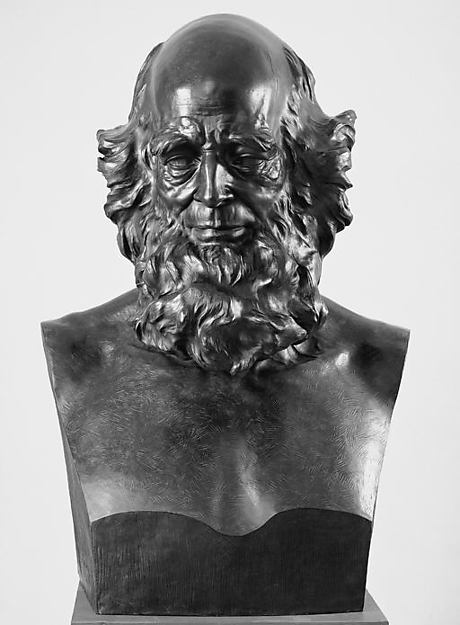 William Cullen Bryant installed in his marble niche behind the New York Public Library. Â This picture was taken in 1910, well before the radical redesign of the park in the 1930s. (Museum of the City of New York).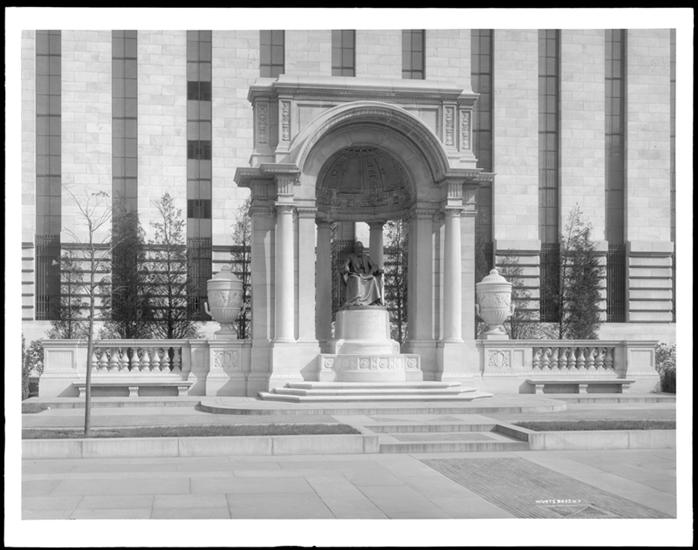 During World War I, the YMCA had a special 'Eagle Hut' built in the park for traveling servicemen. (Library of Congress)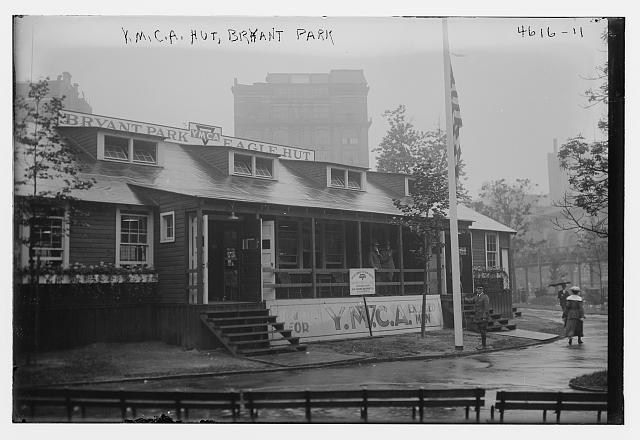 A colorful depiction of the Bryant Park 'demonstration gardens' that were planted during the war. (Library of Congress)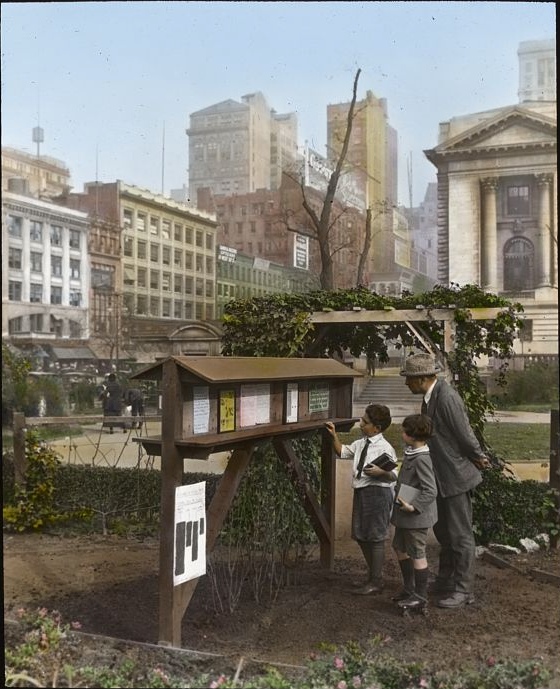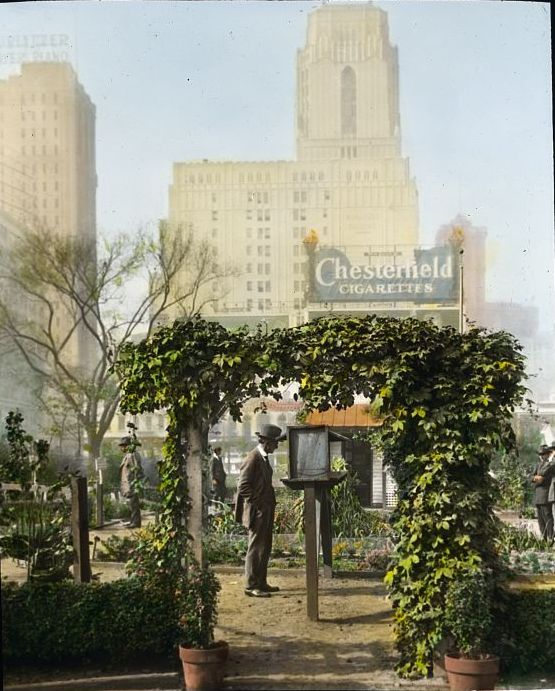 Bryant Park in 1920. Looking west on 42nd Street at 6th Avenue (you can see the elevated railroad!) In the distance is One Times Square. Note the reappearance of the Chesterfield Cigarettes billboard from the picture above. (Museum of the City of New York)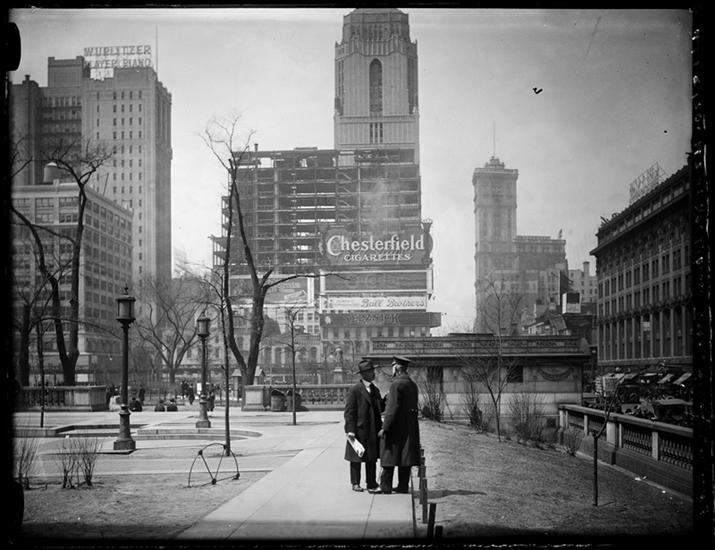 Constructing a replica of Federal Hall in a barren Bryant Park. (Picture taken by the Wurts Brothers, Museum of the City of New York)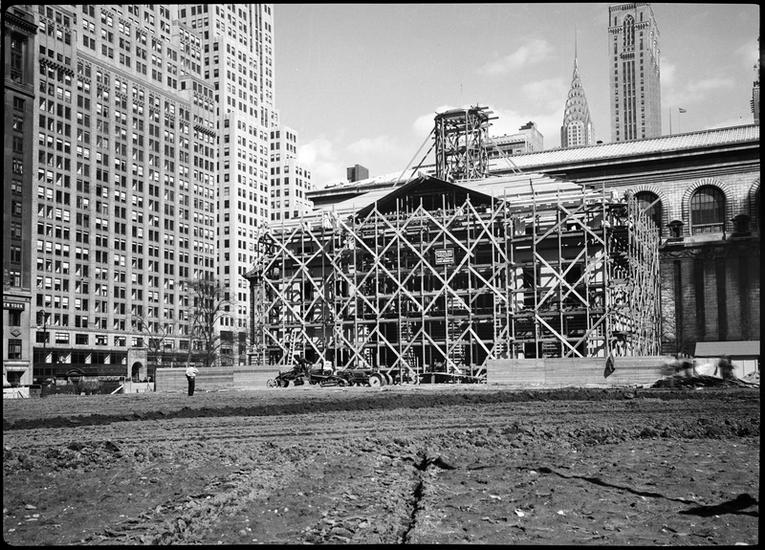 The Federal Hall reconstruction had a corporate sponsor — Sears Roebuck & Co. Â Here's how it looked in better days. Â Believe it or not, the reproduction of Mount Vernon actually did get built in New York — in Prospect Park in Brooklyn! Â (Bryant Park Corporation)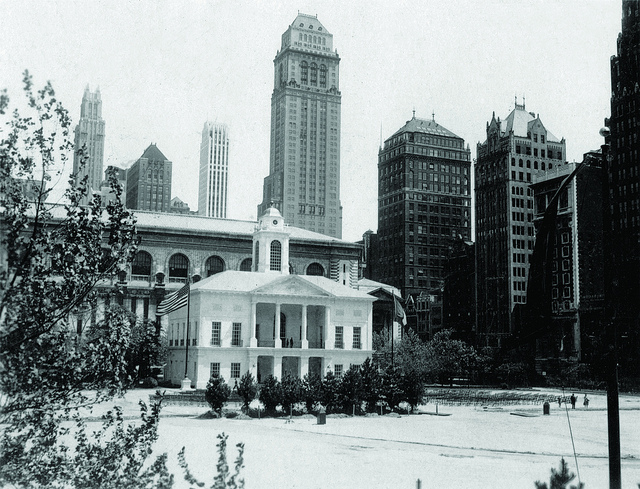 Bryant Park's Federal Hall, May 1932. (Museum of the City of New York)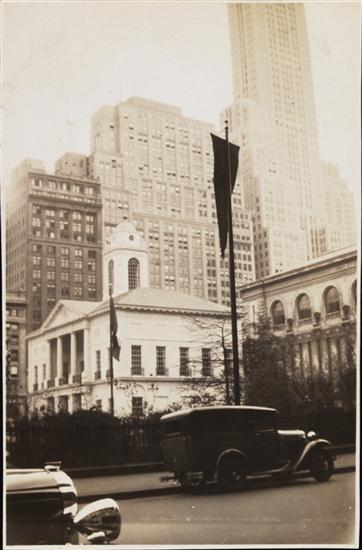 The interior of Bryant Park's Federal Hall. (Museum of the City of New York)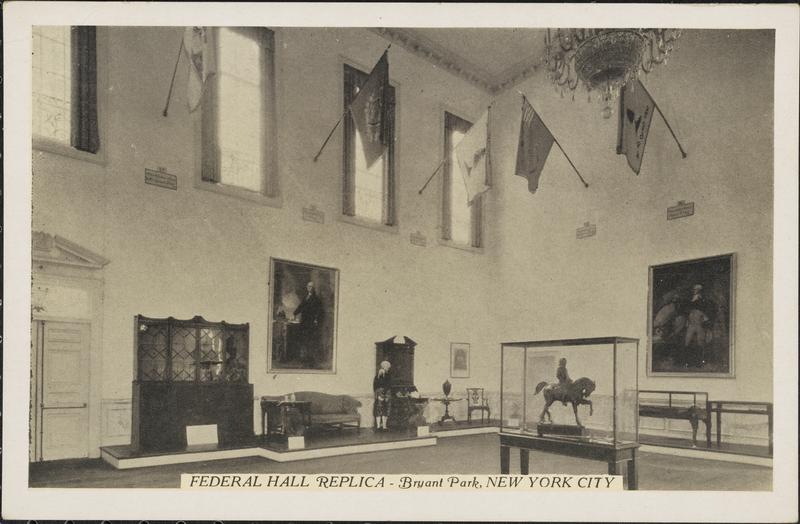 The reconstruction of Bryant Park in 1934, overseen by new Parks Commissioner Robert Moses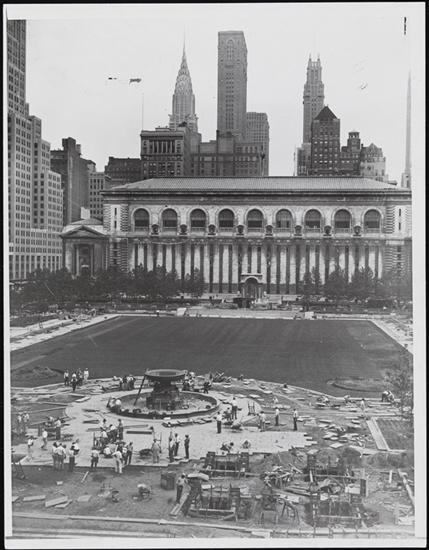 This photo was taken by Stanley Kubrick during his years as a photographer for Look Magazine. The caption reads "Park Bench Nuisance [Woman reading a newspaper, while a man reads over her shoulder.]" Courtesy Museum of the City of New York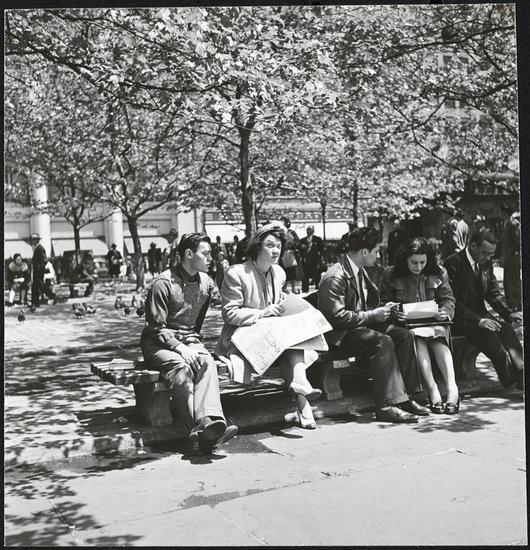 People enjoying the New York Public Library's outdoor reading room, 1930s. (New York Public Library)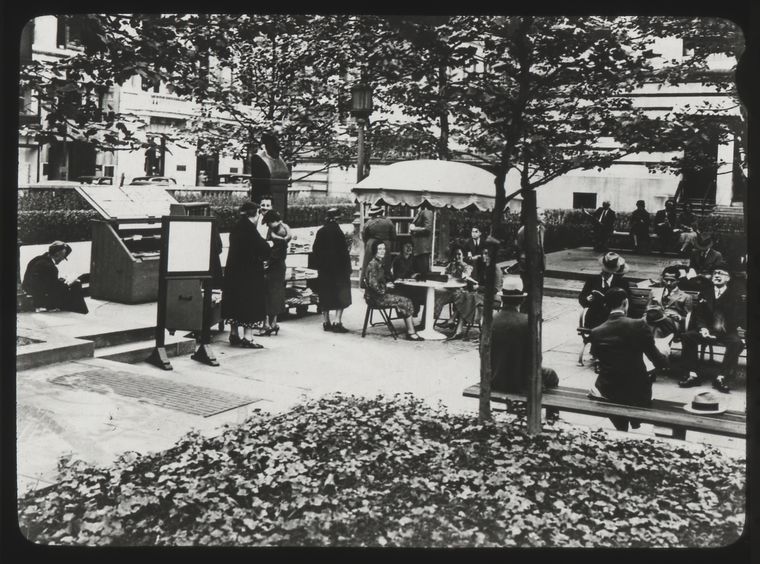 Bryant Park at night, photo by Nathan Schwartz, taken in 1938. (New York Public Library)
The hedges of the central lawn, photo taken in 1957. Â These were removed in the desperate effort to clean up the park in the late 1980s. (Library of Congress)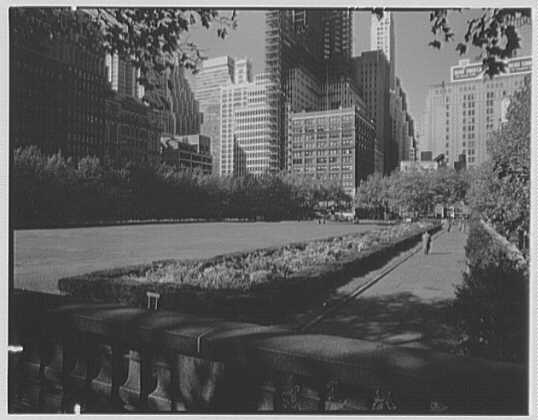 Bryant Park in the 1980s.  High walls allowed for suspicious behavior to occur in the at all hours of the day. (Bryant Park Conservancy)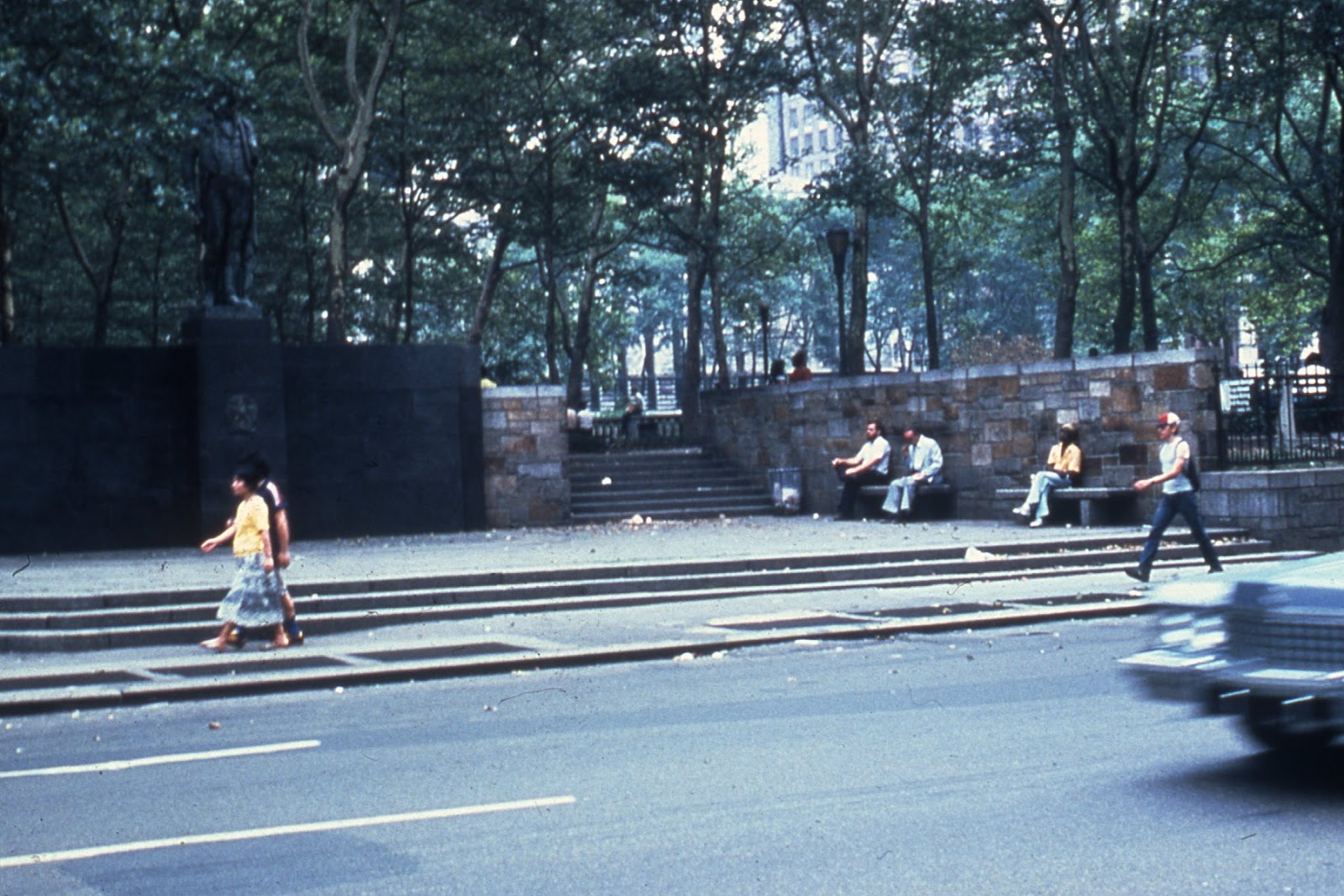 Overlooking the new renovations in the late 1980s (Bryant Park Corporation)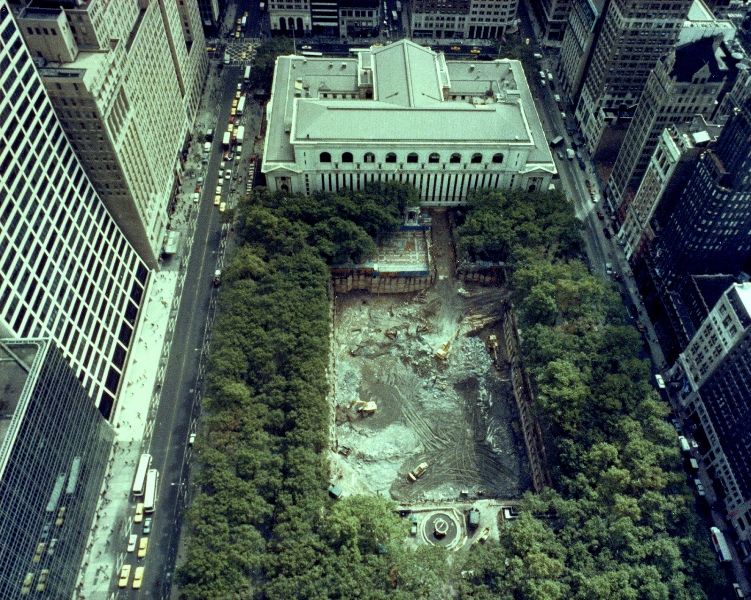 Bryant Park after the clean-up, taken sometime in the 1990s. Photo by Carol Highsmith (Library of Congress)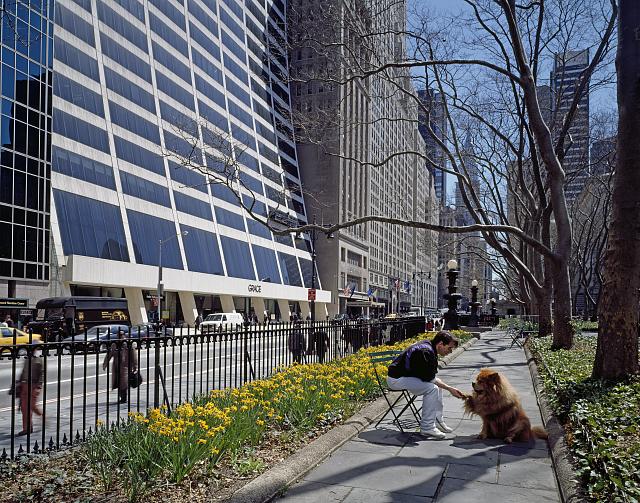 Great overhead shots directly from the Bryant Park Conservancy!