PODCAST Park Slope — or simply the park slope, as they used to say — is best known for its spectacular Victorian-era mansions and brownstones, one of the most romantic neighborhoods in all of Brooklyn. It's also a leading example of the gentrifying forces that are currently changing the make-up of the borough of Brooklyn to this day.
During the 18th century this sloping land was subject to one of the most demoralizing battles of the Revolutionary War, embodied today by the Old Stone House, an anchor of this changing neighborhood. In the 1850s, the railroad baron Edwin Clark Litchfield brought the first real estate development to this area in the form of his fabulous villa on the hill. By the 1890s the blocks were stacked with charming house, mostly for occupancy by wealthy families.
Circumstances during the Great Depression and World War II reconfigured most of these old (and old fashioned) homes into boarding houses and working-class housing. Then a funny thing happens, something of a surprising development in the 1960s: the arrival of the brownstoners, self-proclaimed — pioneers — who refurbished deteriorating homes.
The revitalization of Park Slope has been a mixed blessing as later waves of gentrification and rising prices threaten to push out both older residents and original gentrifiers alike.
PLUS: The terrifying details of one of the worst plane crashes in American history, a disaster that almost took out one of the oldest corners of the neighborhood.
And a special thanks to our guests on this show — Kim Maier from the Old Stone House; Julie Golia, Director of Public History, Brooklyn Historical Society; and John Casson and Michael Cairl, both of Park Slope Civic Council.
---
The Bowery Boys: New York City History podcast is brought to you …. by you!
Starting this month, we are doubling our number of episodes per month. Now you'll hear a new Bowery Boys podcast every two weeks. We're also looking to improve the show in other ways and expand in other ways as well — through publishing, social media, live events and other forms of media. But we can only do this with your help!
We are now a member of Patreon, a patronage platform where you can support your favorite content creators for as little as a $1 a month.
Please visit our page on Patreon and watch a short video of us recording the show and talking about our expansion plans. If you'd like to help out, there are five different pledge levels (and with clever names too — Mannahatta, New Amsterdam, Five Points, Gilded Age, Jazz Age and Empire State). Check them out and consider being a sponsor.
We greatly appreciate our listeners and readers and thank you for joining us on this journey so far. And the best is yet to come!
---
The Vechte Cortelyou House (aka the Old Stone House) depicted as it looked in 1699 (from a hand colored lithograph by the firm of Nathaniel Currier, MCNY)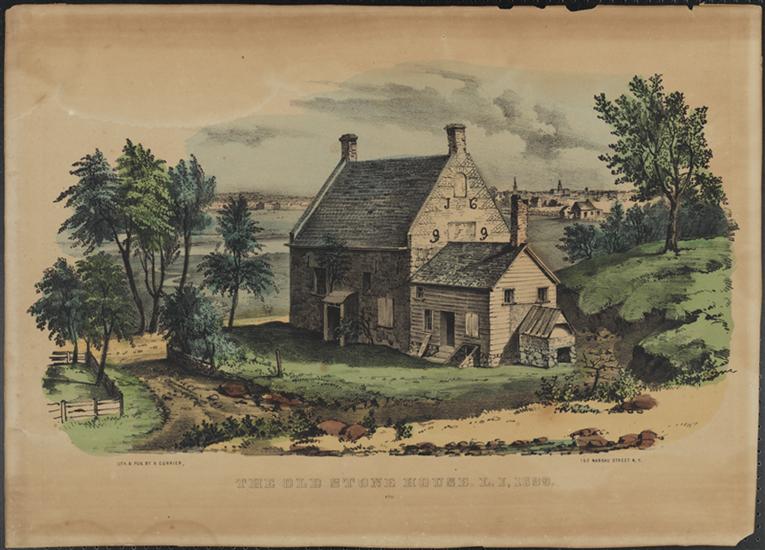 The old Litchfield Village, today located within the borders of Prospect Park. (Postcard dated 1926,
MCNY
)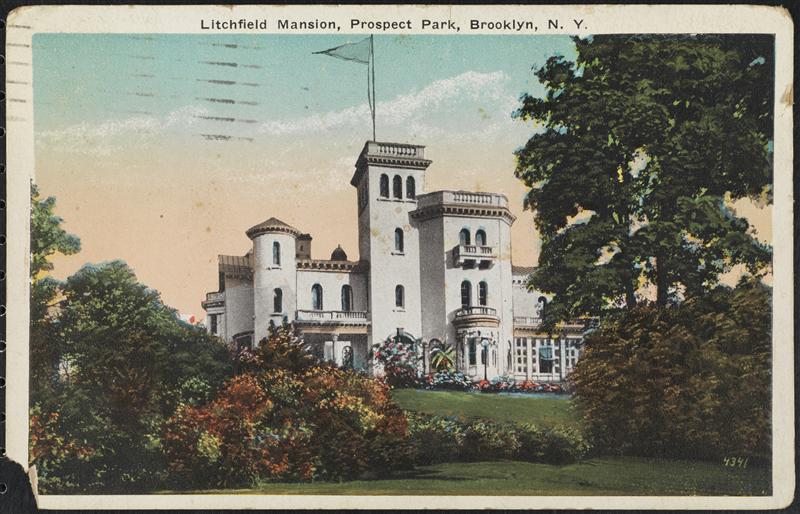 One of the most famous 19th century pictures of the park slope area, showing the streets after the Blizzard of 1888. (
MCNY
)
Down on 9th Street and 5th Avenue was the great old B.F. Keith Prospect Theater, a former film and vaudeville house. This post card is from the 1910s; the theater originally opened in 1914. This type of establishment might not have been welcomed further up the avenues. (MCNY)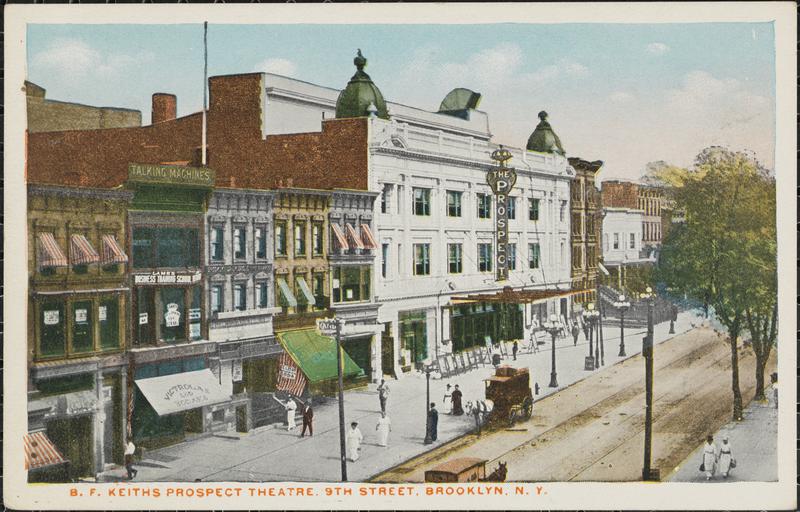 The Ansonia Clock Factory — "the world's largest clock factory" — was located in the South Slope, between Seventh and Eighth Avenues, obviously a distance away from the old mansions. Today it's been converted, like so many things, to luxury condos. (MCNY)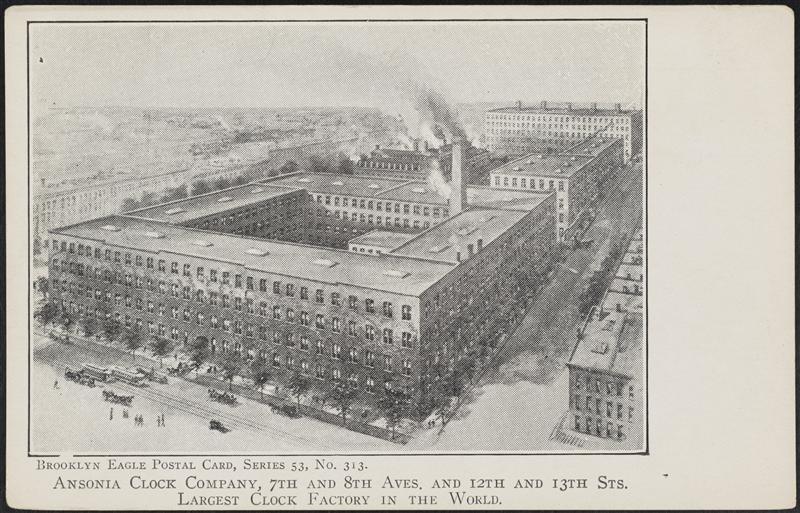 Park Slope in 1915. "The corner of Prospect Park West and 9th Street at the entrance to Prospect Park. Two women with a baby carriage are visible to the right and a mailbox and an apartment building are visible to the left." (
MCNY
)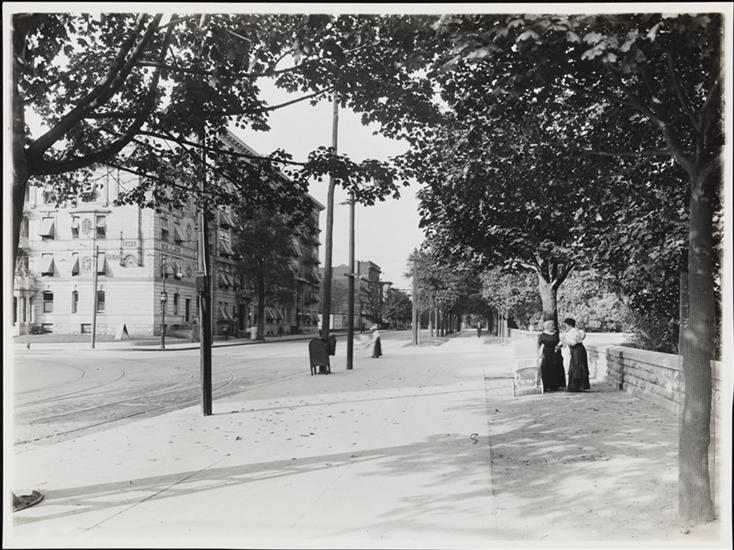 The Montauk Club
, playground of Brooklyn's wealthiest residents. Illustrated here from 1905. (Courtesy
Museum of City of New York
)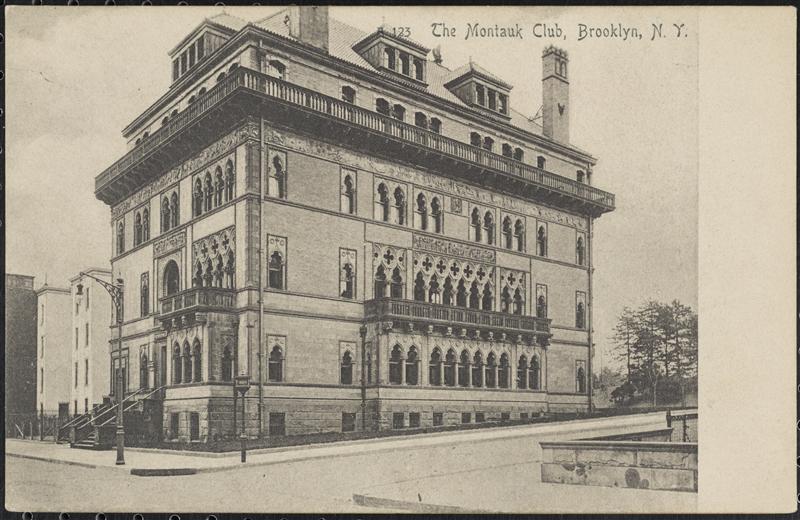 The Warwick Arms on 8th Avenue and 2nd Street, one of the first luxury apartment complexes that moved to Park Slope. (Photo by the Wurts Brothers, courtesy )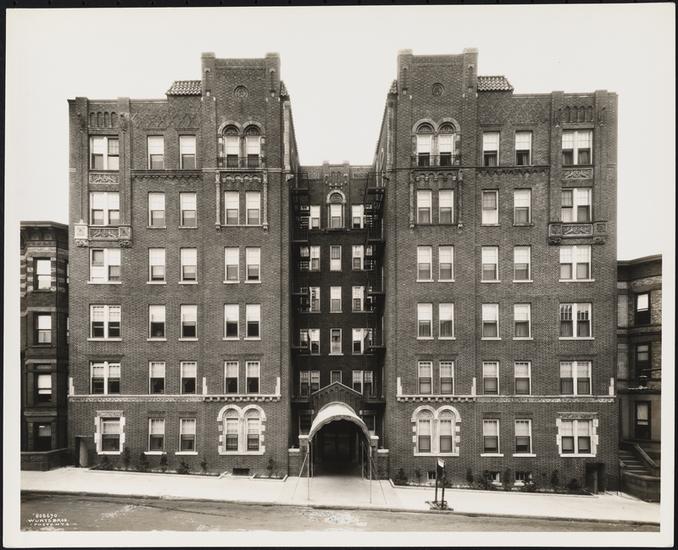 A collection of classified ads from the December 1, 1912 issue of the Brooklyn Daily Eagle, offering several living options in the park slope area.

The stark Fourteenth Street Armory, located in the South Slope, depicted here as it looked in 1906 — "a pretty place" (
MCNY
)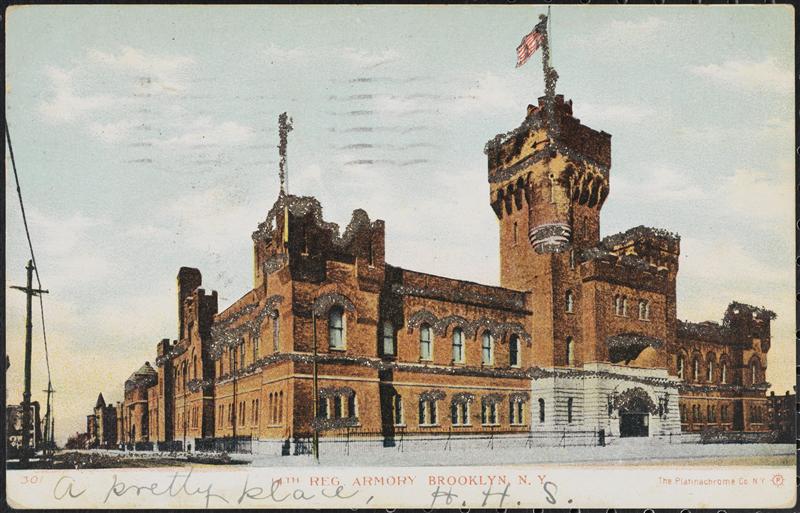 Congregation Beth Elohim, pictured here on September 16, 1929, located at Garfield Place and 8th Avenue. (
MCNY
)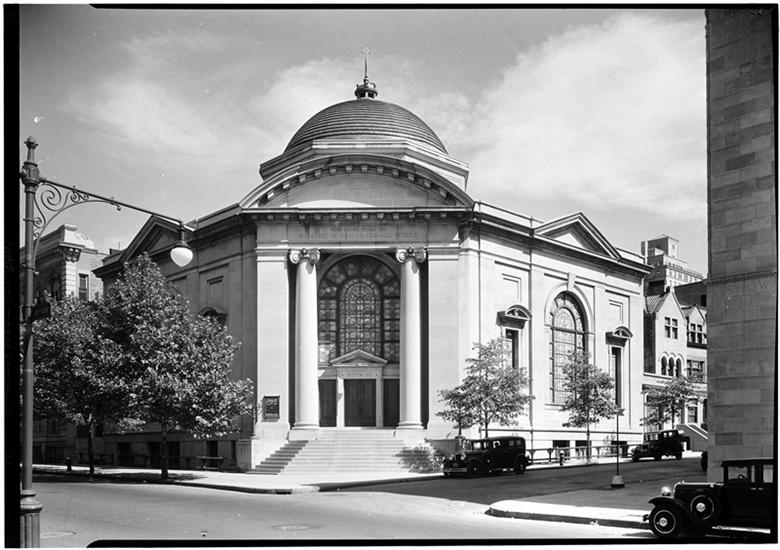 The horrific place crash of December 16, 1960 — United Airlines Flight 826, bound for Idlewild Airport, colliding with Trans World Airlines Flight 266, heading to LaGuardia Airport. 128 passengers were killed, along with six people on the ground. (Top picture courtesy New York Daily News; the two after are from the New York Fire Deparment. You can find further images here)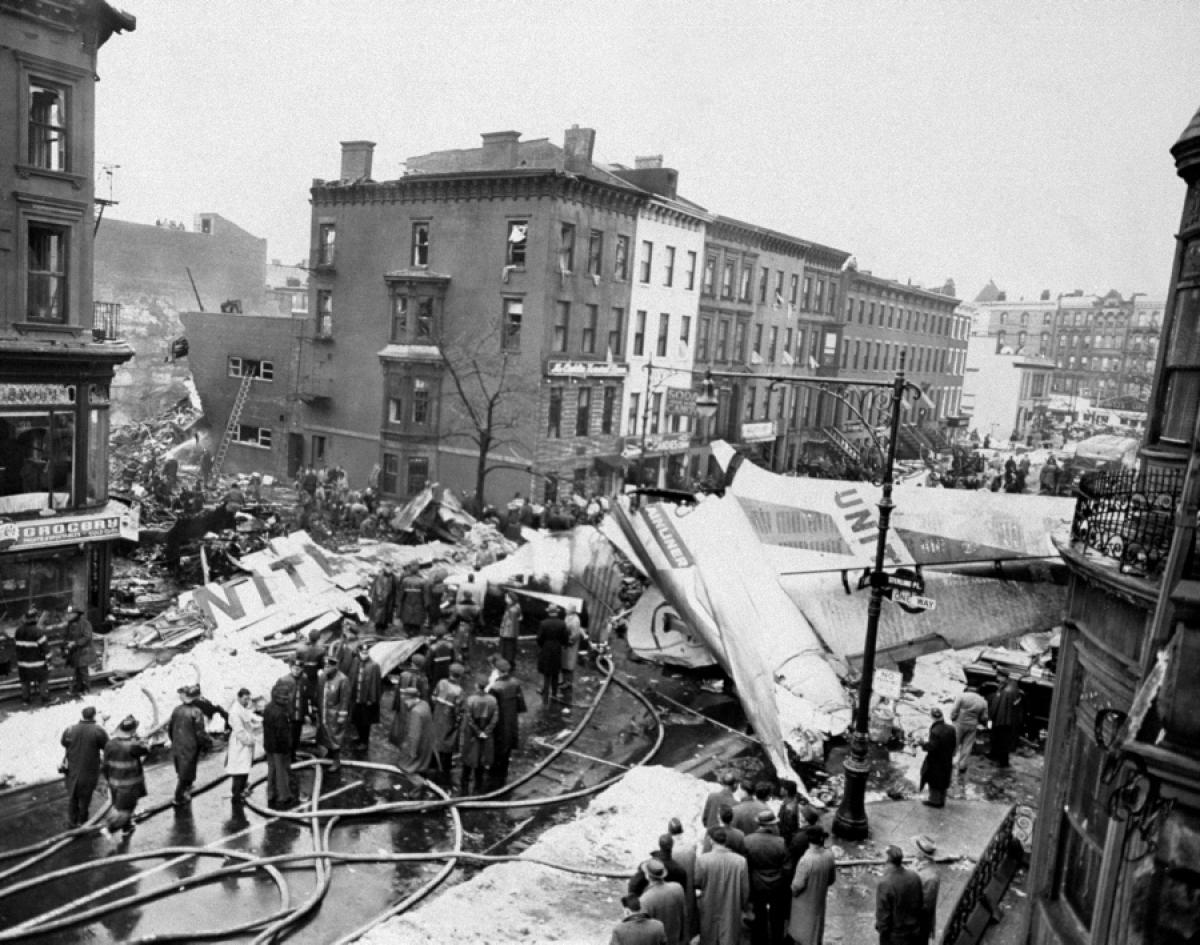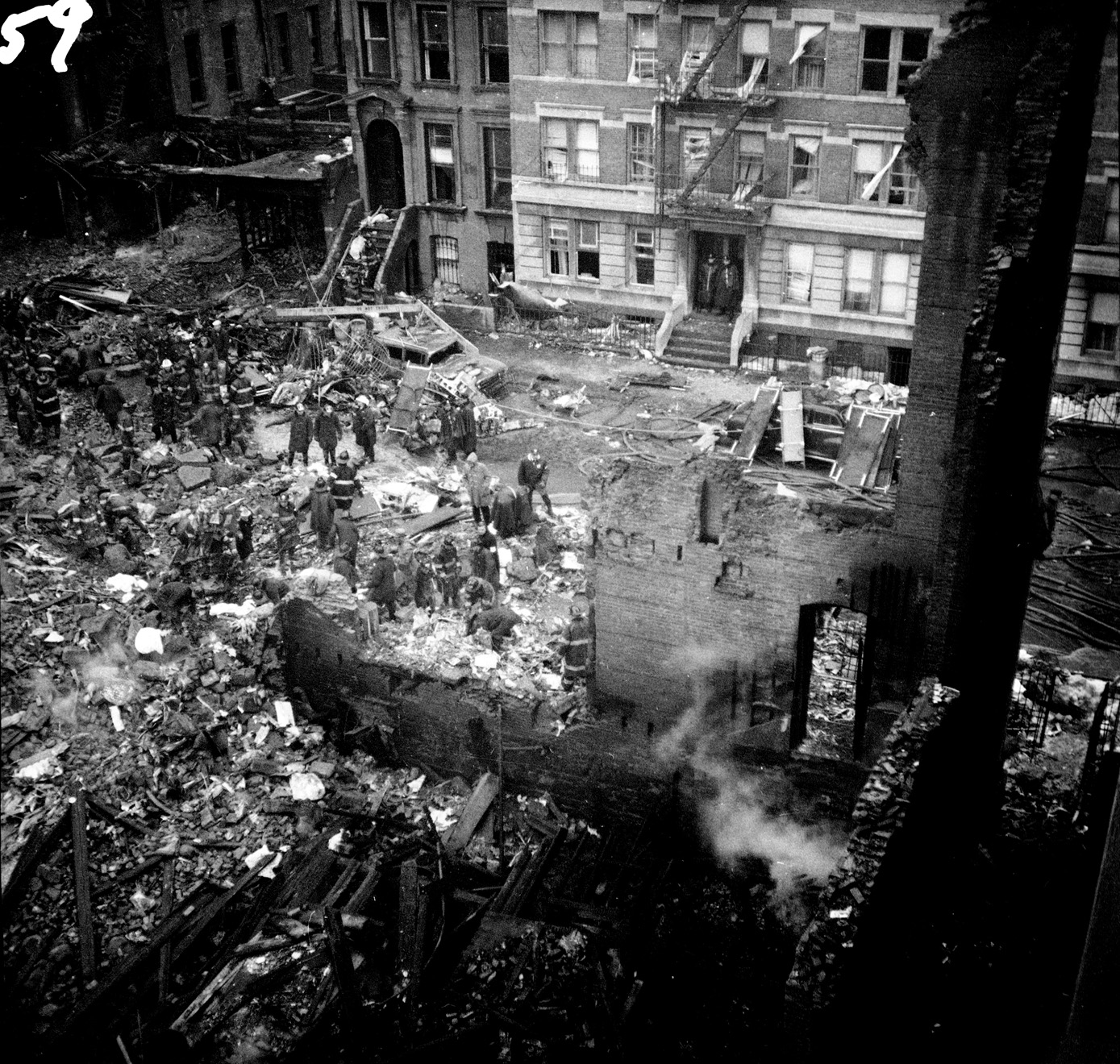 Some images from 1961 by John Morrell from the archives of the Brooklyn Historical Society:
A view along Prospect Park West at and 16th Street and Windsor Place.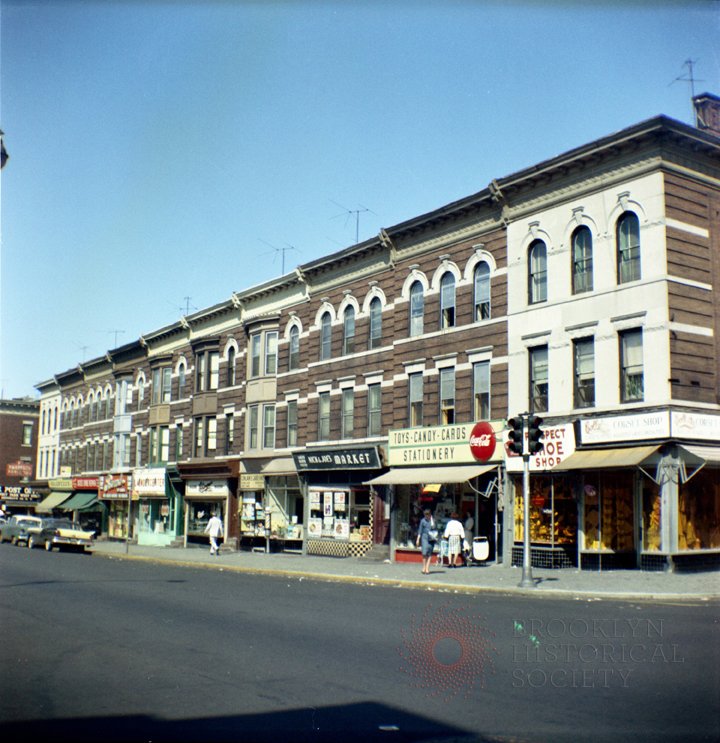 View of east side of 8th Avenue between 15th and 16th Streets looking north. n.e. cor. 16th Street (right) & 8th Avenue.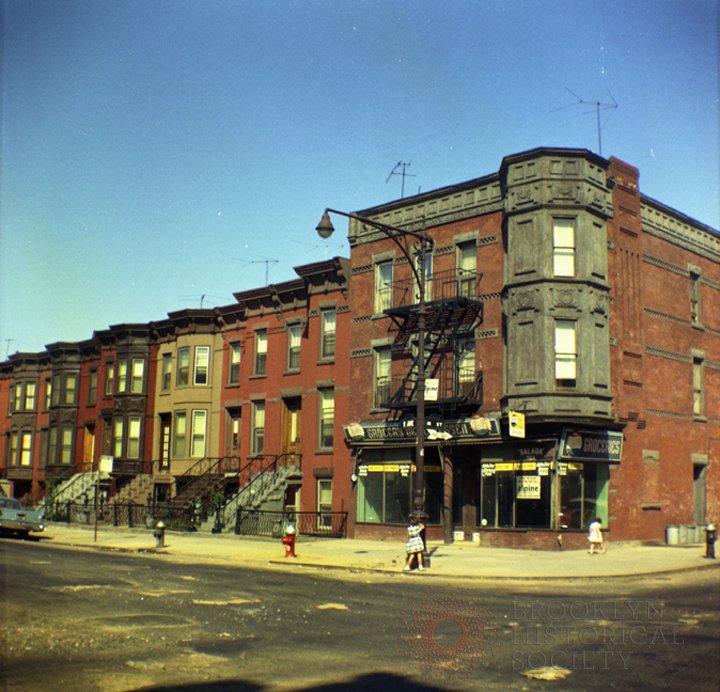 Prospect Park West looking south toward Prospect Park/branch, U.S. Post Office (at northeast corner of Prospect Park W. & 16th Street).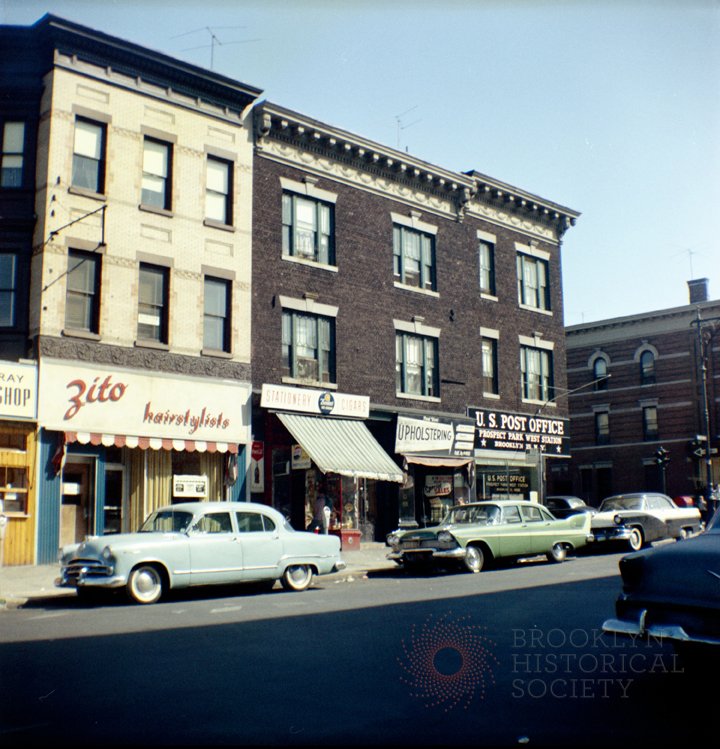 By the 1970s so mansions and brownstones close to the park were getting renovated by 'pioneers' with the means to restore these homes to their original splendor.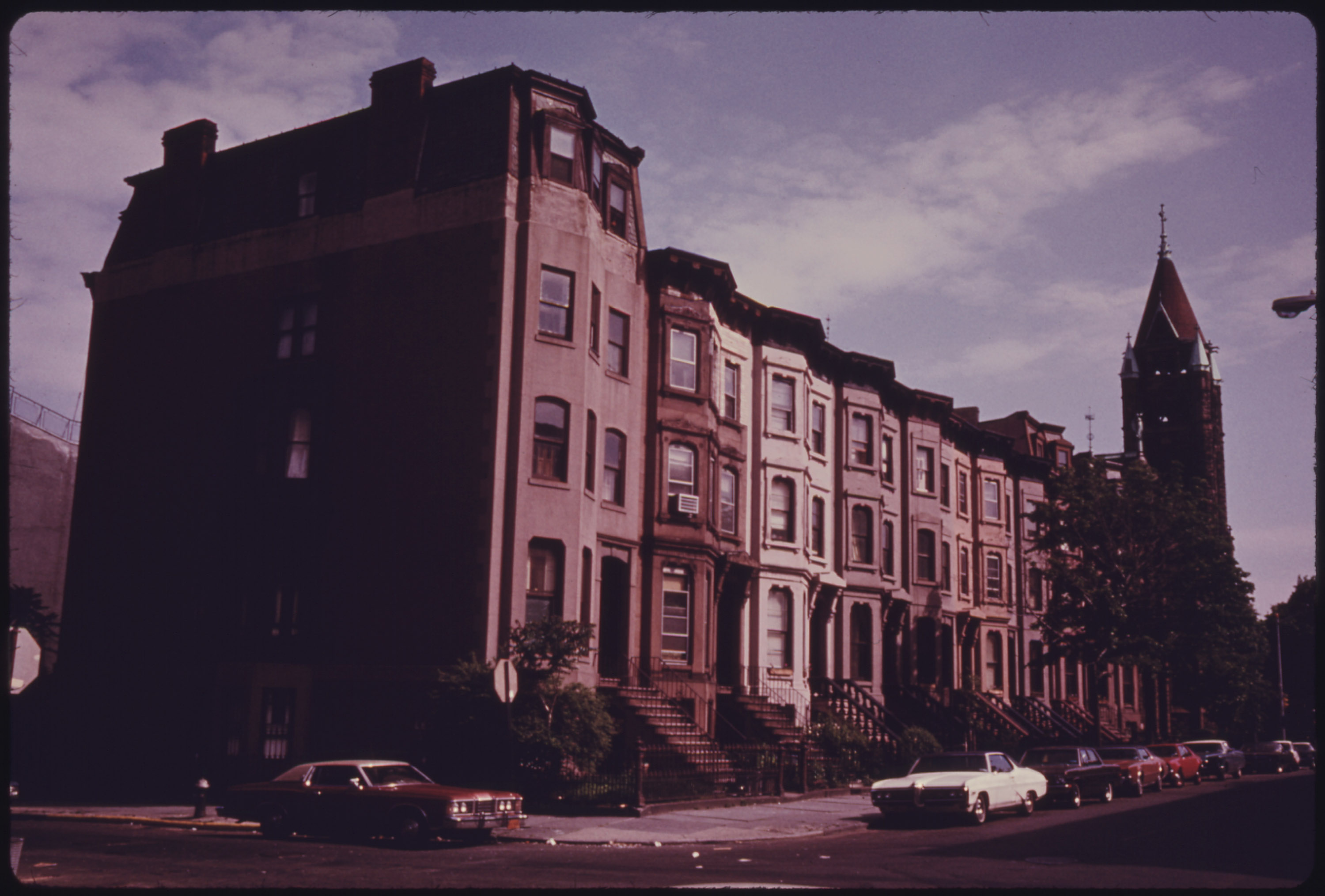 In 1969, New York Magazine touted the 'radical' alternative of moving to Brooklyn in an article by Pete Hamill: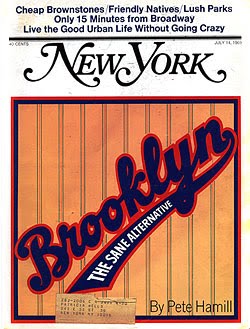 TOP PHOTOGRAPH by Luci West from Moving Postcard