PODCAST A gaslight murder mystery with more twists than an Agatha Christie novel!
On January 31, 1857, a prominent dentist named Harvey Burdell was found brutally murdered — strangled, then stabbed 15 times — in his office and home and Bond Street, a once-trendy street between Broadway and the Bowery.
The suspects for this horrific crime populated the rooms of 31 Bond Street including Emma Cunningham, the former lover of Dr. Burdell and a woman with many secrets to hide; the boarder John Eckel with a curious fondness for canaries; and the banjo-playing George Snodgrass, whose personal obsessions may have evolved in depraved ways.
The mechanics of solving crime were much different in the mid 19th century than they are today, and the mysterious particulars of this investigation seem strange and even unacceptable to us today. A suspect would stand trial for Dr. Burdell's death yet the shocking events which followed — including a sinister deception and a fake childbirth — would prove that truth is stranger than fiction.
Listen Here: Harvey Burdell Murder Podcast
___________________________________________________________
The Bowery Boys: New York City History podcast is brought to you …. by you!
We are now producing a new Bowery Boys podcast every other week. We're also looking to improve the show in other ways and expand in other ways as well — through publishing, social media, live events and other forms of media. But we can only do this with your help!
We are now a member of Patreon, a patronage platform where you can support your favorite content creators for as little as a $1 a month.
Please visit our page on Patreon and watch a short video of us recording the show and talking about our expansion plans. If you'd like to help out, there are five different pledge levels (and with clever names too — Mannahatta, New Amsterdam, Five Points, Gilded Age, Jazz Age and Empire State). Check them out and consider being a sponsor.
And join us for the next episode of the Bowery Boys Movie Club, an exclusive podcast provided to our supporters on Patreon. This month's selection — Ghostbusters!
We greatly appreciate our listeners and readers and thank you for joining us on this journey so far.
__________________________________________________________
A look at Bond Street and the surrounding blocks in 1828. Lafayette Street/Lafayette Place did not yet exist then. In fact, Houston Street stops at Broadway. East of the Bowery runs North Street (which would be renamed Houston Street when it was extended through the block.) Great Jones Street is listed only as Jones Street here, and streets with names like David Street and Art Street also appear.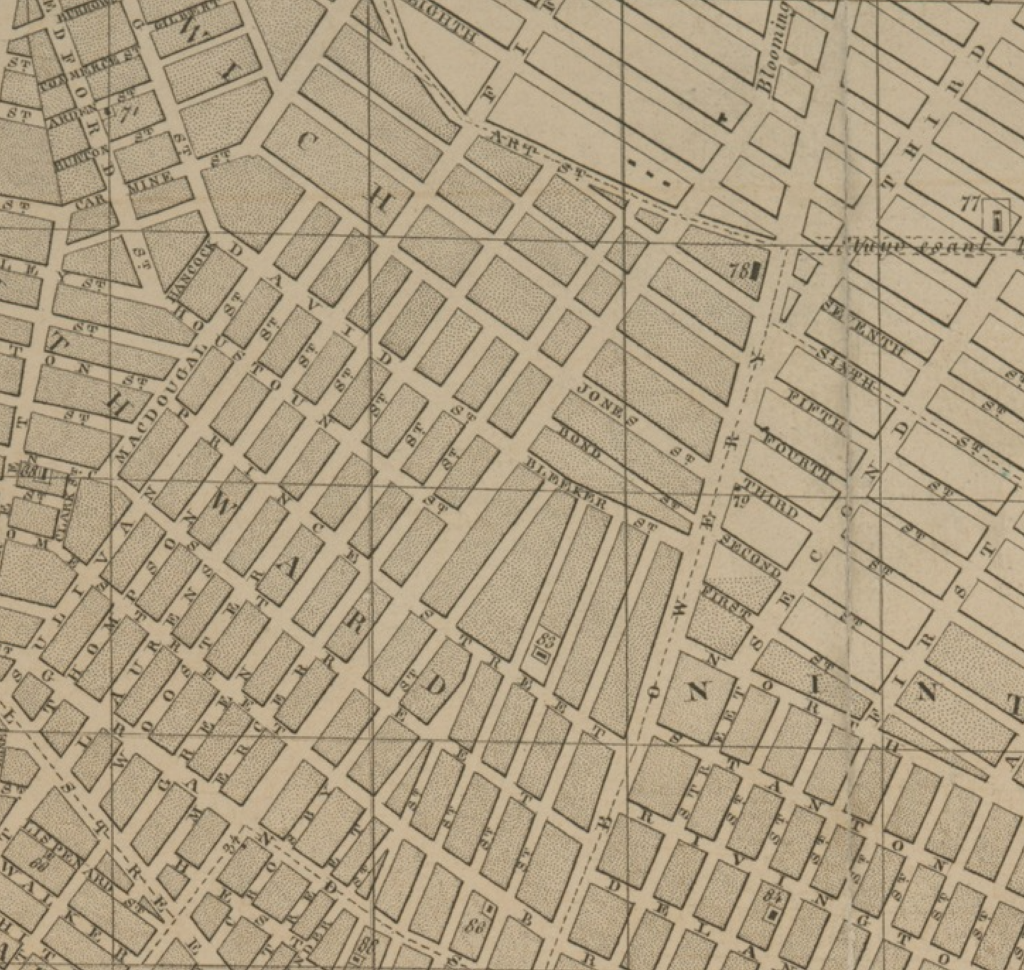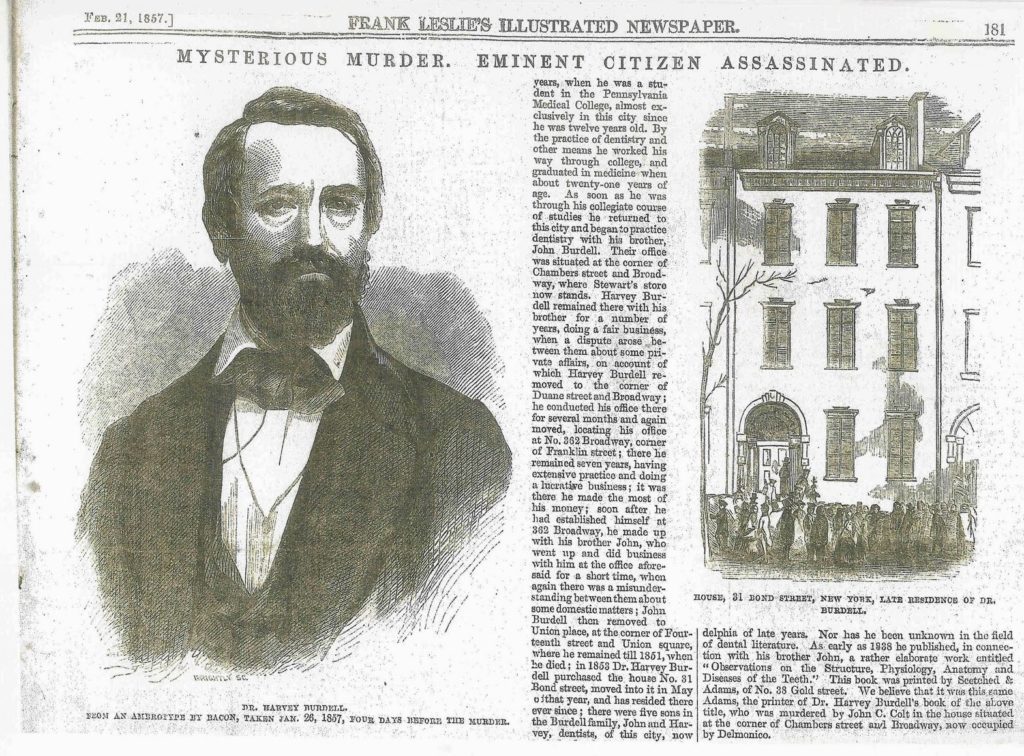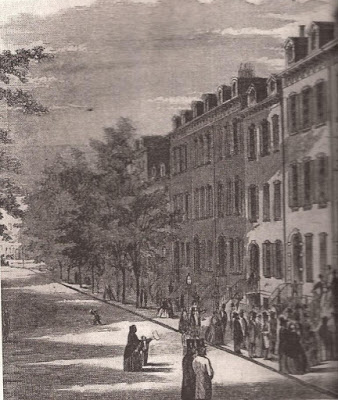 The layout of the murder scene on the second floor of 31 Bond Street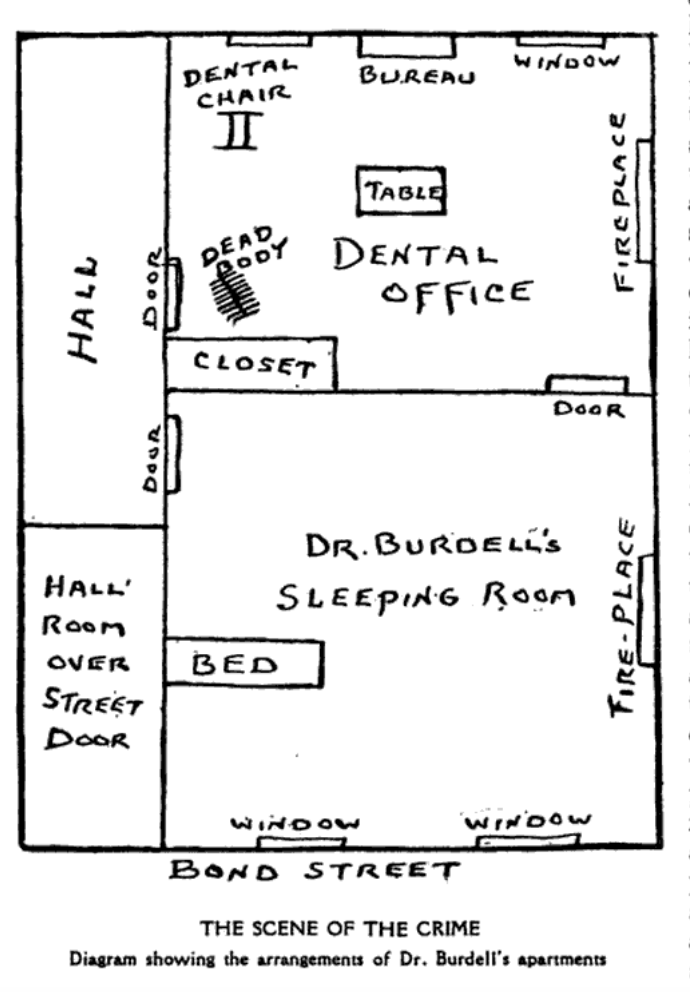 Images below are from Frank Leslie's Illustrated Newspaper, Harper's Weekly and other contemporary publications from 1857.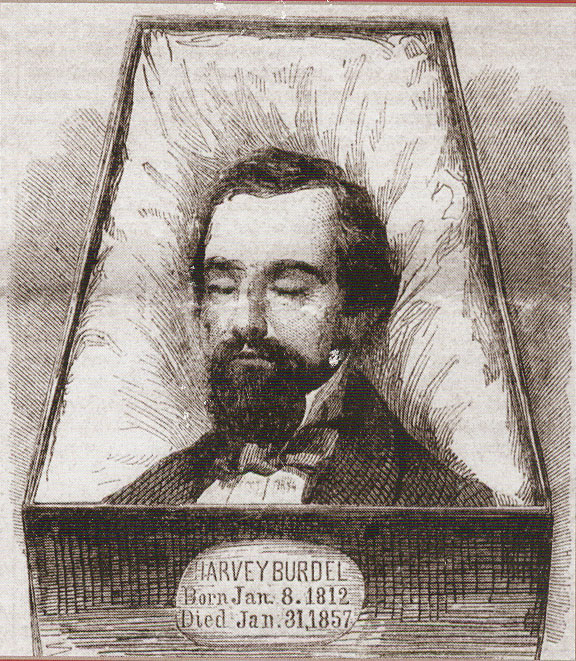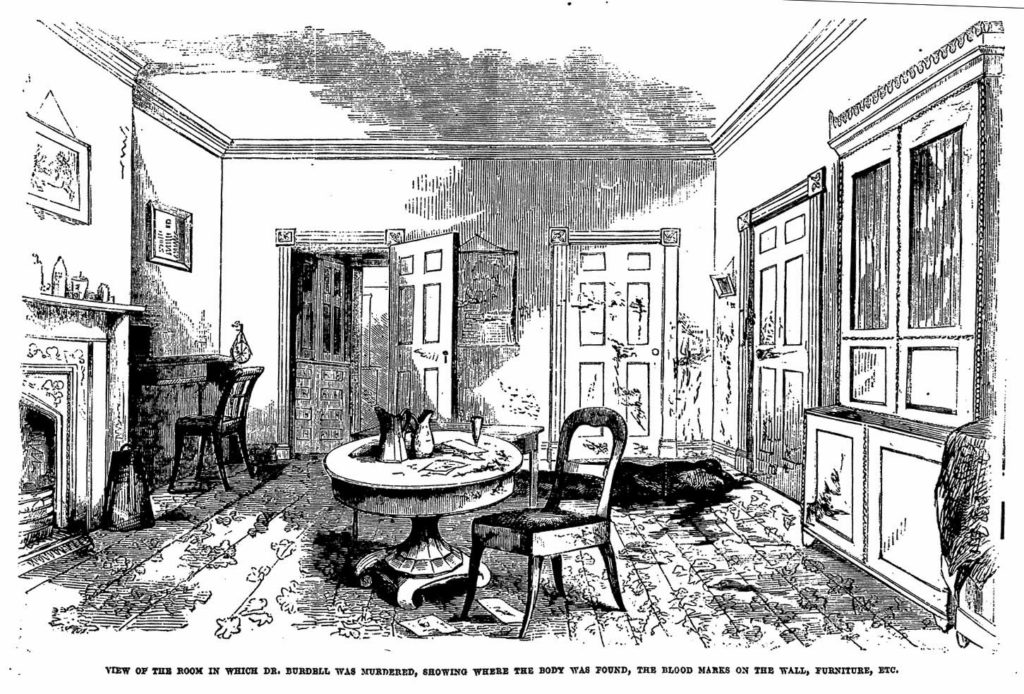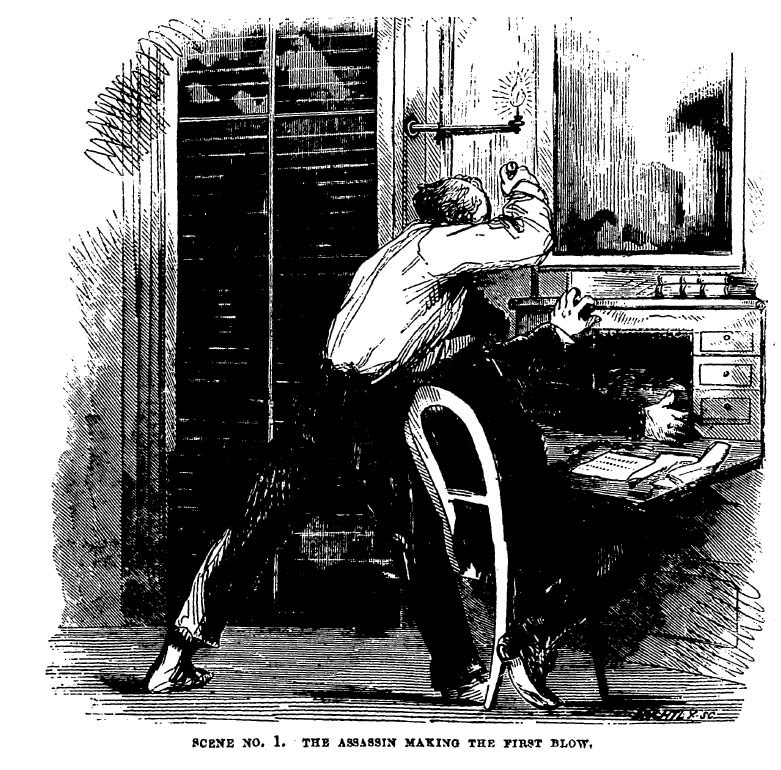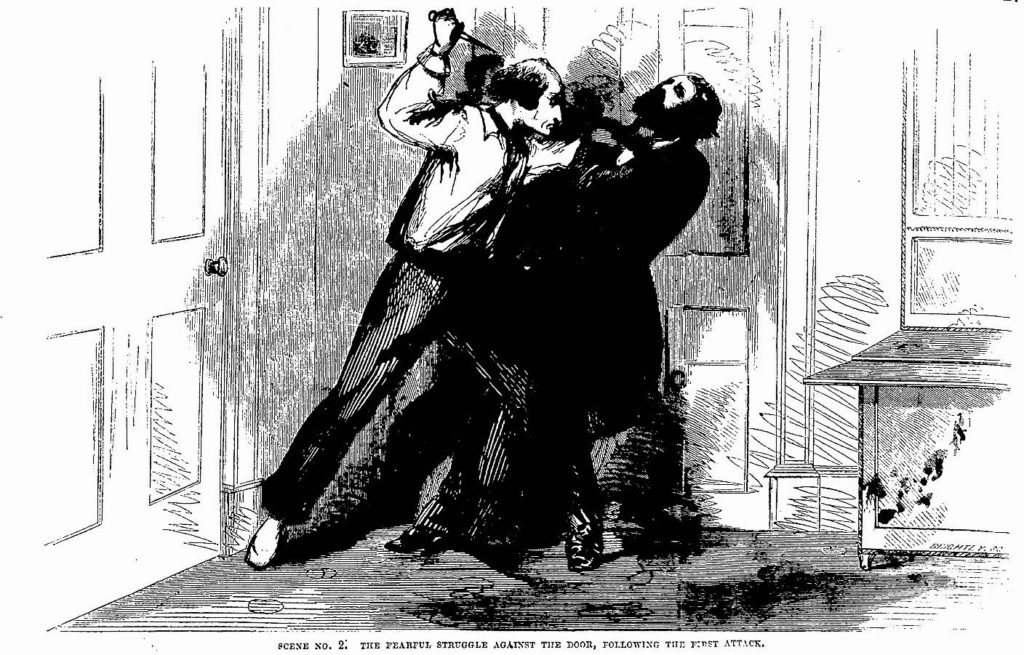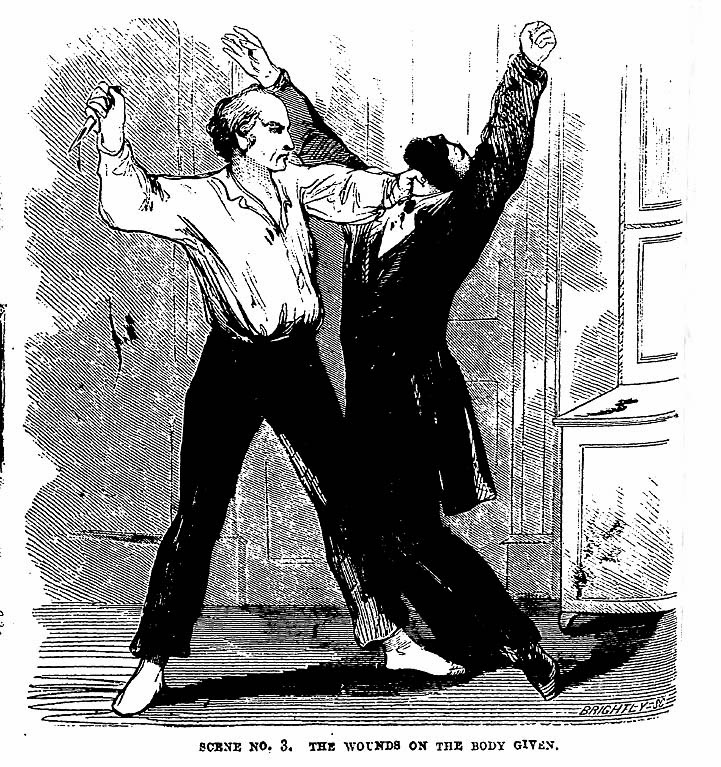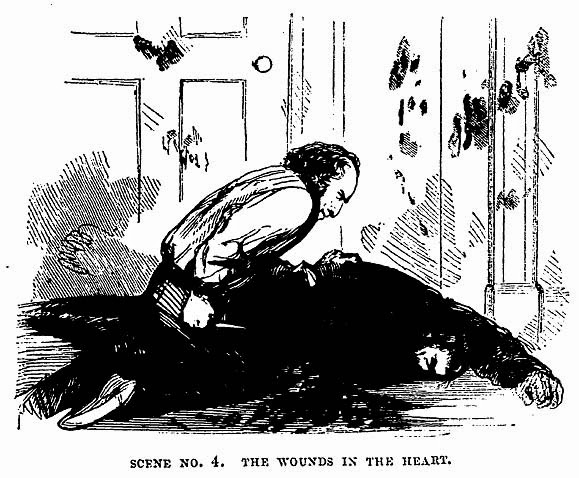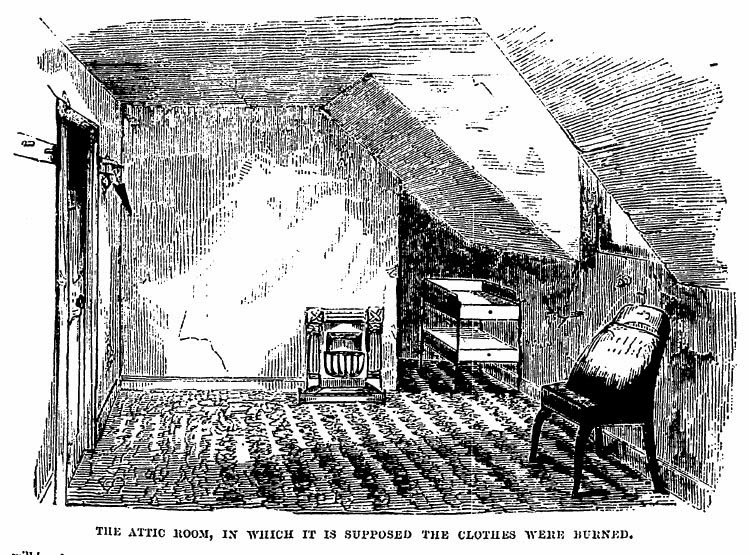 John Eckel, Emma Cunningham and George Snodgrass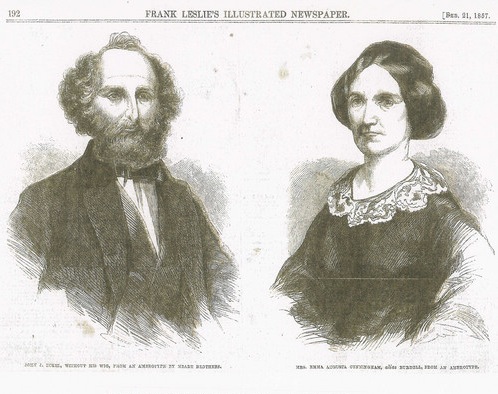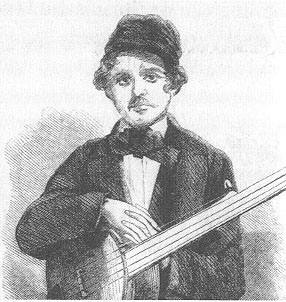 An advertisement for the 'bogus Burdell baby', displayed at Barnum's American Museum: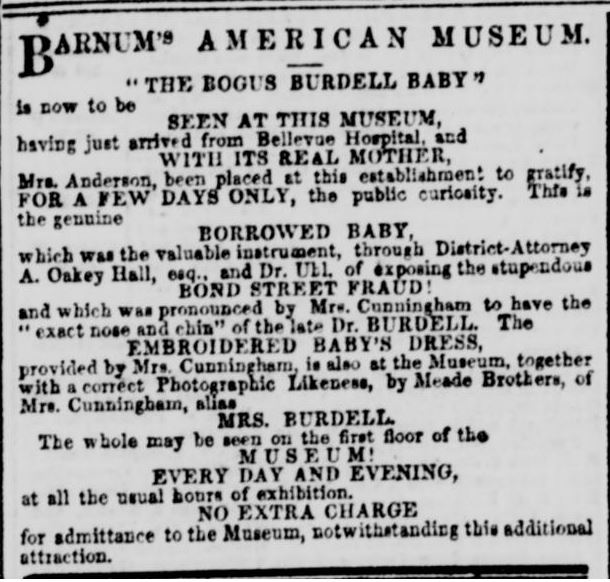 FURTHER READING
Butchery On Bond Street: Sexual Politics and the Burdell-Cunningham Case in Ante-Bellum New York by Benjamin Feldman — the definitive narrative of this crime story from 2007
Evil Emma, Down Mexico Way by Benjamin Feldman — a sequel of sorts, following the strange circumstances of Emma Cunningham's time in Baja, California
31 Bond Street: A Novel by Ellen Horan — a fictionalized retelling of the story
FURTHER LISTENING
A few other murder mysteries in our back catalog that might interest you: