Sometimes an artist's biography can work on two levels, providing both the sweep of history within the subject matter of the artist's own output and a grand view of American art history in the artist's working life.
In Mary Schmidt Campbell's absorbing biography of the painter, illustrator and collagist Romare Bearden, we get to look at the New York City art world of the 20th century with insights into the life of an African-American painter who managed to remain relevant in a career of almost 60 years.
In An American Odyssey: The Life and Work of Romare Bearden, Campbell emphasizes Bearden's role as a seminal New York City figure — an artist who projected the city's vitality and sometimes even its geography into his work.
Campbell, currently the president of Spelman College, knew Bearden leading up to her role as executive director of the Studio Museum in Harlem in the 1970s and 80s. (The appendix features copies of handwritten letters from Bearden written on stationary from his Canal Street studio. That alone gave me chills.)
Bearden's body of work is unique in that it reflects, in its longevity, both the changing tides of 20th century art and his own conflicts with depicting the American black experience on his canvas.
He came of age in Harlem in the 1920s, among the creative swirl of the Harlem Renaissance, even as his formal training came from the famed Art Students League in Midtown Manhattan. His mother Bessye Bearden was a noted journalist whose connections to such Harlem figures as Duke Ellington and A'Lelia Walker introduced Romare to a new world of possibilities for black creators. "She not only found her way into Harlem's inner circle," writes Campbell, "but she also helped define and expand its perimeter."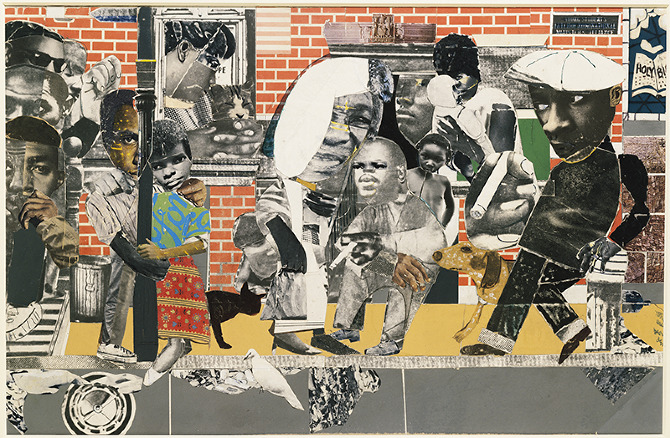 Romare developed into both an renowned artist and an insightful critic of the art world, setting up a studio right above the most famous place in Harlem — the Apollo Theater. It was here that he later pivoted his style away from concrete representational forms, finding his own path into the world of abstract modernism.

By the late 1940s he oddly found himself an outsider — wanting to break out from shows that only featured black artists but eventually excluded from mainstream galleries for not being sufficiently abstract.
It took a revitalizing intellectual journey to Paris, a change of scenery within New York City (to the newly developed artists' enclave in SoHo) and a shift to collage work to reinvent Bearden's role in the art world. His groundbreaking 1964 show Projections also established him as an artist in conversation with the American civil rights movement.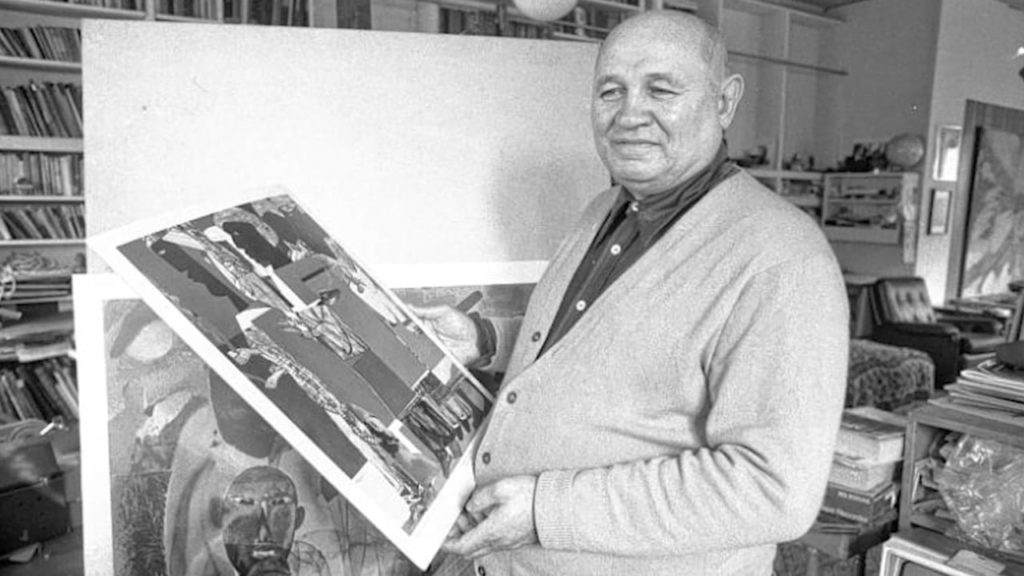 By 1987, when Ronald Reagan awarded Bearden the National Medal of the Arts, the artist had secured his legacy. Yet today his body of work — including some of his most profound collages — often remains unseen.
As Campbell explains, "Despite Bearden's care in the assemblage of materials, his collages with their multitude of different materials are a preservationist's nightmare. Major museums exhibit his works infrequently because they are so perishable."
"Bearden's legacy is as complicated as his art; he would become many things to many people — all at once."
At top: Three Folk Musiciansby Romare Bearden / Virginia Museum of Fine Arts