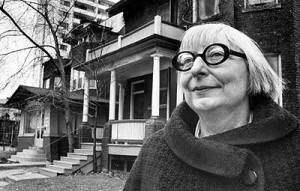 (Jacobs, as seen in Canada)
We finally made it over to the Municipal Art Society's exhibit on the extraordinary Jane Jacobs, community leader and civil planner whose theories on a successful urban landscape are currently fueling community activism today.
Jane Jacobs and the Future of New York is part-bio on Jacobs, part inspection of her legacy on the footprint of modern New York. It heralds her greatest achievements — saving her West Village neighborhood, preserving Washington Square, preventing the Lower Manhattan Expressway — alongside displays of her seminal theories on urban development.
What it seems to diffuse is the age-old good vs evil conflict isolated only between her and Robert Moses, city commissioner with his own (sometimes destructive) theories of urban planning. The exhibit disembodies the dangers of urban growth from the decisions of one man into an always lurking consequence of unchecked development. As a result I came away with the notion that Jacobs herself had been transmogrified into a sort of democratic ideal.
(Below: an early victory of Jacobs closed the traffic circle that cleaved Washington Square in two)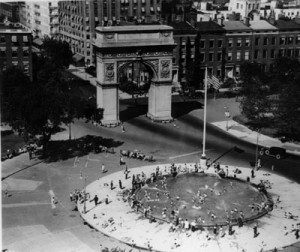 The exhibit visualizes her 'ballet of the sidewalks' by focusing on videos of 'natural' street corners, where the interplay of office, shops, and restaurants creates a constant flow of people. A rather clever interactive feature allows the view to look right onto the corner outside the window, with labels outlining the corner's strengths and weaknesses, and a sped up 24-hour camera showing the neighborhood ebbs and flows.
Although obviously depicted as a radical and underdog, her ideas are only once put under scrutiny; the West Village Houses, short street level buildings obviously preferable to some proposed and ungainly apartment towers, are still generic and essentially unattractive co-ops.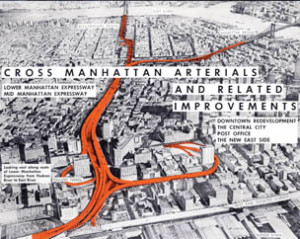 Her actions cannot be under appreciated however when it comes to the Lomex — the Lower Manhattan Expressway. The plan by Moses to link the East River bridges to the Holland Tunnel would have slapped an elevated highway straight through lower Manhattan, plowing down Broome Street. Little Italy would have been destroyed. Chinatown would have become more congested. Soho wouldn't have even existed. The forces that have made those neighborhoods what they are today would have moved to other parts of the city, changing those neighborhoods. The Lomex would have literally destroyed the culture of Manhattan as we know it. Strong community outcry, led by Jacobs and many others, prevented this.
Her book The Death and Life of Great American Cities is essential reading, even if urban planning is not exactly your forte. The free Municipal Art Society show, co-sponsored by the Rockefeller Foundation, will run through January 5. Visit their website for more info.
A few things you might keep in mind as you peruse the exhibit — are Jacobs' theories relevant today? Can her philosophies be used in condo-crazy 21st century New York? Is it possible to have an urban landscape theory that's influenced by both Jacobs and Moses?