Collect Pond (and what I assume to be Bunker Hill) as depicted in watercolors by artist Archibald Robertson in 1798
We celebrate a year of New York City history podcasting by re-visiting the topic of our very first show.
Downtown Civic Center used to have a big ole pond in the middle of it which provided drinking water for the island's first inhabitants.
What happened to it, why is it important today and how did it give rise to Canal Street, New York's biggest traffic thoroughfare?
From the Mannahatta Project, a visualization of downtown Manhattan, with Collect Pond and acres of forest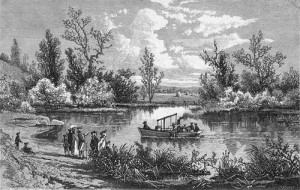 Hard to believe, but this is downtown Manhattan and Collect Pond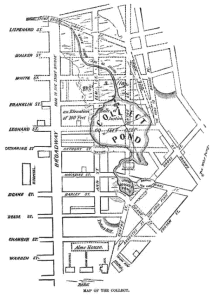 An early 19th century map of Collect Pond and the streets that usurped it. (Click into it to see details.)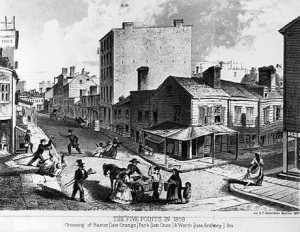 A mid-century depiction of Five Points, this corner in particular being where Paradise Square sprang up, an ambitious residential project doomed by soggy land and noxious odors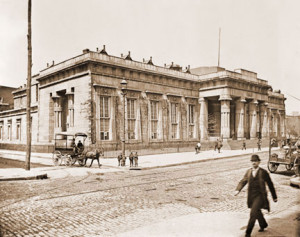 The Tombs Prison, in 1890, before being condemned. Its squalid conditions are legendary and are due in part to unsatisfactory construction over the former Collect Pond area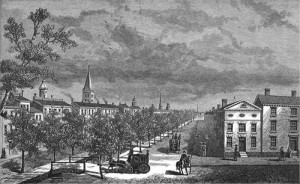 The early days of Canal Street. The actual foul-smellin canal was concealed with a row of lovely trees shielding the new tenements and businesses surrounding it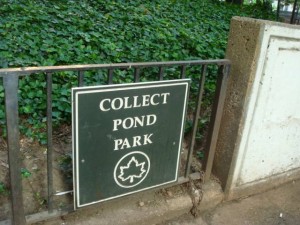 A tiny park surrounded by government buildings pays homage to the early (and far more natural) days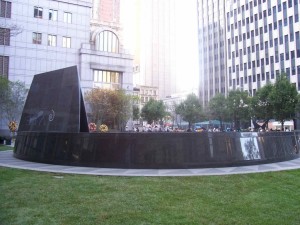 The most dramatic reminder of the neighborhood's early days, however, is the African Burial Ground Memorial, which opened last year