The Bowery Boys Obsessive Guides look very, very closely at a classic movie filmed in New York City, finding buried history, additional context and a few secrets within various scenes and plot points. Filled with film spoilers so read this after you've seen the movie — or use it to follow along as you watch it! Check out my previous guides for Miracle on 34th Street, Midnight Cowboy, and The Muppets Take Manhattan.
In 1989 the ghosts returned to New York City streets. Both above and beneath them.
The 1984 blockbuster Ghostbusters holds a unique place in Hollywood cinema, the rare sci-fi comedy to become a genuine classic, due mostly to its terrific cast (Bill Murray, Harold Ramis, Dan Ackroyd, Sigourney Weaver, Ernie Hudson, Rick Moranis, Annie Potts, among others) and to the unique alchemy of theme and location.
The characters run through New York City like kids in a haunted house. In 1984, New York's reputation was still greatly tarnished by the economic and social crises of the previous decade. Ghostbusters plays upon those perceptions, its heroes battling metaphorical ghosts and demons in historic locations.
(For a deep dive into Ghostbusters' relationship with New York City, read my long post from 2013: The Real 'Ghostbusters': 25 Spooky, Historical New York Facts about 1984's Slimiest Supernatural Comedy)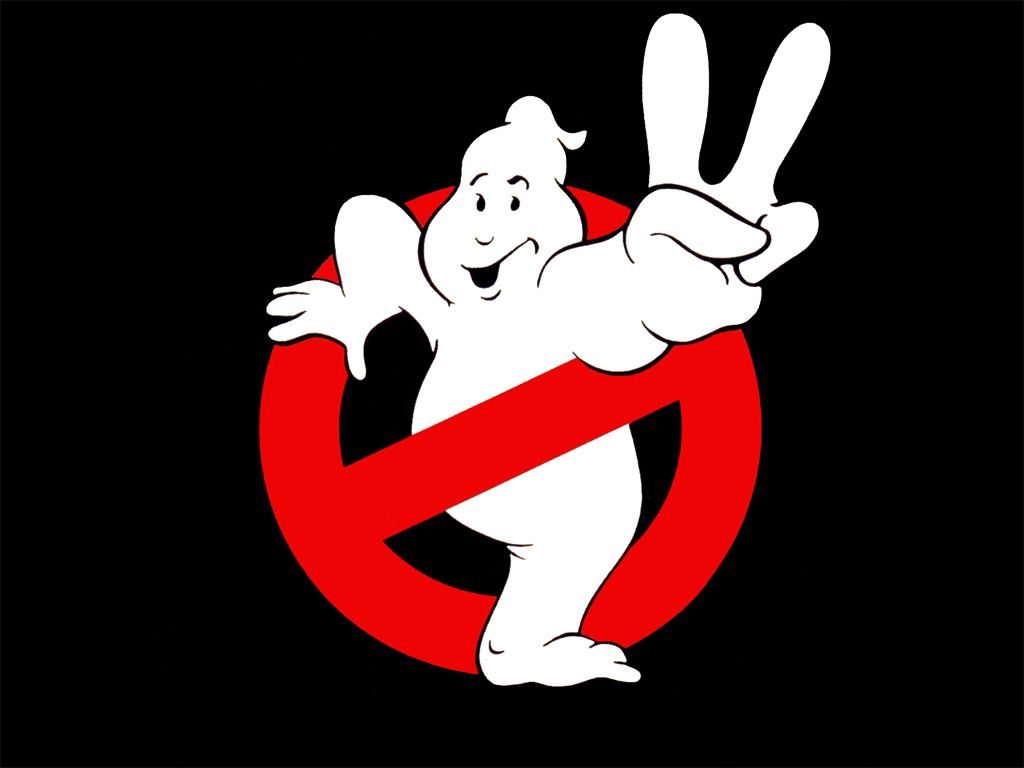 The 1989 sequel Ghostbusters 2 takes place in the same city but at the end of an era.  Ed Koch is in his final year as mayor of New York. He had been unseated in the primaries by David Dinkins who, in November, would then defeat  Rudy Giuliani for the office.
Many elements of the city have been 'cleaned up' by this time (the once ubiquitous subway graffiti being one casualty) but the high crime rate was still very much the pivotal concern. New Yorkers didn't need to go to the movies to find terrors in their backyard. The sequel opened less than two months after a jogger was beaten, raped and left for dead in Central Park. According to the New York Daily News, "On a typical day in 1989, New Yorkers reported nine rapes, five murders, 255 robberies and 194 aggravated assaults. Fear wasn't a knee-jerk reaction; it was a matter of self-preservation. "
It's easy to watch Ghostbusters 2 today, disengaged from its historical context. But watch with a close eye and you'll see bits of a familiar city in the background and hints of the era embedded into the story. Here's a list of New York historical facts and trivia to watch out for:
CLEARLY THIS ARTICLE CONTAINS SPOILERS. WATCH THIS FILM BEFORE READING OR, BETTER YET, READ ALONG AS YOU'RE WATCHING IT:
1) The opening scene works as a pastiche of New York City life — arguing neighbors, jogger on the sidewalk, a cop giving a parking ticket — along East 77th Street. Dana, played by Weaver, has arrived with a gigantic baby carriage and her bundle of joy Oscar. Her place, at 325 East 77th Street, built in 1940, is your typical co-op of the neighborhood, a far cry from her last home on 55 Central Park West, which became a demonic portal in the last film.
Interestingly, at Dana's apartment building, Google Map lists one business — Psychic Works — which would have come in handy had it been there in 1989.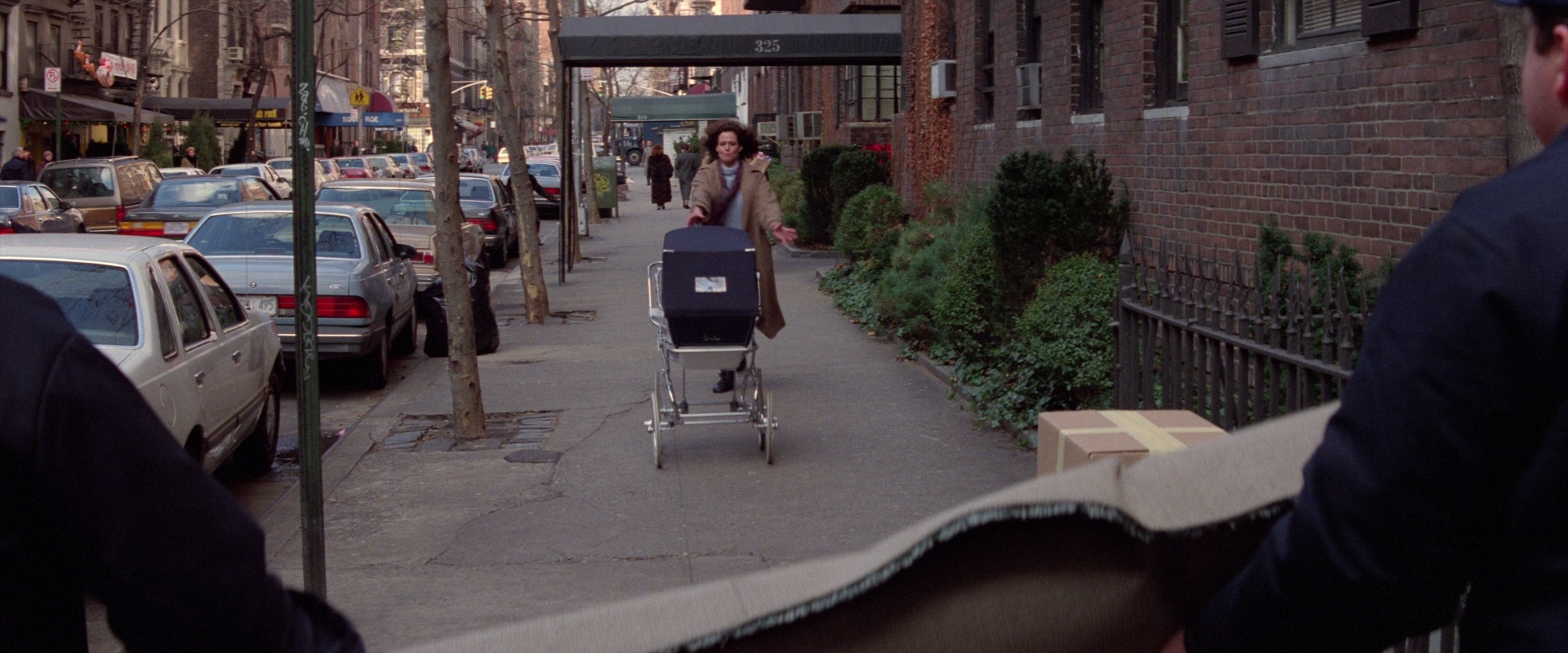 2) Baby Oscar is whisked away by a spiritual presence and hurled into traffic at the corner of East 77th Street and First Avenue. While that corner has been much transformed today — note the placement of the diner in the movie, today's Green Kitchen  — one business is exactly the same — the signage for the cleaners on the northwest corner.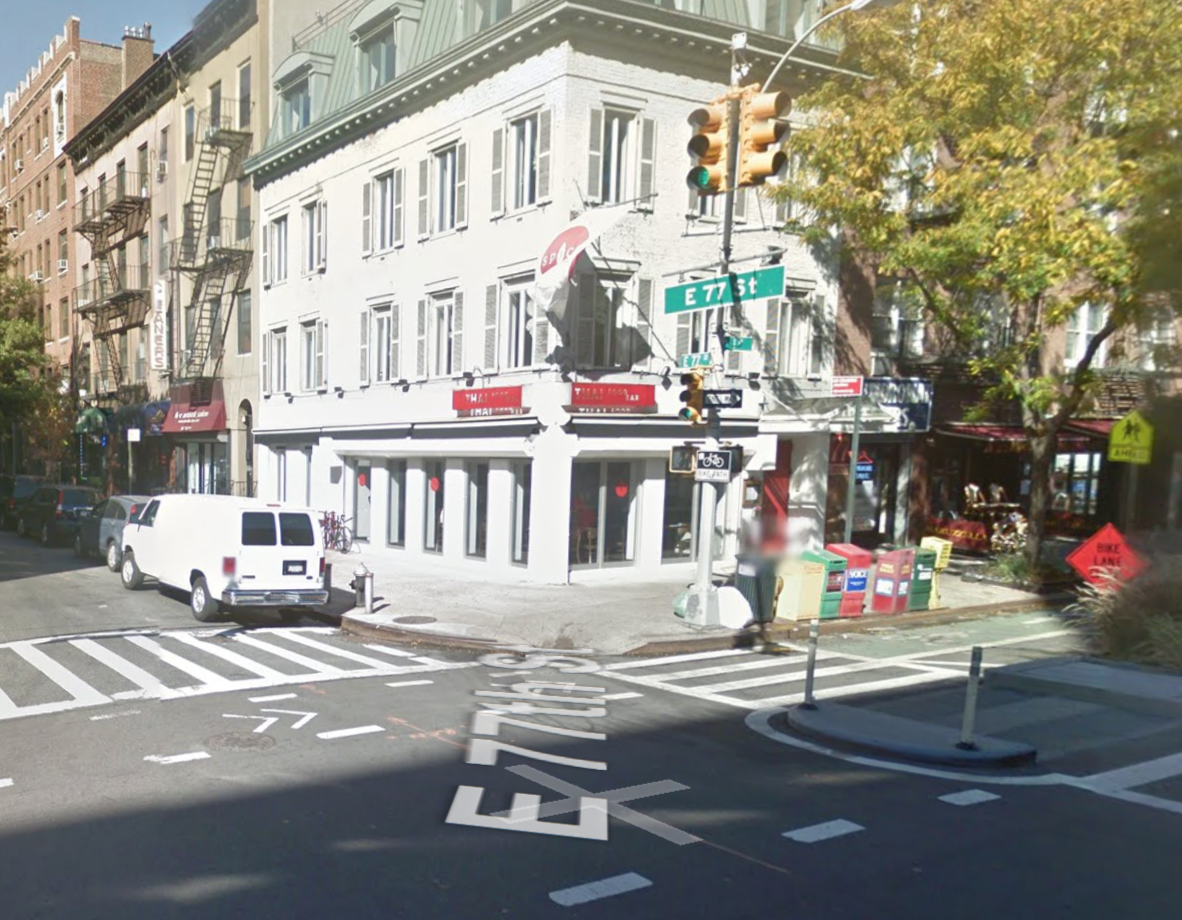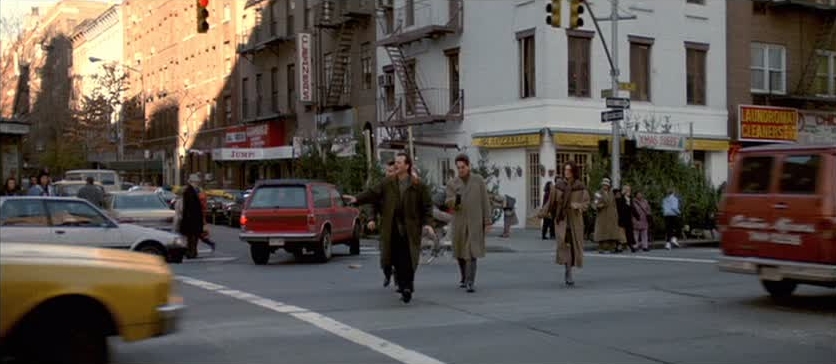 3) Why would this particular corner be haunted? Well, we'll see what lies beneath in a second. But this particular corner would have been part of old Jones Wood, a 90-acre forest which attracted picnickers and day trippers (including many early German immigrants) long before Central Park was invented.  It was the sight of early ghost stories as the forest contained crypts of prominent families.
Below: The so-called 'Smuggler's Tomb' located at the spot of today's First Avenue and 71st Street.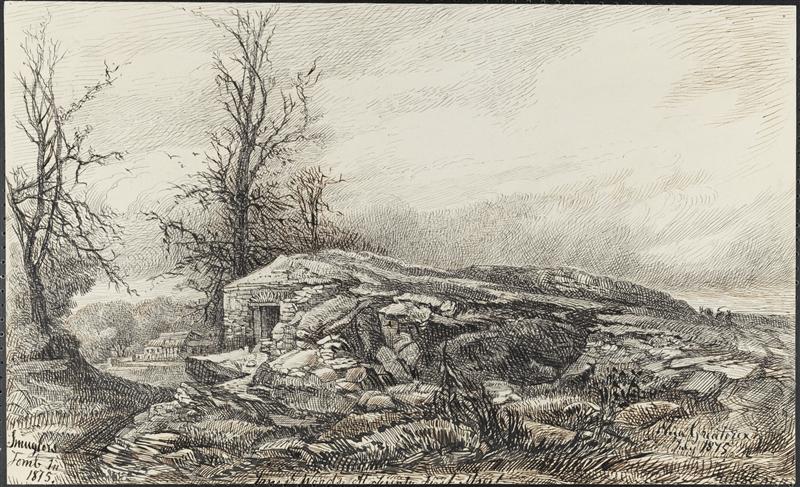 In fact, there's a bar called Jones Wood Foundry on First and 76th Street today.
4) Ghost busting has died down in New York City, and our old friends Ray and Winston must demean themselves by entertaining at children's birthday parties. All the children greet their guests with "I thought it was gonna be He Man!" and a chant "He-Man! He-Man! He-Man!"
The reference in the film is a bit odd. He-Man and the Masters Of the Universe debuted on television in 1983 and had been the subject of a feature film in 1987 starring Dolph Lungren. But the film was a flop, and the animated series had been off the air by then. Perhaps these were young hipsters, already reveling in their childhood past.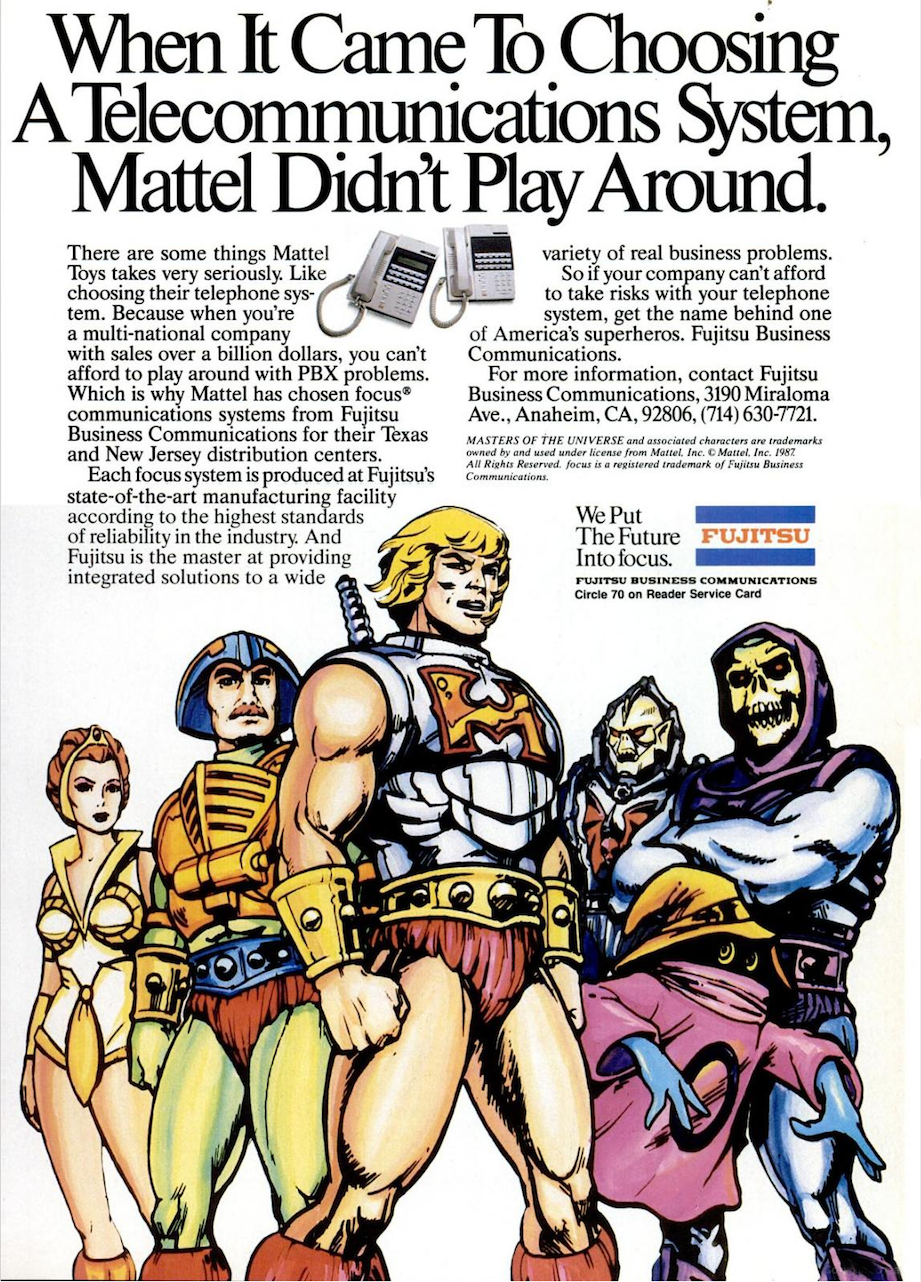 "Ungrateful little yuppie larva!"
Incidentally, Ghostbusters 2 did spawn a toy line, albeit less successful than He-Man and might have been greeted by children with similar enthusiasm.
5) Venkman has moved on to his own television chat show called World of the Psychic, broadcast on the fictional WKRR-TV Studio.  While this seems like a legitimate television station in the Ghostbusters world, Venkman's show is very much influenced by '80s public access television. The zany underground medium started in the early 1970s and reached a sort of 'golden age' by the 1980s. Shows like Telepsychic certainly inspired this. The Saturday Night Live's send-up of Telepsychic — starring Dan Ackroyd — most certainly did.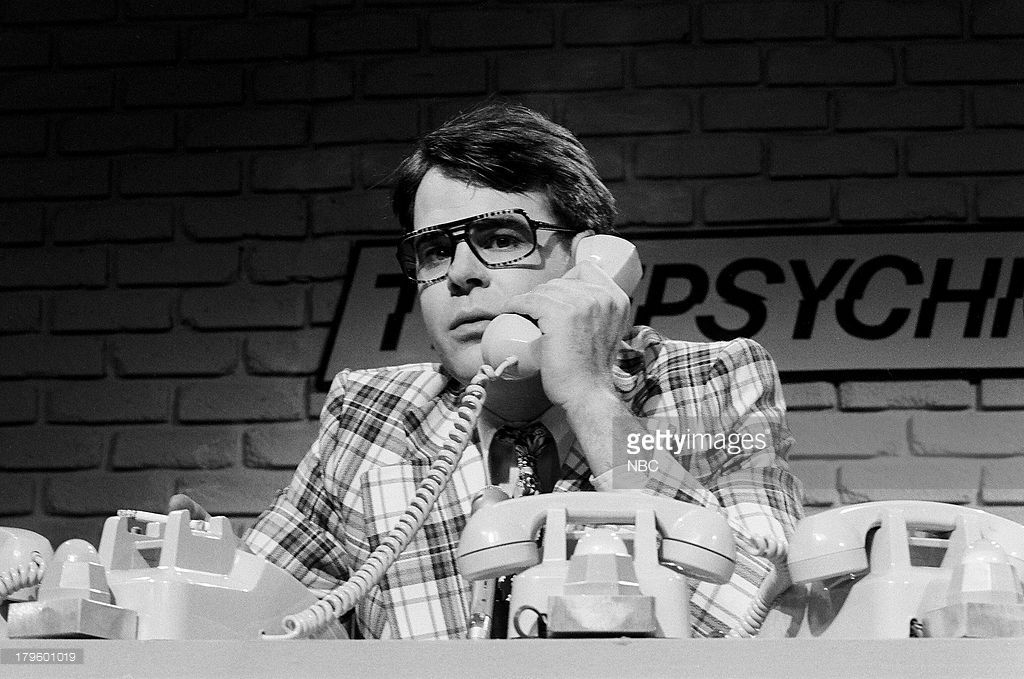 Just two years after Ghostbusters 2, Dionne Warwick debuted her Psychic Friends Network.
6) On Venkman's program, there are two guests who predict the end of the world. Â The first predicts the end of the world "at the stroke of midnight on New Years Eve."
Well, New York survived. Here's the actual stroke of midnight, ringing in 1990 in Times Square. Many would certainly consider this hellish, if not apocalyptic. "Goodbye to the '80s!"
Venkman's second guest believes the end of the world will be on February 14, 2016!
"Valentine's Day, bummer."
She received the information from an alien at the Paramus, New Jersey, Holiday Inn which is a real place.
7) Ghostbusters New York is still led by Mayor Lenny Clotch (played by David Margulies), an obvious stand-in for Mayor Ed Koch.  In Ghostbusters 2, Clotch is running for governor of New York. Koch did indeed attempt that very feat in 1982, but lost in the primary to Mario Cuomo.  Sadly, Margulies, a regular on the New York stage, died earlier this year.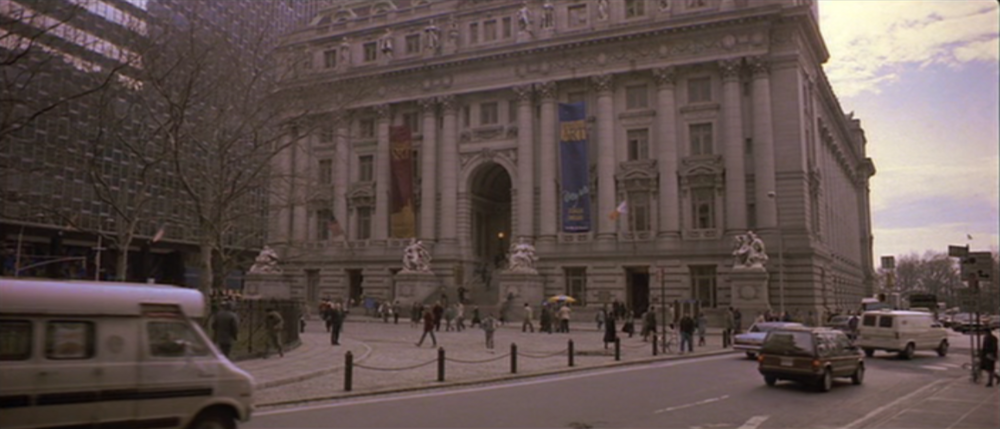 8)  One of New York's finest works of architecture appears in Ghostbusters 2 — but moved uptown.  The Alexander Hamilton U.S. Custom House stands in for the Metropolitan Museum of Art who apparently didn't give them permission to use their facade — or their name.  The faux museum is called the Manhattan Museum of Art, and both the Custom House and nearby Bowling Green are magically shifted to Central Park.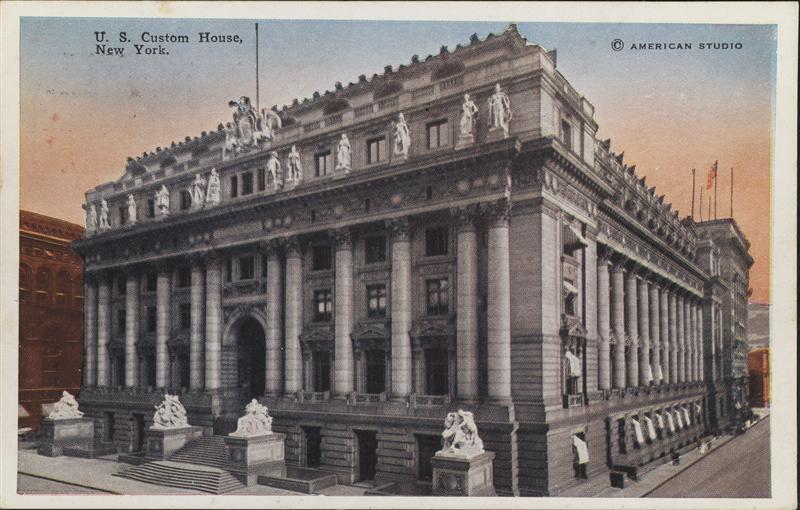 The Custom House had just gone through some truly thorough preservation work in 1987. It had already become a gallery for traveling exhibitions, such as in 1988 with "Paris Grands Projets 1979-1989." Several months after the opening of Ghostbusters 2, plans were underway to move a museum to Native Americans (today's Smithsonian National Museum of the American Indian) into the building.
The Custom House was renamed for Alexander Hamilton in 1990, a year after the structure's triumphant and central appearance in Ghostbusters 2.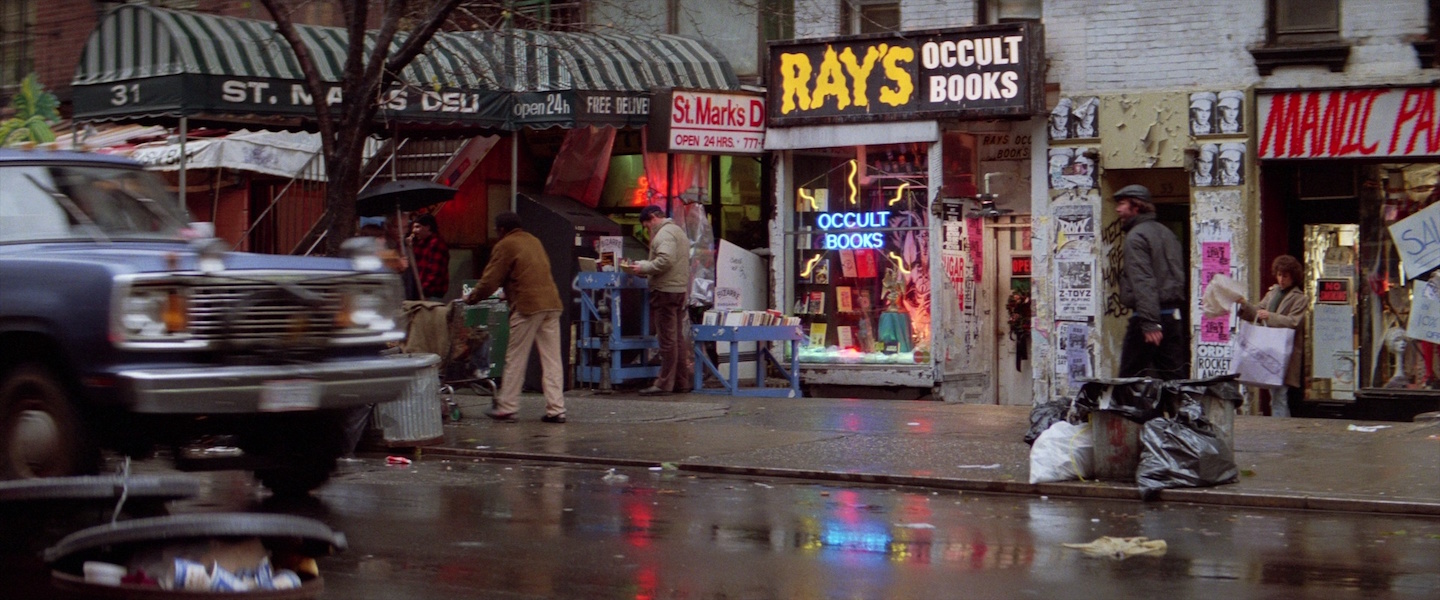 9) What have the Ghostbusters been up to since business has been down? Well, Ray has his occult book store on St. Mark's Place, still a place of vibrant counter-culture in 1989.  Perhaps this a nod to New York's most famous occult book store owned by Samuel Weisner which originally opened on 'Book Row' at 117 4th Avenue. (By the time of the film, it had moved to 132 East 24th Street. It's been closed for many years.)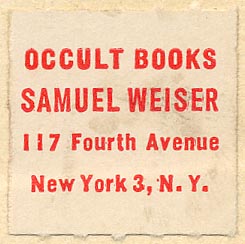 At the right of the screen, you can see Manic Panic, the original boutique which spawned the flamboyant hair-color company. (More information in our St. Mark's Place podcast.)
10) The Ghostbusters regroup to investigate the mysterious street corner on the Upper East Side. While the daytime scenes are clearly filmed at the corner of First Avenue and 77th, the nighttime scenes — as they're drilling into the street — are clearly not even in New York City at all. (Note the red subway poles).
Residents of the Upper East Side have become quite familiar with nighttime drilling in the street due to the construction of the Second Avenue Subway.  The project began back in the 1970s but had been placed on a (what seemed like a) permanent hold by the 1980s.
Quoting from the September 1989 New York Times: "There are curiously empty spaces in this cluttered city. The Second Avenue Subway tunnel, dug at great expense and never to be finished."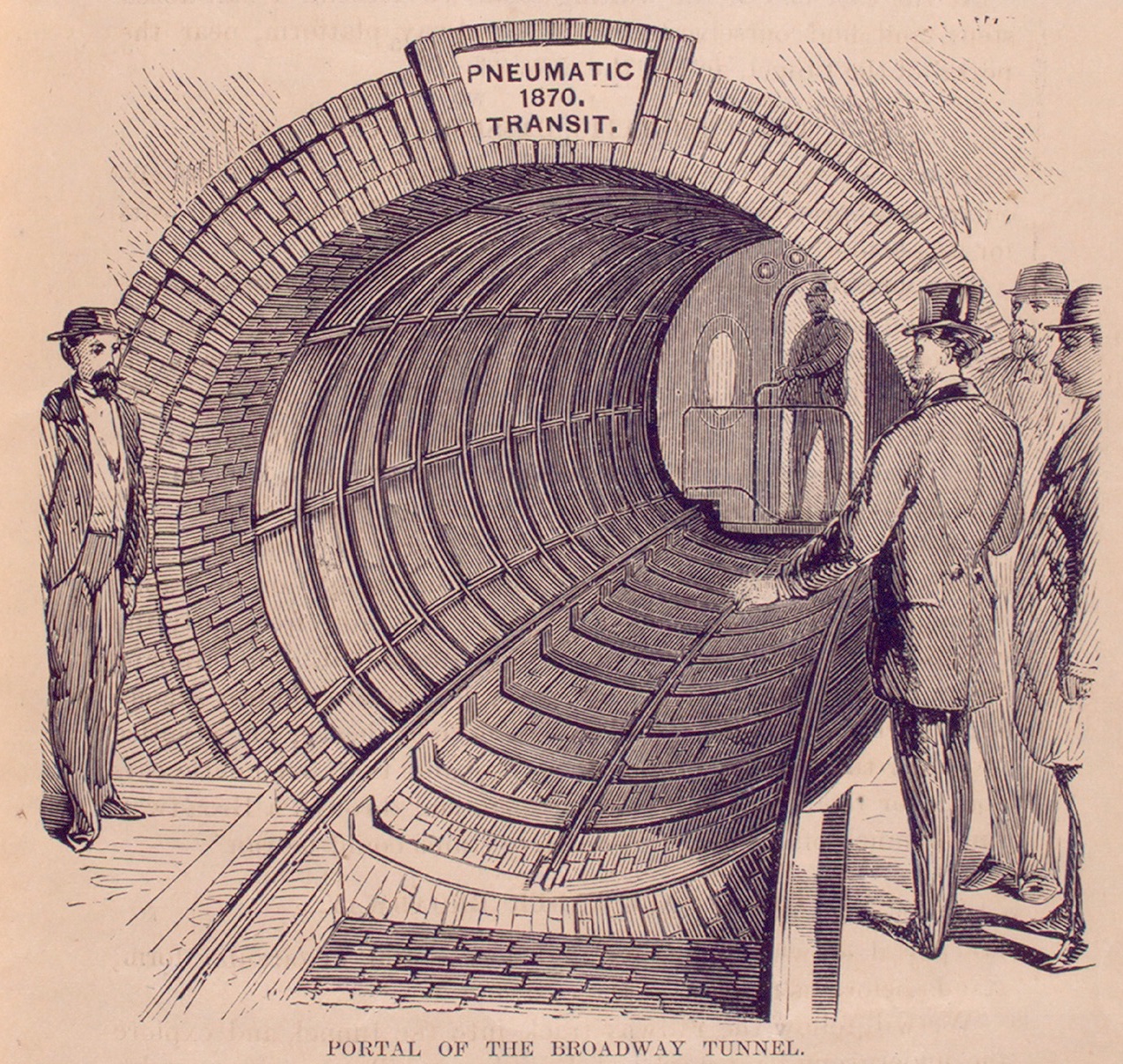 11) Ah but there is a completed tunnel under the street, now filled with a pink, ghostly ooze — at least in the world of the Ghostbusters. Or, as Ray declares, "It's the old pneumatic tube tunnel!"
As we spoke about in our recent podcast on Alfred Ely Beach's Pneumatic Tube, the original tunnel was only carved underground for a single block — near City Hall — in 1870. There were plans to send the pneumatic tube up the entire length of the island (albeit under Madison Avenue, not First Avenue). This is my favorite bit of history from the film and displays a loving nod by the writers to Old New York: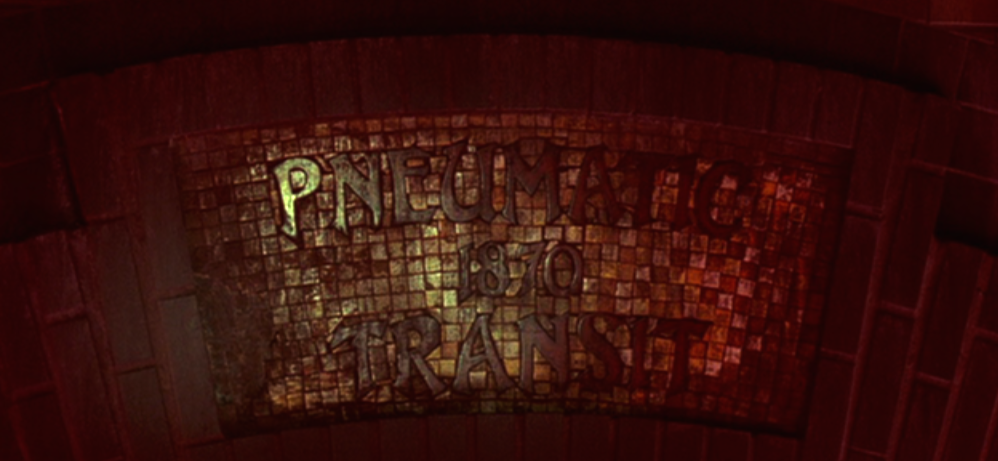 Our gang accidentally takes out some wires which manages to cause a blackout throughout all of New York. The Blackout of 1977 had only occurred a dozen years before, so many audience members might have flinched a bit at that scene.
12) The Ghostbusters are hastily taken to court. Venkman's defense for the hole in the street: "Well, there are so many holes in First Avenue, we really didn't think anyone would notice."
Potholes in the street were a potent symbol for the city's deterioration and also a way to appease the neighborhood when they were eventually fixed. In 1990, the Times reported in an article 'Gaining in the Battle on Potholes: "The Department of Transportation claims that the number of potholes in New York City streets dropped 23 percent this year, and the new Commissioner, Lucius J. Riccio, suggested yesterday that potholes "might have to be put on the endangered-species list."
The city even opened a phone line for New Yorkers to call in about potholes. From the article: "The pothole hot line – 212-POT-HOLE – expects its 25,000th call this week. The caller will receive a Highway Bureau T-shirt and the dubious honor of filling the pothole of his or her choice."
13) The sequel features a new version of the Ray Parker Jr. theme song, this time recorded by New York City icons Run-DMC. The rap trio formed in 1981 in Hollis, Queens, and quickly helped develop the basis for modern hip hop music. Â In 1989, they were coming off the success of their massive and mainstream Tougher Than Leather album, produced by Rick Rubin (much later to win a Grammy for producing Adele's 21).
Another song from the film actually became a minor hit –Â "On Our Own" by Bobby Brown (who makes a terribly awkward appearance in the film).
14) In a montage of scenes demonstrating the Ghostbusters' return, we see one ghost running around the Central Park reservoir and another haunting Orrefors fine glassware boutique at  58 E. 57th Street.  Orrefors is no longer there today, but the building sits next to New York's tallest residential tower — the infamous 'needle' building 432 Park Avenue. To quote Wikipedia here: "The building has been much maligned by many city denizens who find it an eyesore and believe it represents New York's increasing cost of living and ostentatious wealth."
15) Look closely during the 'haunted toaster' scene and you will see a marvelous and obscure site on the wall — a vintage poster for the Hotel Lincoln, a glamorous midtown destination which opened in 1928.  This was the hotel mentioned in our Billie Holiday's New York podcast as the place she began a (controversial) residency with Artie Shaw in 1938. She was forced to enter through the kitchen as a black woman couldn't be seen coming in the front door.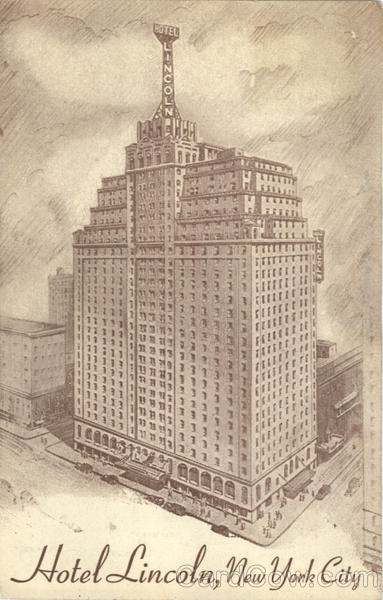 16) This has nothing to do with New York City history, but you must read this extraordinary Deadspin article on Norbert Grupe, the actor depicted in the Prince Vigo painting. Keep in mind Venkman's words while you read it — "Vigo? He's a bit of a sissy isn't he?"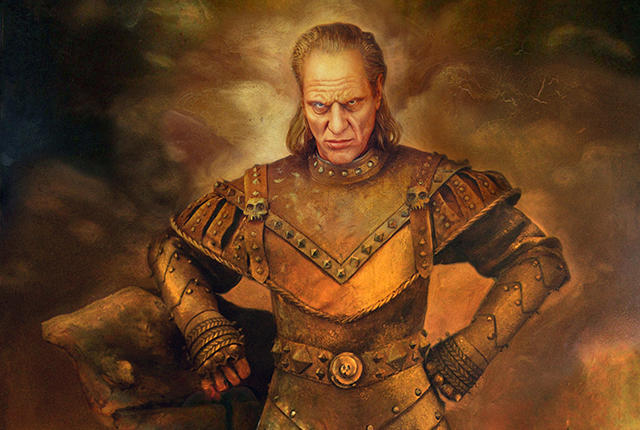 17) Venkman wraps little Oscar in one of his prized possessions — a New York Jets sweatshirt, #12. Â This number, now retired, belonged to Joe Namath, who played with the Jets from 1965 to 1976.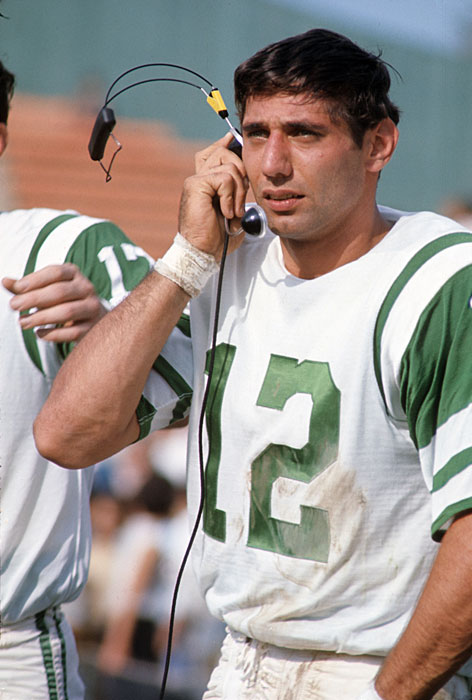 18) Dana and Oscar take shelter in Venkman's apartment, which just happens to be one of the most glorious apartment buildings north of Houston.  Built in 1891 for the Manhattan Savings Institution Bank Building, 644 Broadway formerly featured the Atrium clothing store on the ground floor. (Read more about this lovely building at Daytonian In Manhattan.)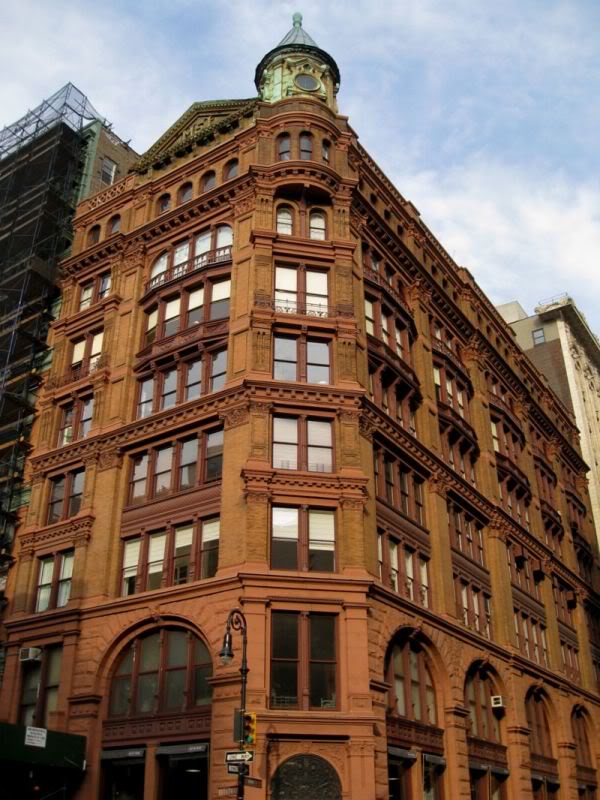 Catch this line: "I've got some Laura Antonelli tapes you can watch." Laura Antonelli was a beautiful Italian sex symbol of the 1970s.
19) As Louis (Rick Moranis) and Janine (Annie Potts) leave Ghostbusters headquarters — the old fire station on North Moore Street — observe the unusual business that sits across the street:Â Hongkong Kowloon Docks Import Inc., a typical example of the sort of business that used to reside in Tribeca during the 1970s and 80s. Â Coincidentally, in China, there was a program called Hong Kong Ghostbusters which took place in a housing development called Kowloon.
20) The Ghostbusters investigate an abandoned subway track whose "lines have been abandoned for 50 years." They are immediately beset by ghostly figures of all types, from severed heads on sticks to a phantom stream train, the supposed haunted visage of the "New York Central to Albany" which derailed in 1920, killing hundreds.
That disaster, of course, didn't exist. However they could have chosen to use another tragedy from around that same time period — and much closer to  home.  The Malbone Street Wreck in Brooklyn involved two trains colliding underground, killing 93 people.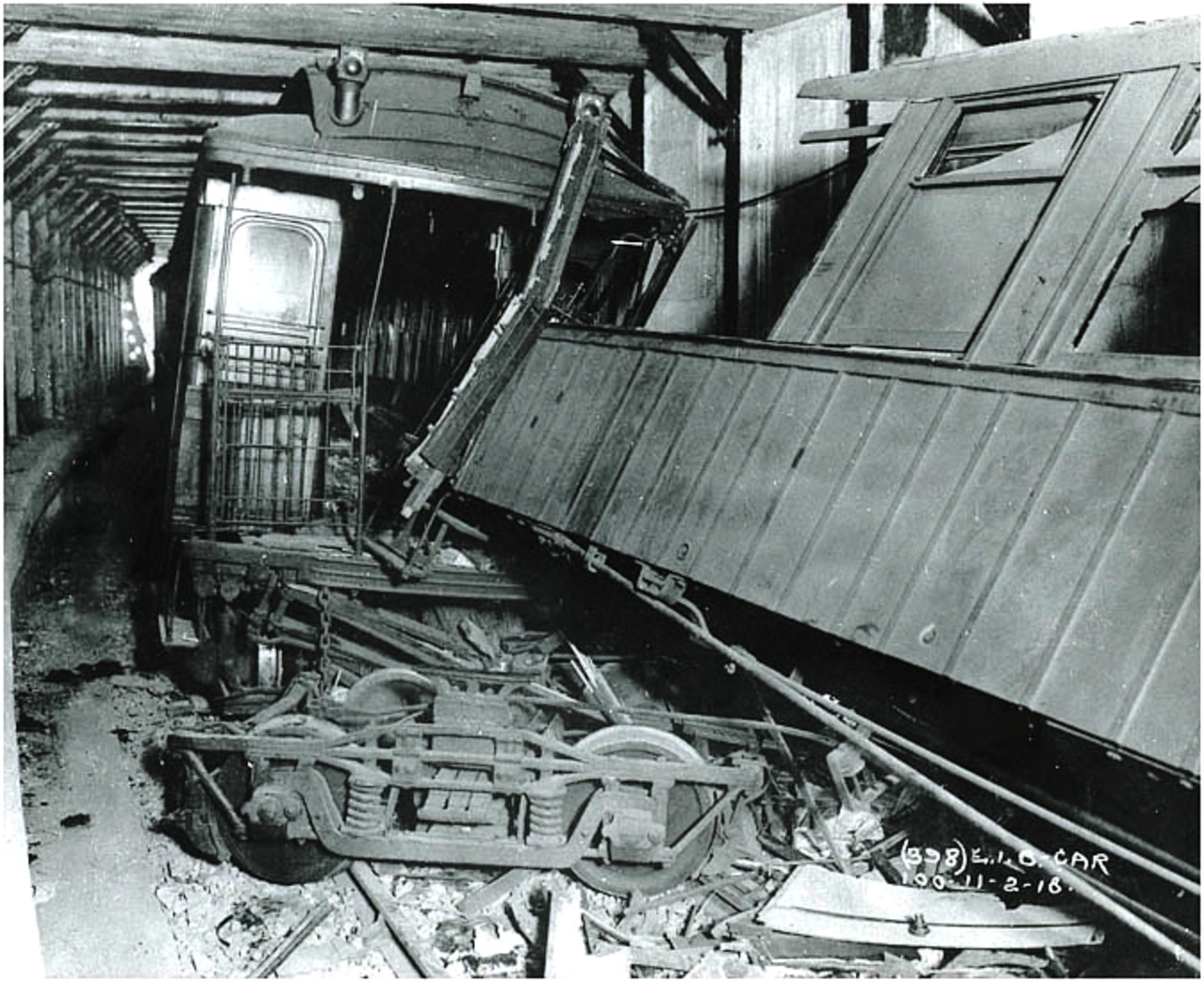 21) Our heroes are thrown into the Parkview Psychiatric Hospital in order to get them out of the way. This fictional institution is most likely based upon Manhattan Psychiatric Center on Ward's Island. Timely news the very summer of Ghostbusters 2? New York City's psychiatric wards were too crowded.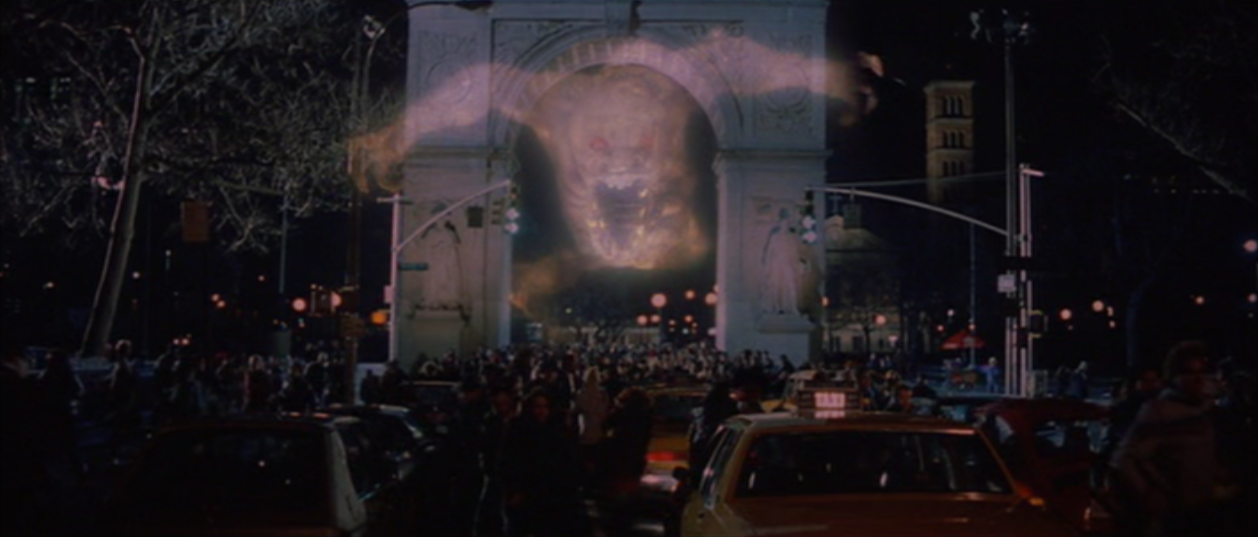 During a thrilling montage of ghost attacks throughout the city, Â three particular things of historical interest pop out:
22) Massive Ghost in Washington Square Park — The park is notoriously the site of an old potter's field, and bodies to this day are often discovered during excavations. "Where now are asphalt walks, flowers, fountains, the Washington arch, and aristocratic homes, the poor were once buried by the thousands in nameless graves." (Kings Handbook of New York, 1893) Read more on Washington Square's unusual backstory here.
23) Titanic Finally Arrives —  The Titanic was originally supposed to have docked at the White Star Pier 59 (parallel to West 18th Street); instead, the survivors of the shipwreck disembarked from the Carpathia at Pier 54. The framework of the pier still existed today (pictured in 1912 below)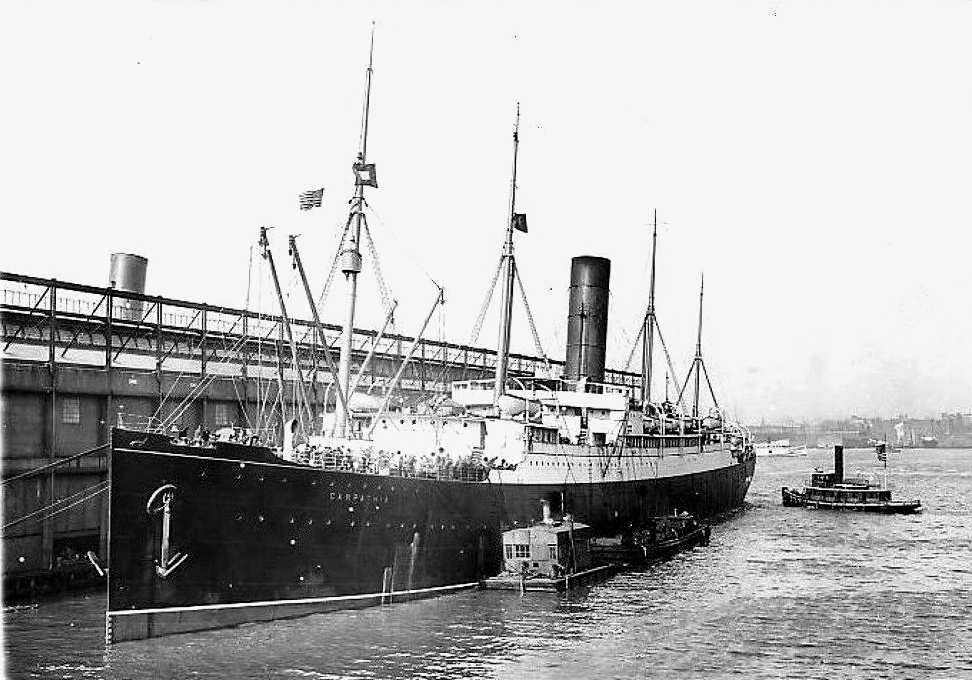 The ghostly passengers actually let out at Pier 34 in the film, to the horror of Cheech Marin in a cameo appearance.
24) The Spirit of Fiorello La Guardia (off screen) — The mayor claims he's been seeing the ghost of the former mayor "and he's been dead for 40 years." Since the events of this scene take place on December 31, 1989, La Guardia would have been gone over 42 years.  He died in his Bronx home of Riverdale. Here's how the New York Times broke the announcement.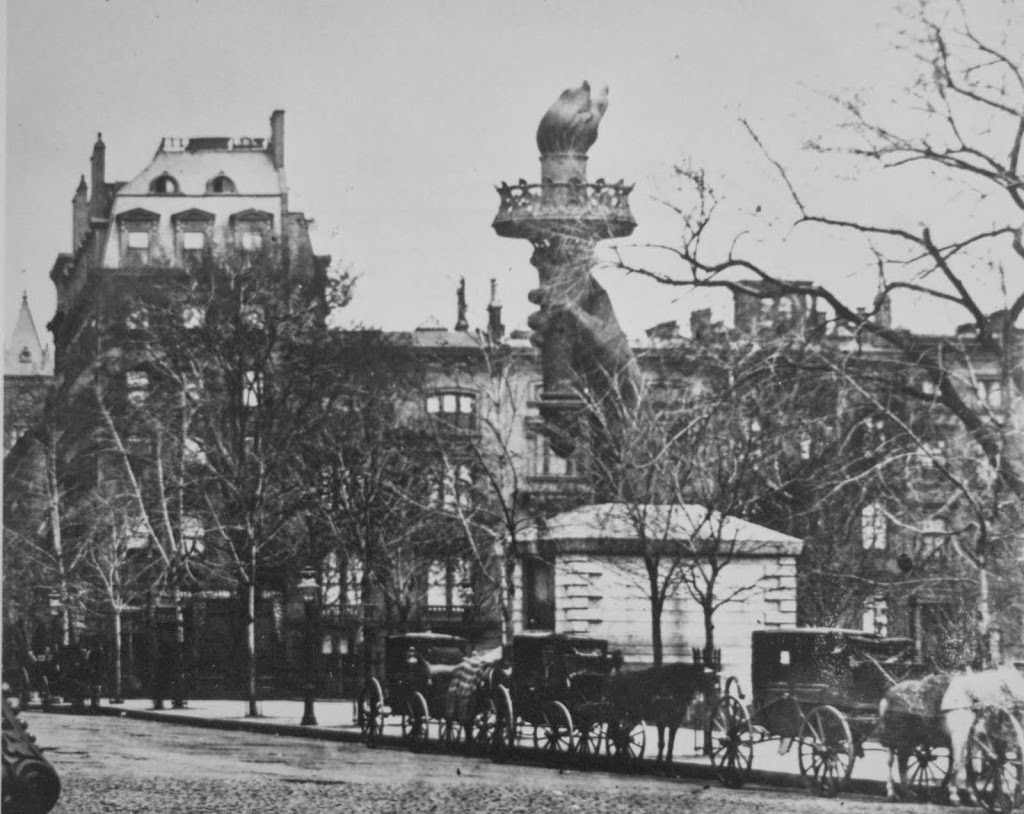 25) The grand finale features the Statue of Liberty pulling a Stay Puft Marshmallow Men, delivering the Ghostbusters to a goo-covered Custom House, er, I mean art museum and saving the day.
This marks the first time that the entire statue has made it to Manhattan. However her arm spent many, many years in New York, well before it was ever attached to the rest of herself.
From a Bowery Boys 2014 article: "….the arm and torch would be displayed in the northwest corner of Madison Square Park, from 1876 to 1882.  On July 4th, 1876, a gigantic painting by Jean-Baptiste Lavastre of the completed statue was displayed on a building across the street from the arm."
(Read the rest of the article here.)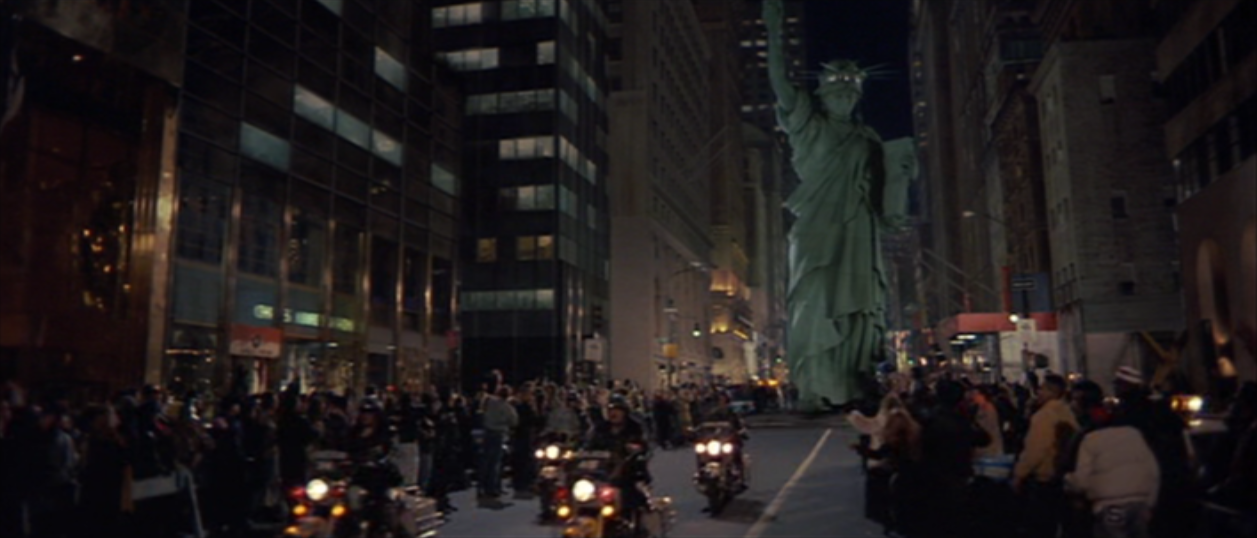 And here's the triumphant scene of Lady Liberty strolling through New York City. How many landmarks can you recognize?