The plays and sonnets of William Shakespeare, as the finest examples of the English written word, were also the first recorded sounds ever made. Â The first recording ever made at Alexander Graham Bell's Volta Laboratory in Washington DC in 1881 was that of Bell's very own voice reading Shakespeare's Hamlet.
Here's another recording of Bell's voice from 1885, running through a series of numbers as a sort of 'test pattern' for Bell's new Graphophone:
But Bell, visionary and genius, was no actor. Â The first audio of Shakespeare performance by an actor — the greatest actor, in fact –Â Edwin Booth, also known among the creative set in New York for The Players Club in Gramercy Park.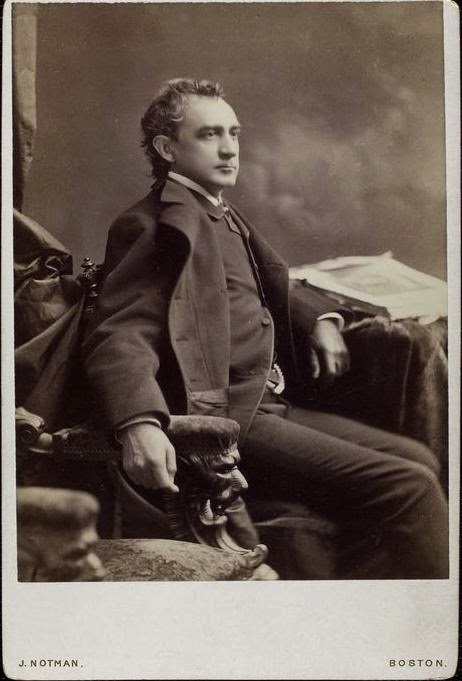 The recordings were made in Chicago in March 1890, of Hamlet and Othello (heard below):
Booth has a couple tie-ins to the subject of our last podcast, the Astor Place Riot. Â He was named for the early American tragedian Edwin Forrest whose rivalry with the British actor William Macready incited the bloody conflict at the crossroads of Broadway and the Bowery on May 10, 1849.
And, of course, Edwin Booth has a serious connection with another 19th century theater tragedy — the assassination of Abraham Lincoln by Edwin's brother (and acting partner) John Wilkes Booth. Â The assassin was actually known for his own aggressive version of Othello; during one performance, he almost strangled the life out of the actress playing Desdemona!
Listen to Edwin Booth's recorded performance. Â You're listening to the world's most well-regarded actor of the 19th century. Â He's at the end of his career here. Â One year later, in 1891, he would give his last performance at the Brooklyn Academy of Music. In the role of Hamlet, naturally.
The recordings, using Thomas Edison's equipment, were never meant for public performance, but rather at the behest of his daughter Edwina.