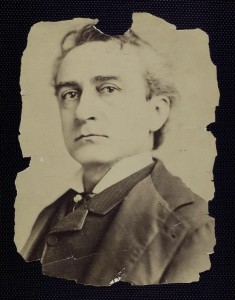 Edwin Booth, the Gilded Age's most famous American actor, was born 180 years ago today. Â Here's a few past blog posts on Mr. Booth (and his infamous brother John Wilkes Booth) to commemorate the great thespian's contribution to New York City history:
— Booth owned a theater at 6th Avenue and 23rd Street that nearly bankrupted him. However it was a favorite stage for international star Sarah Bernhardt.
— Booth came from one of America's great acting families of the 19th century. Â Father Junius Brutus Booth (that name!) once performed at the Park Theatre on Park Row. Â Tom told a ghost story relating to the Park Theatre in this year's ghost stories podcast. Â Meanwhile, the theater impresario who hired Junius, Stephen Price, was buried in the now-vanished graveyard of St. Mark's-in-the-Bowery.
— Booth's final performance (as Hamlet) was at the Brooklyn Academy of Music. Â He's prominently featured in our podcast on the subject from June 2012. Â Here's a picture of him in his signature role as Hamlet.
— You can find statues of Edwin Booth in various places in New York.  Of course, he stands in Gramercy Park, near the location of his famous Players Club.  But you can also find his bust up in the Bronx, in the Hall of Fame of Great Americans. 

— Booth was a good friend of another icon who later made New York his home — Mark Twain. Â In fact, Twain often stayed at Booth's Players Club, smoking cigars and playing pool. Â Booth comes up in my podcast on Mark Twain's New York.
— And finally, a look at New York City in 1864, the year the Booth brothers played to great acclaim at Booth's Winter Garden, just a few months before John Wilkes assassinated President Abraham Lincoln. Top picture courtesy New York Public Library / Billy Rose collection