PODCAST The history of SoHo, New York's 19th century warehouse district turned shopping mecca
Picture the neighborhood of SoHo (that's right, South of Houston) in your head today, and you might get a headache. Crowded sidewalks on the weekend, filled with tourists, shoppers and vendors, could almost distract you from SoHo's unique appeal as a place of extraordinary architecture and history.
On this podcast we present the story of how a portion of Hell's Hundred Acres became one of the most famously trendy places in the world.
In the mid 19th century this area, centered along Broadway, became the heart of retail and entertainment, department stores and hotels setting up shop in grand palaces. (It also became New York's most notorious brothel district). The streets between Houston and Canal became known as the Cast Iron District, thanks to an exciting construction innovation that transformed the Gilded Age.
Today SoHo contains the world's greatest surviving collection of cast-iron architecture. But these gorgeous iron tributes to New York industry were nearly destroyed — first by rampant fires, then by Robert Moses. Community activists saved these buildings, and just in time for artists to move into their spacious loft spaces in the 1960s and 70s. The artists are still there of course but these once-desolate cobblestone streets have almost unrecognizably changed, perhaps a victim of its own success.
---
The Bowery Boys: New York City History podcast is brought to you …. by you!
We are now producing a new Bowery Boys podcast every two weeks. We're also looking to improve the show in other ways and expand in other ways as well — through publishing, social media, live events and other forms of media. But we can only do this with your help!
We are now a member of Patreon, a patronage platform where you can support your favorite content creators for as little as a $1 a month.
Please visit our page on Patreon and watch a short video of us recording the show and talking about our expansion plans. If you'd like to help out, there are five different pledge levels (and with clever names too — Mannahatta, New Amsterdam, Five Points, Gilded Age, Jazz Age and Empire State). Check them out and consider being a sponsor.
We greatly appreciate our listeners and readers and thank you for joining us on this journey so far. And the best is yet to come!
---
A map of the Bayard farm and how it was broken up and carved into the streets we know today.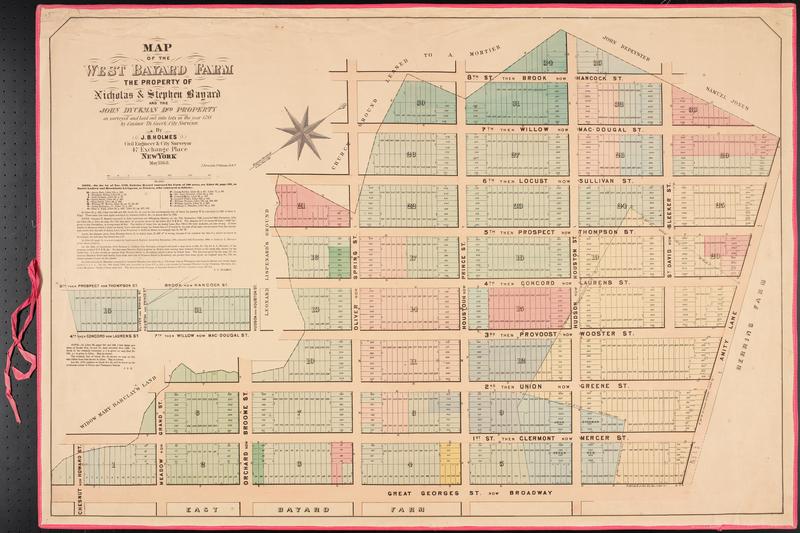 Niblo's Garden, located at Broadway and Prince Streets, was one of the finest theaters along Broadway in the area of today's SoHo.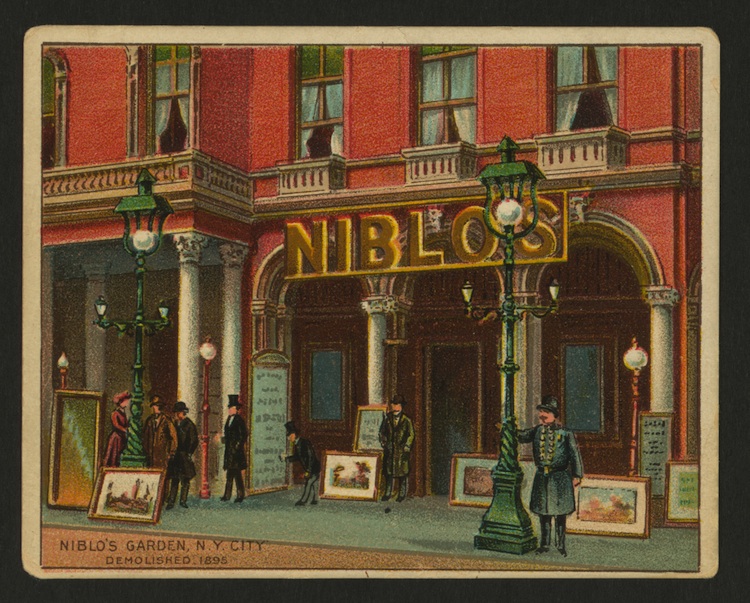 Looking north along Broadway between Grand and Broome Street. The St. Nicholas Hotel is the white structure in the center of the photo.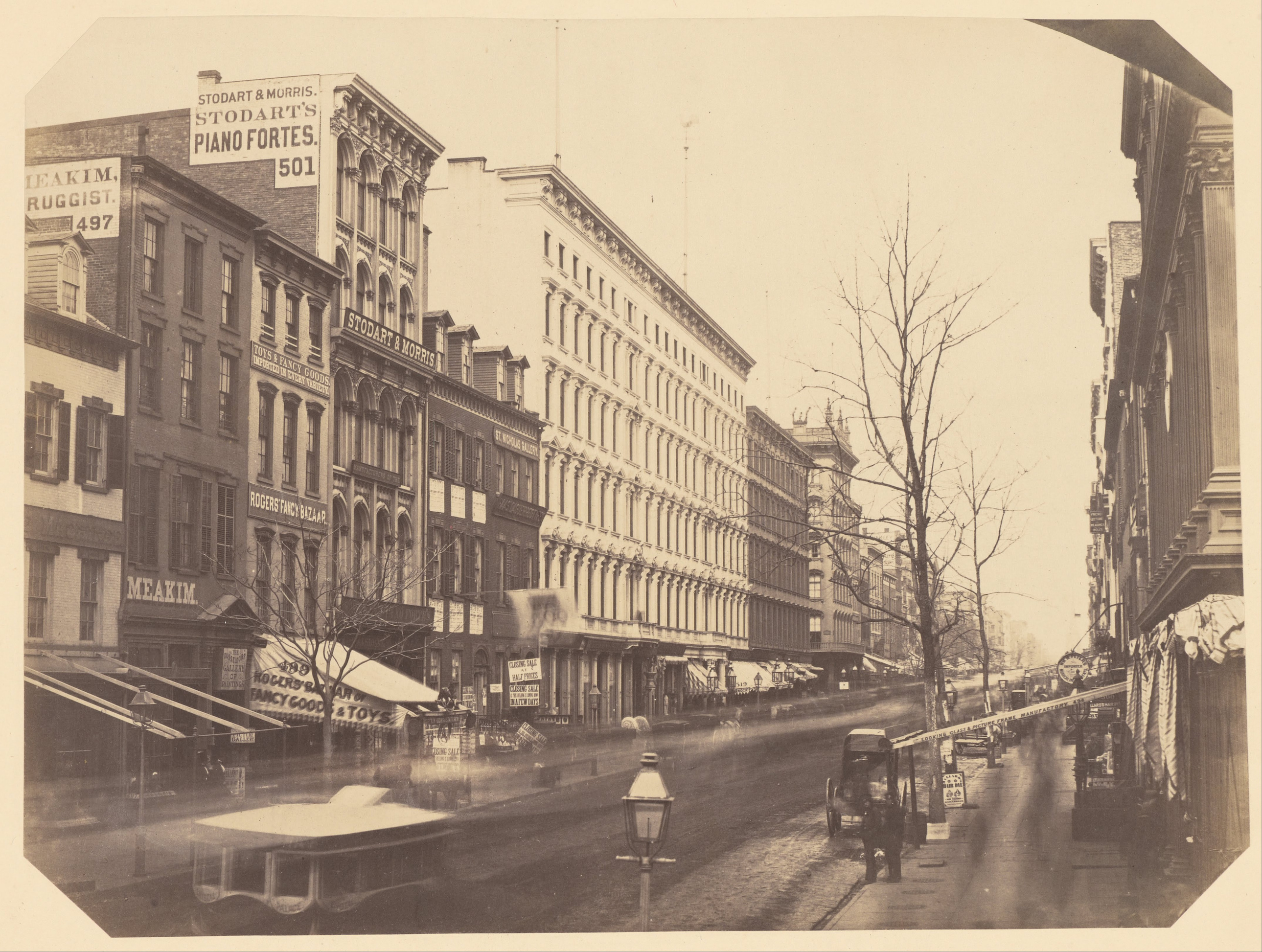 An auction poster from 1872 advertising a property on Broome Street and "South Fifth Avenue or Laurens Street" — today's West Broadway.
Here is that corner at 504-506 Broome Street — in 1935 (photo by Berenice Abbott). Per Sean Sweeney on Facebook: "The two buildings were demolished and for years were a parking lot. Now a new 3-story retail building sits in their place."
The house at 143 Spring Street — in 1932 (photograph by Charles Von Urban) and today (it's a Crocs shop!)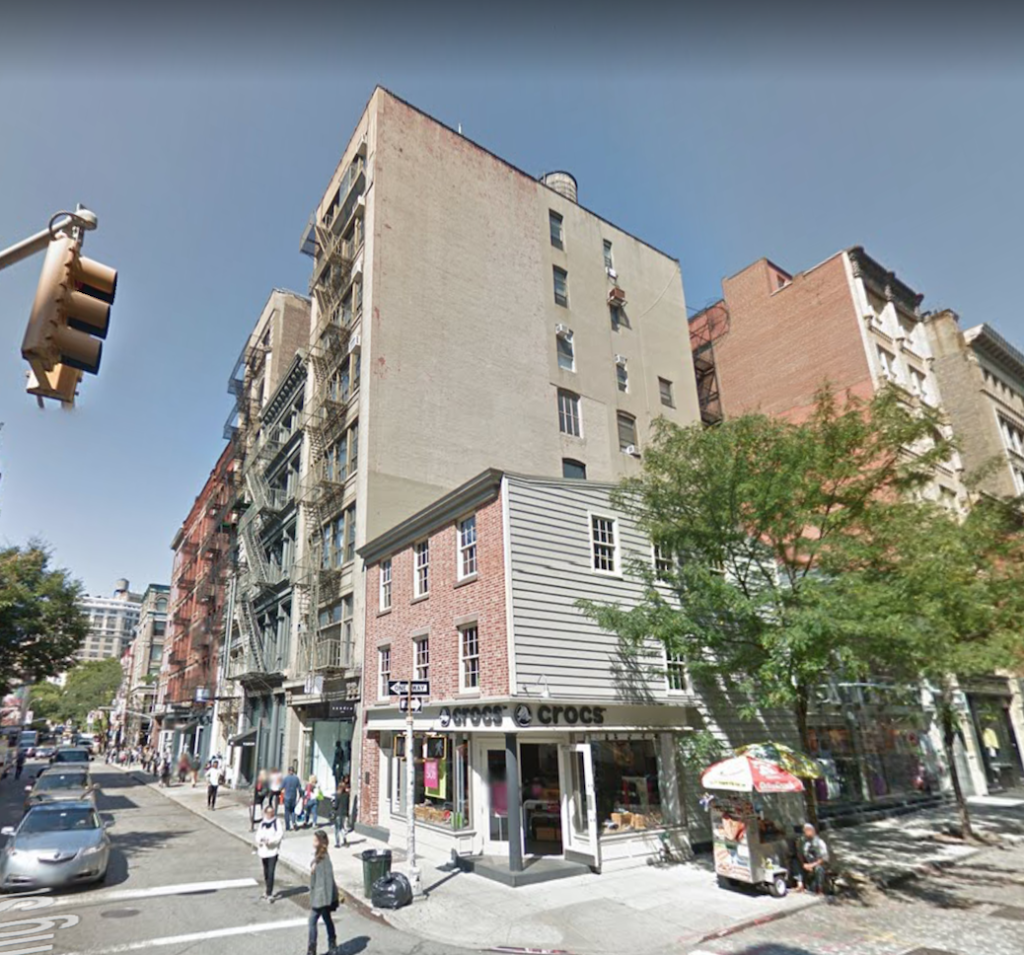 491 Broadway at Broome Street — in 1905 (photograph by the Wurts Bros.) and today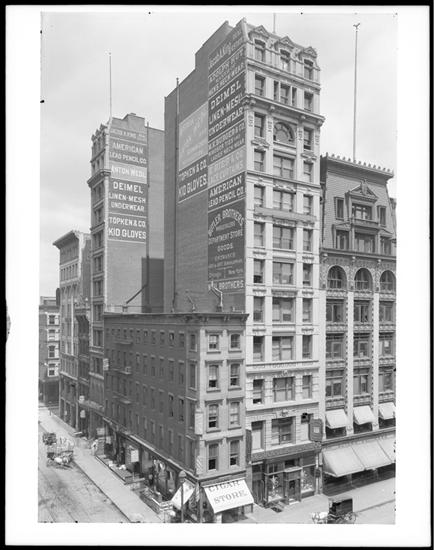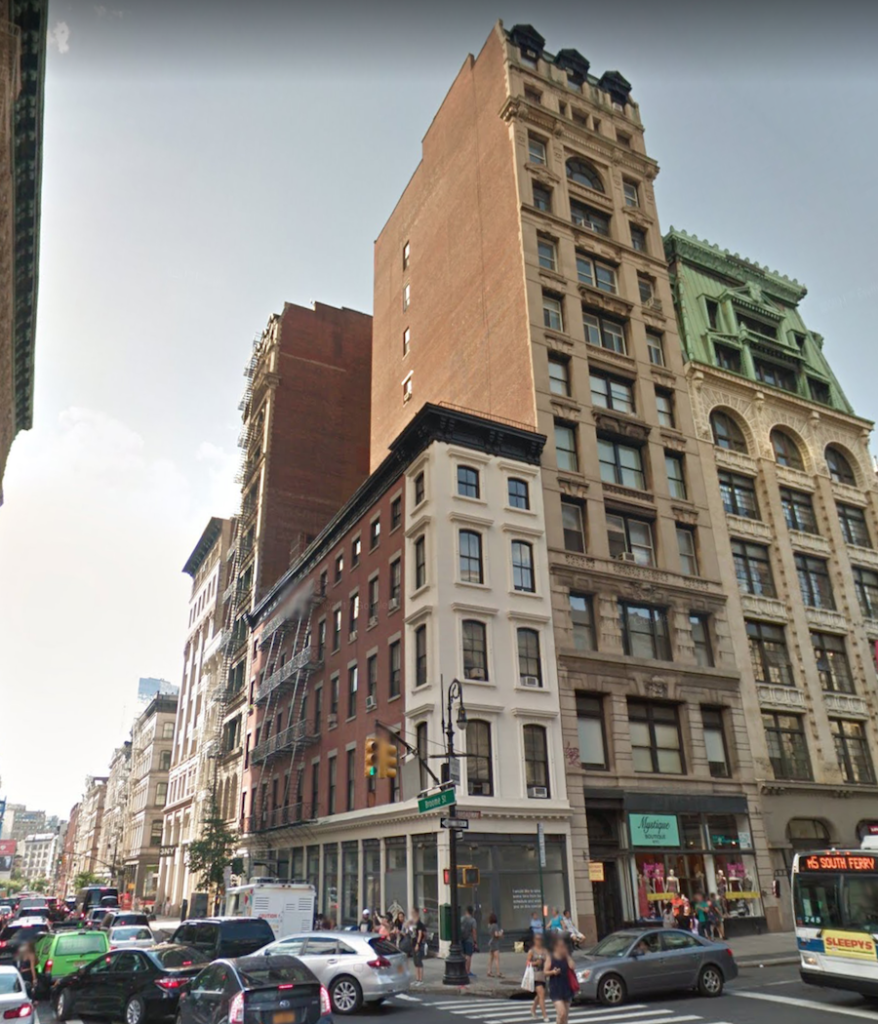 James Bogardus, the man who helped give SoHo its distinctive appearance thanks to his vigorous marketing and promotion of cast-iron architecture.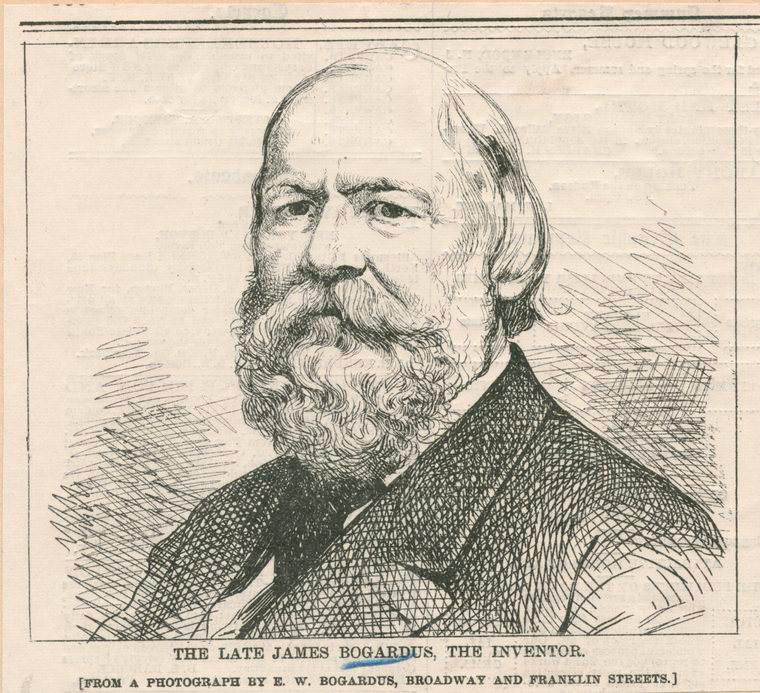 The first cast-iron structure in New York, built in 1848, was further south at the corner of Centre and Duane Streets.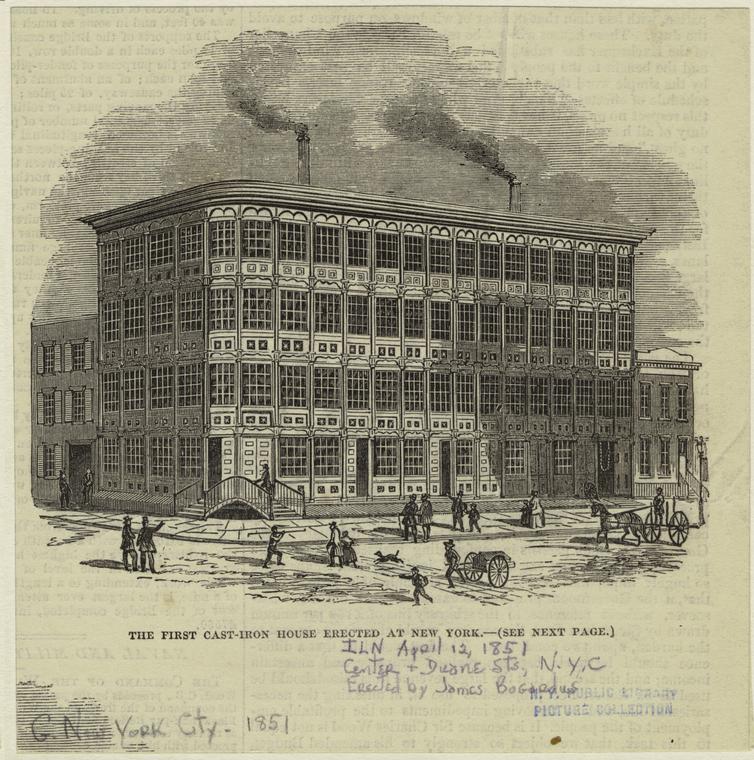 Robert Moses' view of Broome Street via his project Lower Manhattan Expressway project. Broom Street would have had an elevated highway, enclosed within modern buildings. A view of surviving cast-iron architecture on the right.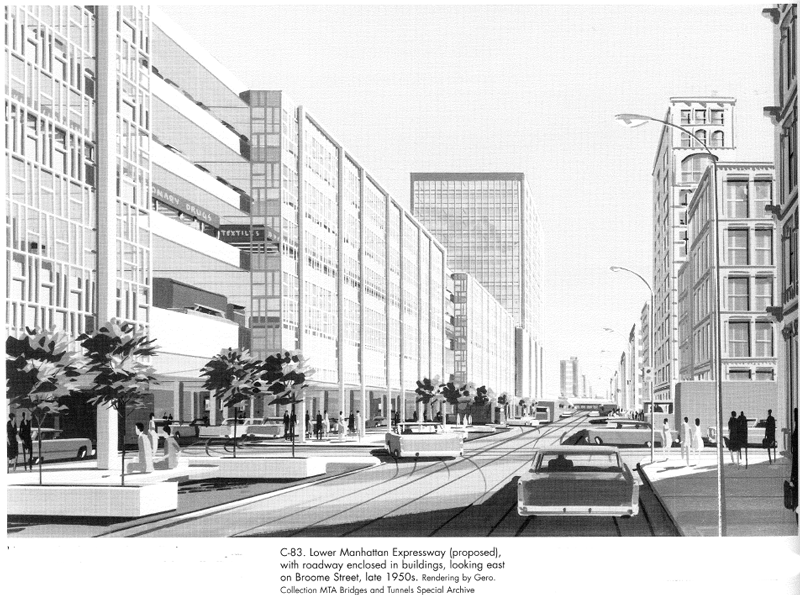 SoHo would have been eliminated (or greatly reduced) by Moses' project which was thankfully nixed.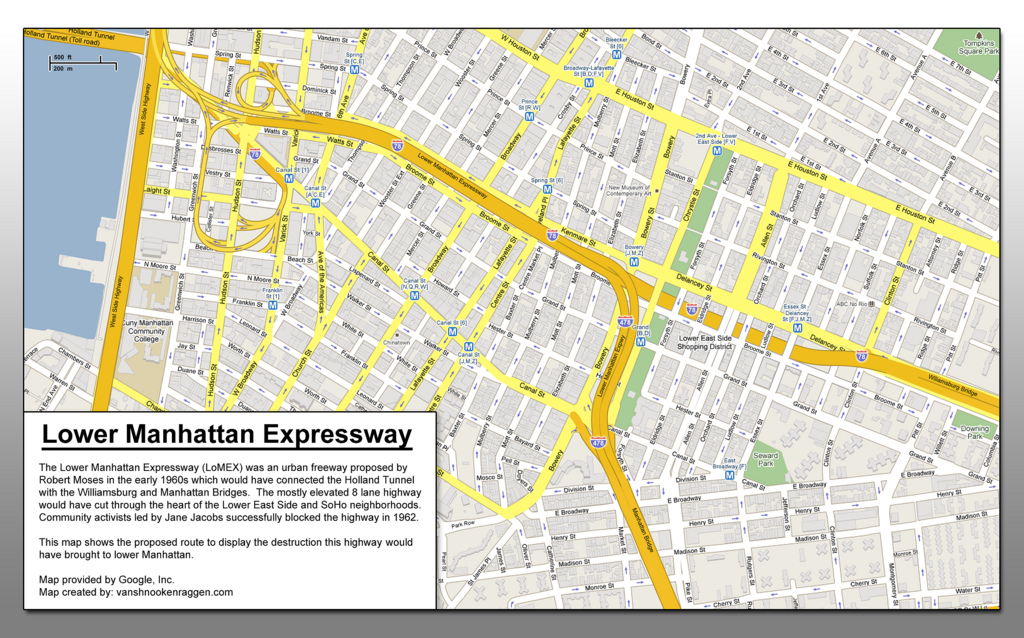 A map of the art galleries in the SoHo art scene during the 1970s.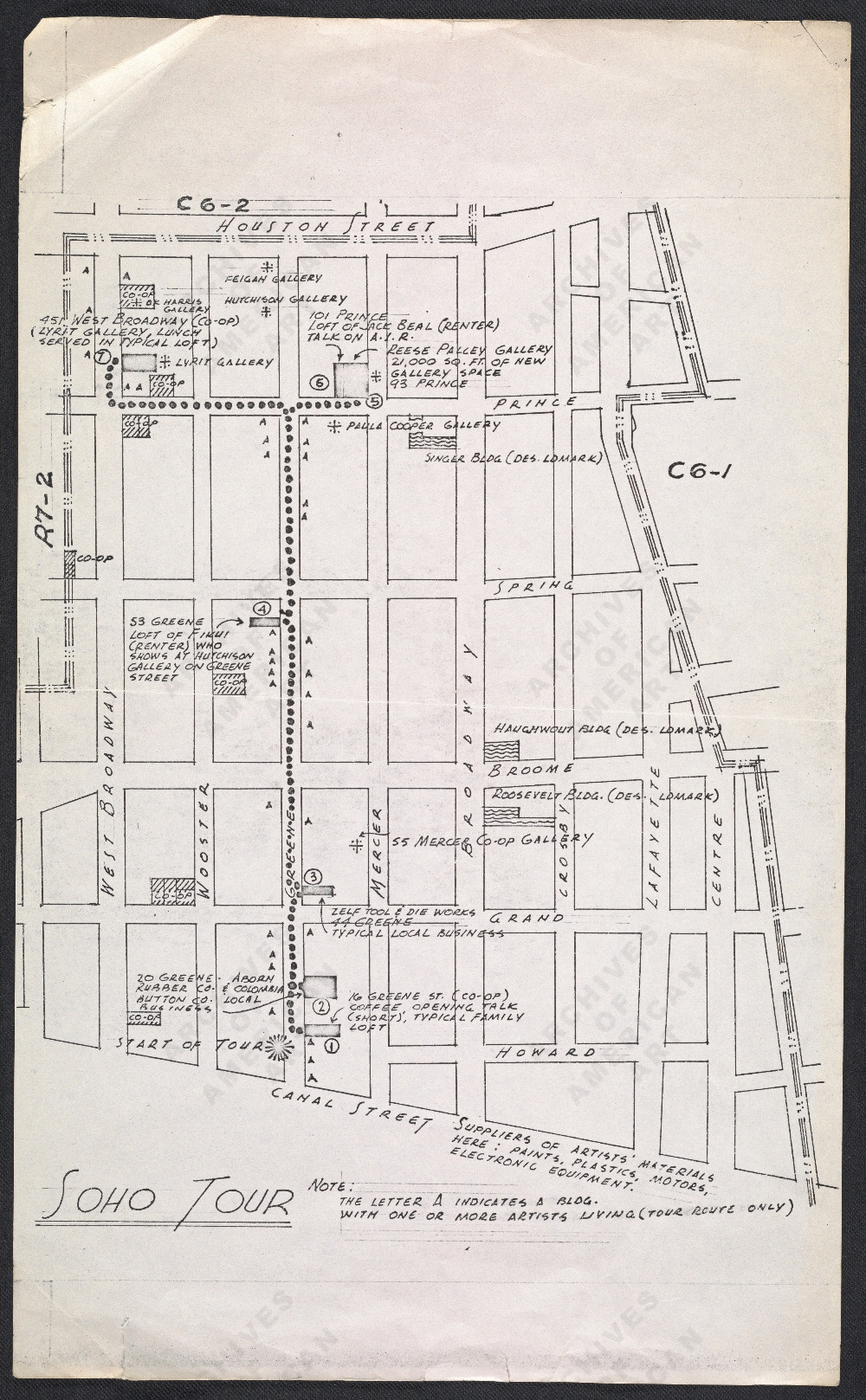 From a 1971 SoHo newsletter: The criteria for qualifying as an artist — and eventual resident — of a specially-zoned loft in SoHo. M1-5A and M1-5B were the newly created work-living zones.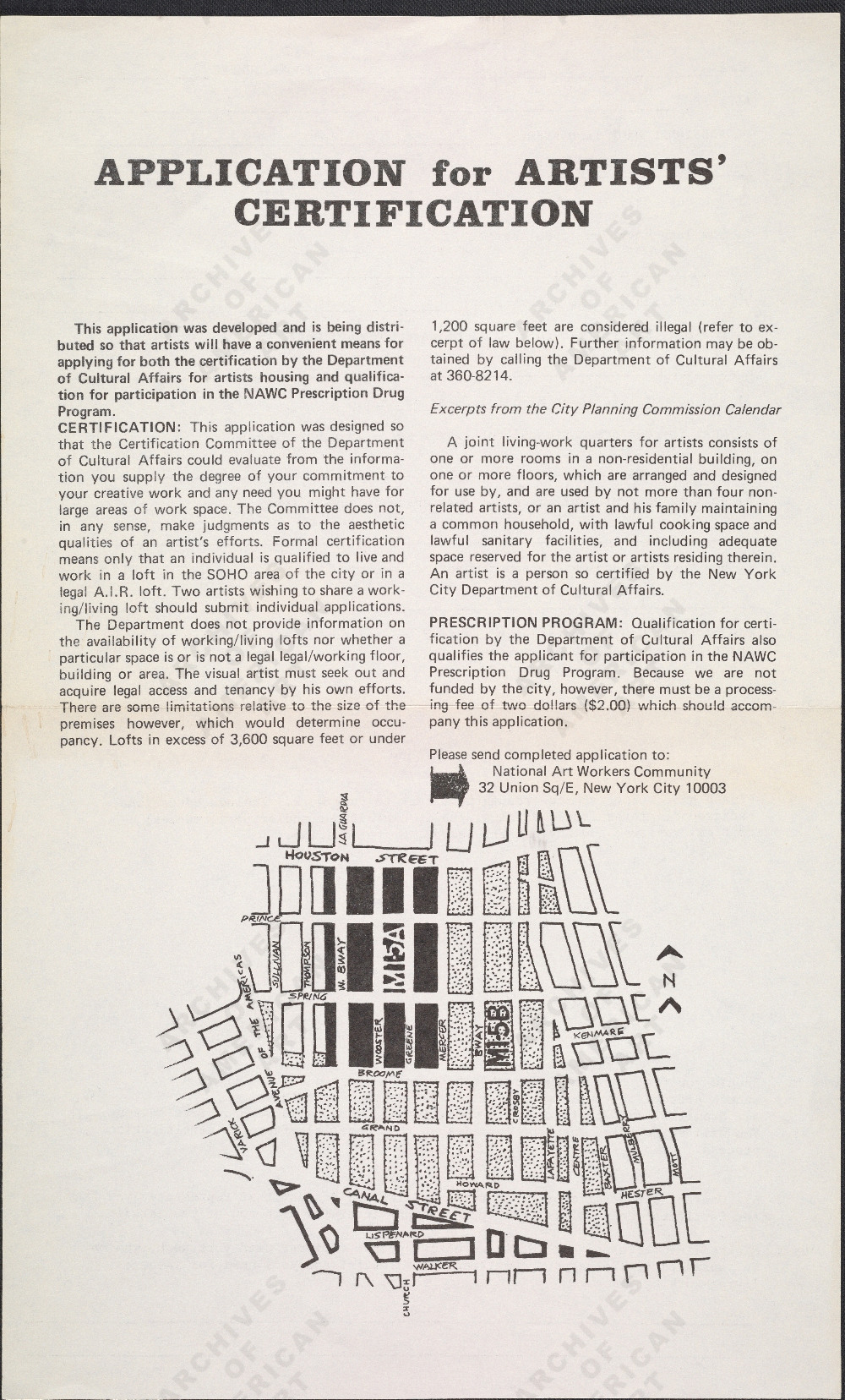 We greatly encourage you to check out the SoHo Memory Project for a lot of fantastic and often deeply personal recollections about the SoHo days of yore.
For further listening, check out the following Bowery Boys podcasts which were referenced in this week's show:
Before Harlem: New York's Forgotten Black Communities (#230) for information on first farms of the city's first black New Yorkers
Niblo's Garden (#113) for the history of the district's most famous entertainment center
Our podcasts on Robert Moses (#100) and Jane Jacobs (#200)
And we really hope our show inspires you to check out two films that features interesting views of SoHo during its chic gallery phase — The Eyes of Laura Mars and After Hours