NOTE: This post features a slight spoiler of an event which occurs in the film's first five minutes.
The period film Green Book — nominated for five Academy Awards, including Best Picture — goes cross-country with pianist Don Shirley (played by Mahershala Ali) and his chauffeur/bodyguard Tony Lip (played by Viggo Mortensen), depicting the varying gradients of class and race relations in America in the year 1962.
But the film is bookended by a look at vintage New York City from the perspective of three locations. Shirley really did live in one of the sumptuous artist units above Carnegie Hall — In fact, he lived there for over 50 years! — and the venue is depicted in all its regal, timeless glory. Meanwhile, Tony Lip — real name Tony Vallelonga — lived in an Italian neighborhood in the South Bronx, its street life and storefronts displayed in all their nostalgic beauty.
But when the film begins, we're ushered into a space quite different from a concert hall or a Bronx apartment. In fact, we're in one of the classiest, most renown nightclubs in New York City history — the Copacabana.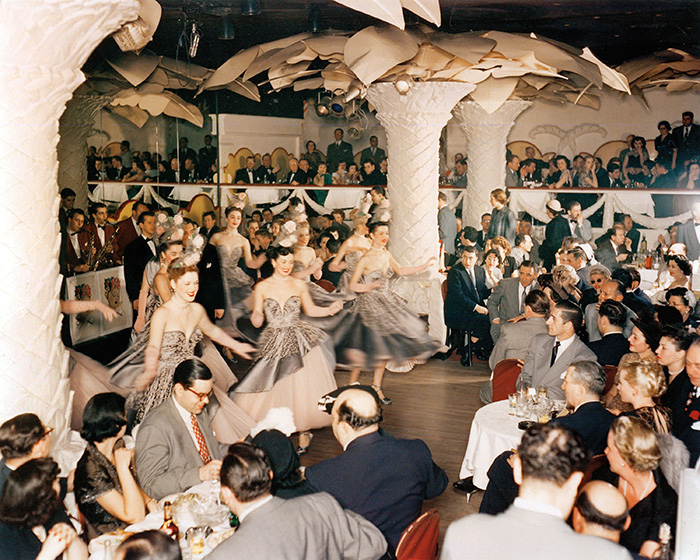 If you had to guess where the Copacabana was, most likely you would not have placed it at 10 East 60th Street near the entrance to Central Park and the aging mansions of Fifth Avenue. When it opened in 1940, Midtown Manhattan was exploding with nightlife, from the big-band supper clubs to the tiny jazz clubs of 52nd Street. (Billie Holiday was ruling the dives of Swing Street when during the Copa's early years.)
The supper club scene was built for the wild and the wealthy, with fining dining and cocktails paired with floor shows by major stars and late-night dancing, a scene which greeted you whether you were at the Rainbow Room or El Morocco, The Cotton Club or the Stork Club.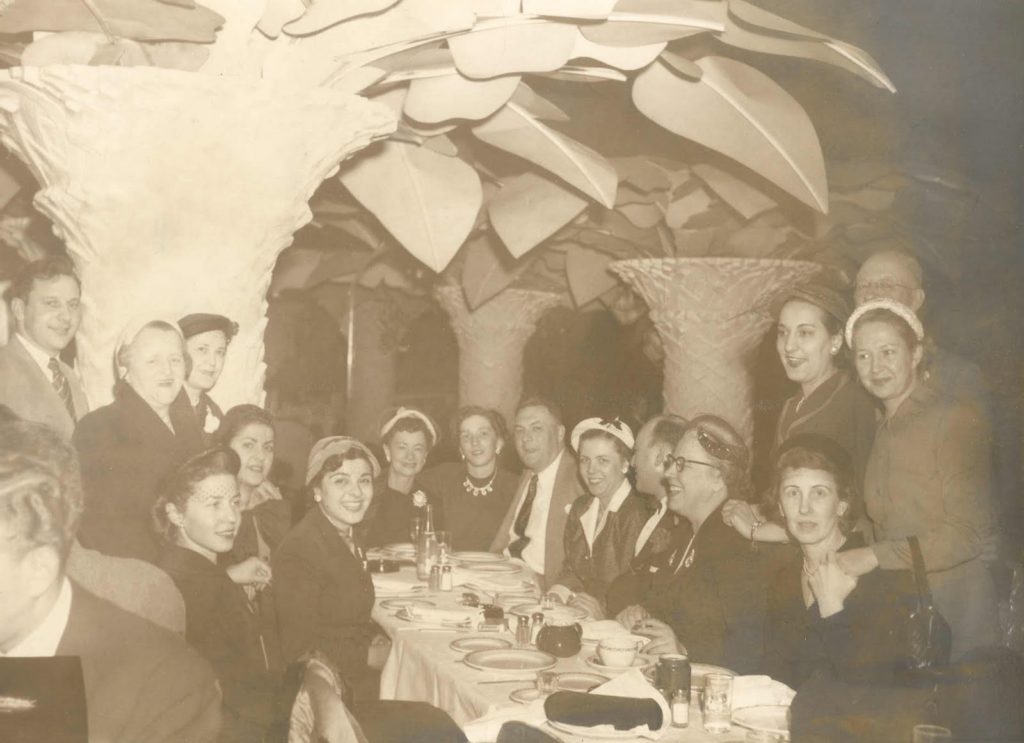 But the scene was mostly operated by the mob, whose foothold into New York nightlife began during Prohibition and reached its crescendo in the 1960s. Organized crime syndicates controlled virtually all aspects of going out, from West Village gay bars to even the most respectable spots in Midtown.
The Copacabana was owned by Broadway producer Monty Proser and was renown for its dazzling floorshow entertainment. Indeed its emblem was the face of Carmen Miranda herself, a Portuguese-Brazilian singer and dancer famous for her exotic, fruity headwear. Dean Martin and Jerry Lewis, who also made their name at the Copa, sometimes performed with Miranda before she died in 1955.
(We mentioned the Copa in our recent podcast on the history of live comedy.)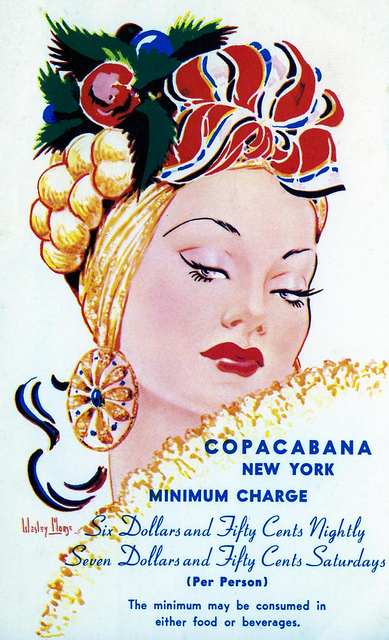 Tony Lip was a bouncer at the Copa, and at the opening of Green Book, we see a fight break out on the floor. Despite the club's elegant airs, fights often broke out at the Copacabana, a venue which specifically courted wealthy (and famous) patrons known for partying a little too hard. Throw a bunch of drunken sports celebrities and mob bosses into the mix, and you were sure to see an 'unplanned floor show' at least once or twice a week. Lip was a busy man.
The most famous brawl of all happened on the night of May 16, 1957, during a performance by Sammy Davis Jr.
Below: A flyer for Davis' 1960 show, apparently holiday themed.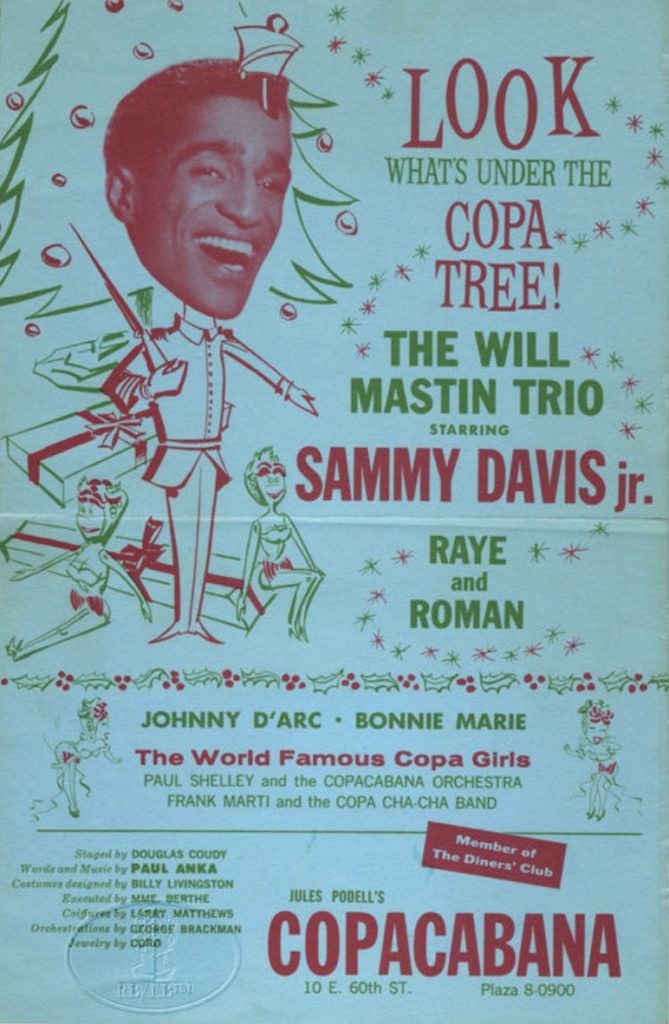 Like many Manhattan supper clubs (including some in Harlem), the dining area was for white patrons only — at least until 1957 when this racist policy was finally dropped. But many black musicians and dancers entertained at the Copa well before then, including Davis, who first performed for the all-white audience here (as part of the Will Mastin Trio) in 1954.
During the spring of 1957, Davis returned to the Copa, now with an integrated dining room, and it was during one performance in May that a group of men began heckling Davis, reportedly spewing racial epithets. Unfortunately for these men, also in attendance that evening were a table of six drunken New York Yankees, including Mickey Mantle, Yogi Berra and Whitey Ford, out celebrating the birthday of Billy Martin.
The players retaliated, attacking the table of hecklers. Right-fielder Hank Bauer reported broke the nose of one man. "BEAK BUSTED BY BAUER CLAIMS FAN."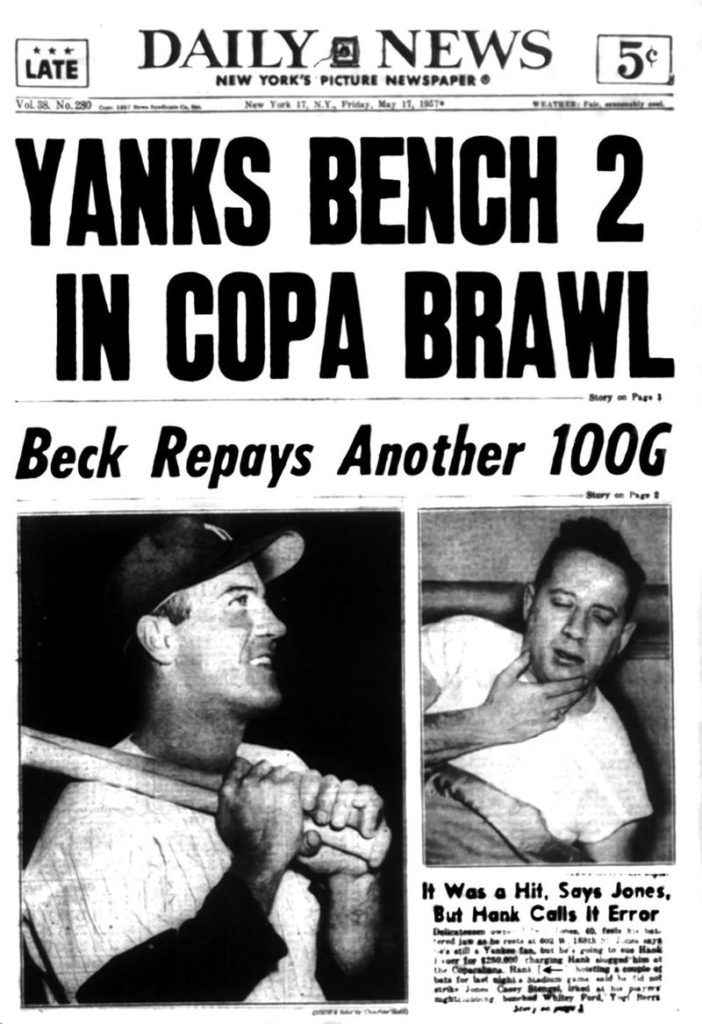 Sammy Davis Jr would later become the Copa's most popular draw, breaking attendance records in 1964.
The Copacabana — in its supper club incarnation — would close in the early 1970s, later reopening as a discotheque.
And then, in 1978, this happened.
For the rest of the story and for more information on the Copacabana, reach back into our back catalog and listen to a whole episode on the night club's history! (Episode #24)
NOTE: This was recorded a few years before a new incarnation of the Copacabana reopened in Times Square in 2011.
Originally published December 7, 2018