PODCAST

The story of the Lenape, the native people of New York Harbor region, and their experiences with the first European arrivals — the explorers, the fur traders, the residents of New Amsterdam.
Before New York, before New Amsterdam — there was Lenapehoking, the land of the Lenape, the original inhabitants of the places we call Manhattan, Westchester, northern New Jersey and western Long Island.
This is the story of their first contact with European explorers and settlers and their gradual banishment from their ancestral land.
Fur trading changed the lifestyles of the Lenape well before any permanent European settlers stepped foot in this region. Early explorers had a series of mostly positive experiences with early native people.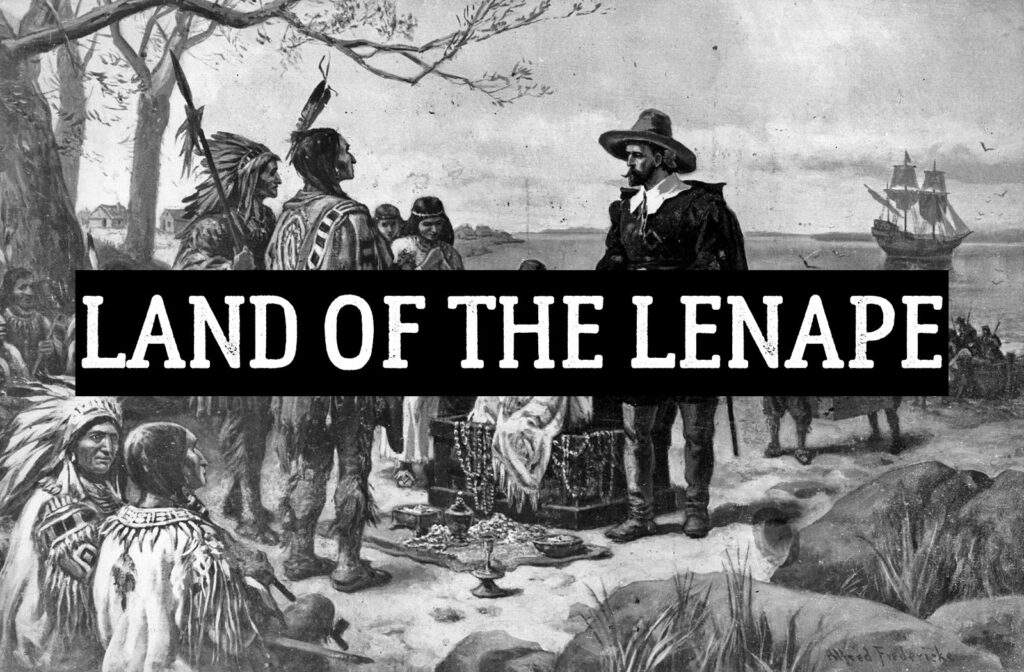 With the Dutch settlement of New Amsterdam, the Lenape entered into various land deals, "selling: the land of Manhattan at a location in the area of today's Inwood Hill Park.
But relations between New Amsterdam and the surrounding native population worsened with the arrival of Director-General William Kieft, leading to bloody attacks and vicious reprisals, killing hundreds of Lenape and colonists alike.
Peter Stuyvesant arrives to salvage the situation, but further attacks threatened any treaties of peace. But the time of English occupation, the Lenape were decimated and without their land.
And yet, descendants of the Lenape live on today in various parts of the United States and Canada. All that and more in this tragic but important tale of New York City history.
To get this week's episode, simply download it for FREE from iTunes or other podcasting services or get it straight from our satellite site.
Or listen to it straight from here:
__________________________________________________________
The Bowery Boys: New York City History podcast is brought to you …. by you!
We are now producing a new Bowery Boys podcast every two weeks. We're also looking to improve the show in other ways and expand in other ways as well — through publishing, social media, live events and other forms of media. But we can only do this with your help!
We are now a member of Patreon, a patronage platform where you can support your favorite content creators for as little as a $1 a month.
Please visit our page on Patreon and watch a short video of us recording the show and talking about our expansion plans.
If you'd like to help out, there are five different pledge levels (and with clever names too — Mannahatta, New Amsterdam, Five Points, Gilded Age, Jazz Age and Empire State). Check them out and consider being a sponsor.
We greatly appreciate our listeners and readers and thank you for joining us on this journey so far. And the best is yet to come!
__________________________________________________________
The long road of the Lenape. This 1978 map shows the path of their various relocations across the country in comparison with the relocation path of the Cherokee.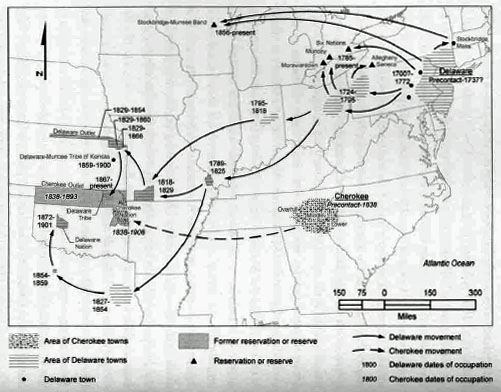 Henry Hudson's interaction with the native people of the area would much later inspire a host of fanciful depictions.
From a 1909 postcard for the Hudson-Fulton Celebration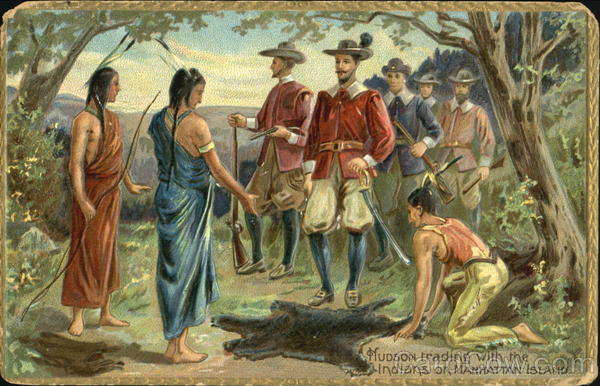 From an old textbook:
"'Designed and etched for Bancroft's History of the United States' Written on image: 'Sept. 7 1609'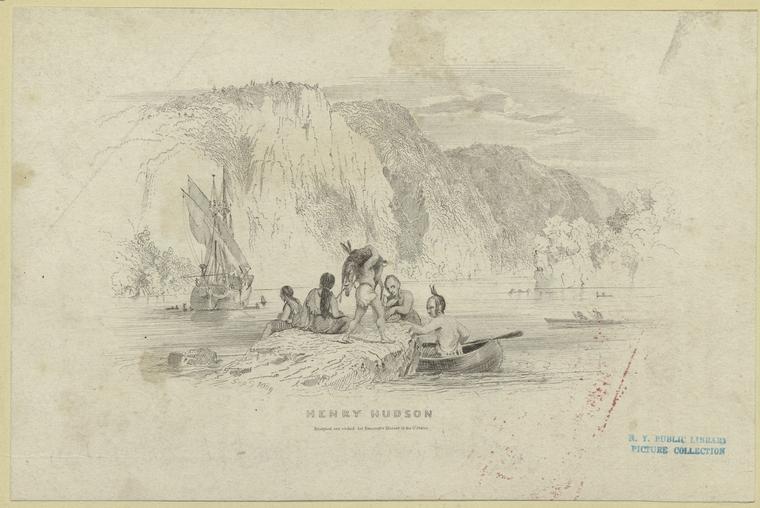 From a 1915 textbook 'A First Book In American History' — "Hudson's ship anchored again opposite the Catskill Mountains, and here he found some very friendly Indians, who brought corn, pumpkins, and to-bacco to sell to the crew. Still farther up the river Hudson visited a tribe onshore, and wondered at their great heaps of corn and beans. The chief lived in around bark house. Captain Hudson wasmade to sit on a mat and eat from a red wooden bowl. The Indians wished him to stay all night; they broke their arrows and threw them into the fire, to show their friendliness.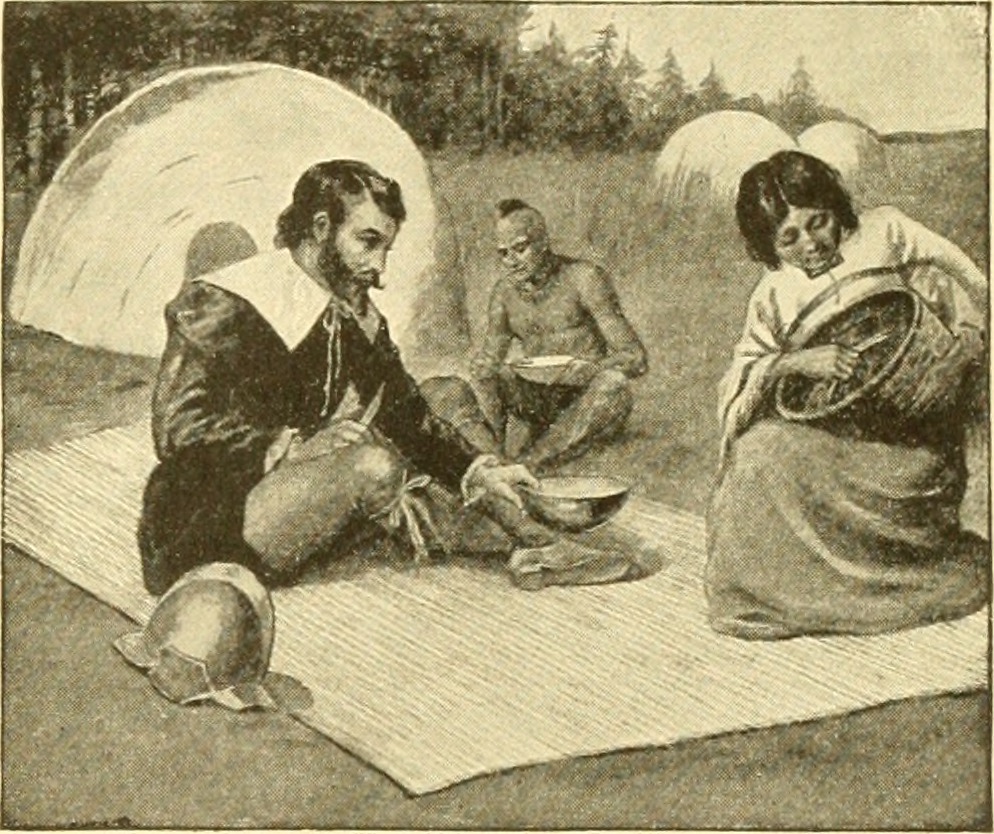 Behold New Amsterdam!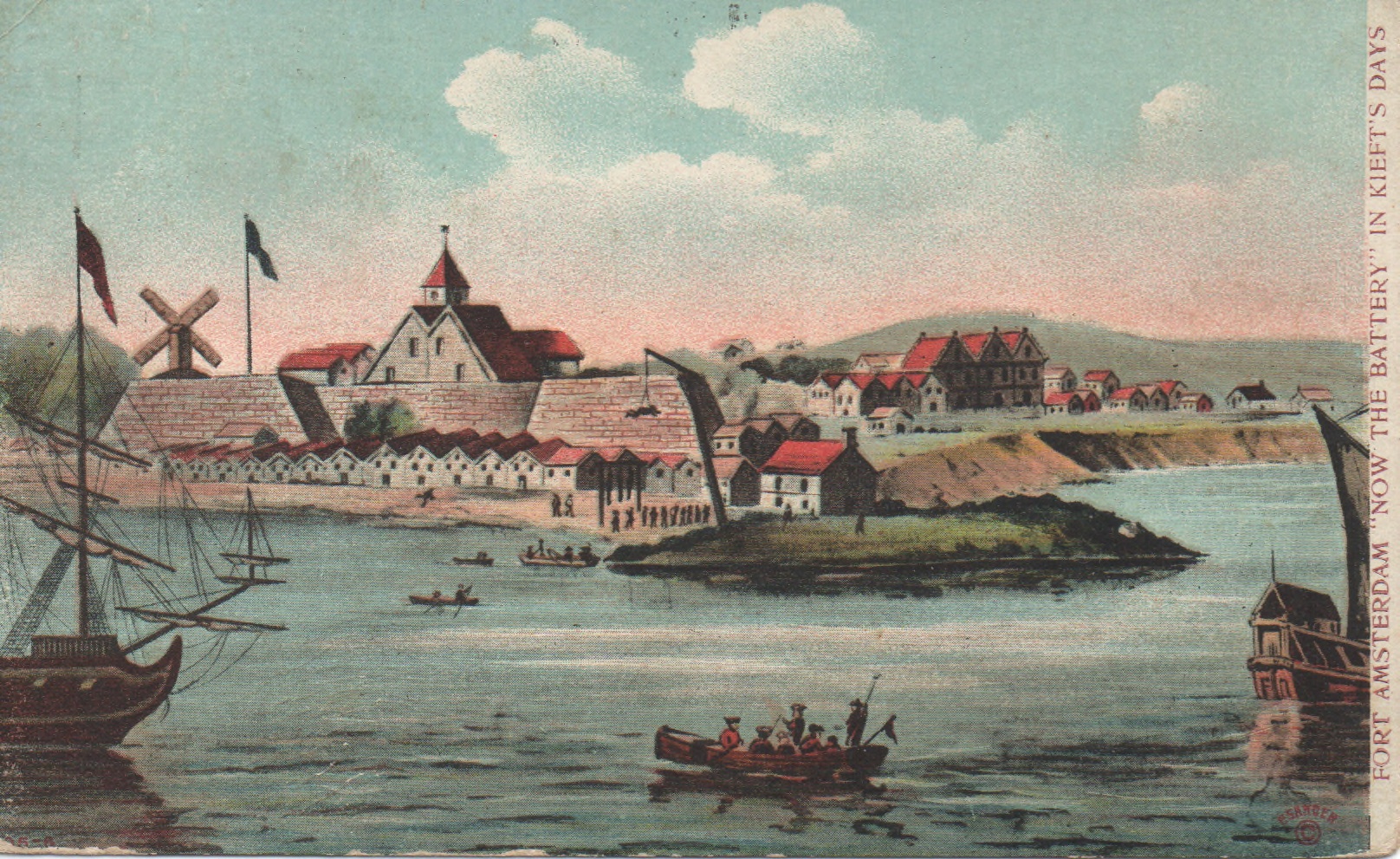 From another text book, this one from 1881: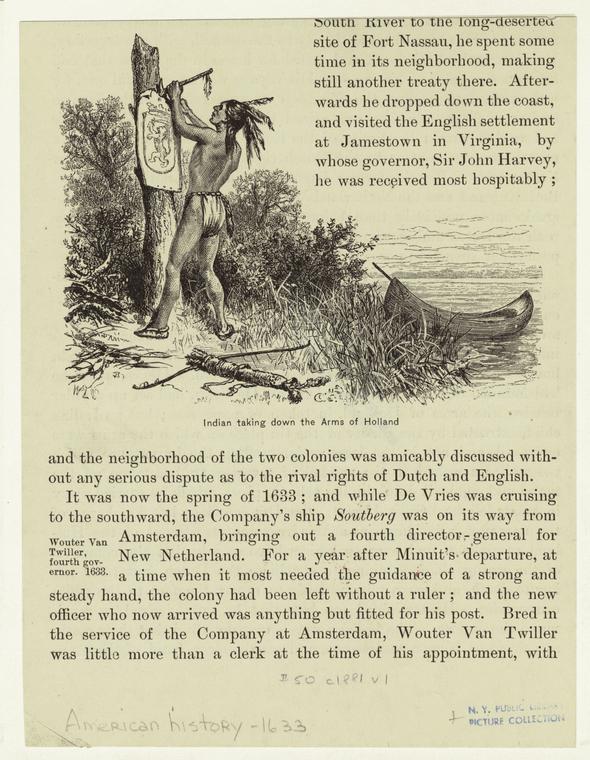 From an 1876 print: 'Treaty with the Indians at Fort Amsterdam." Not sure what year this picture depicts but everybody has two legs, so no Peter Stuyvesant!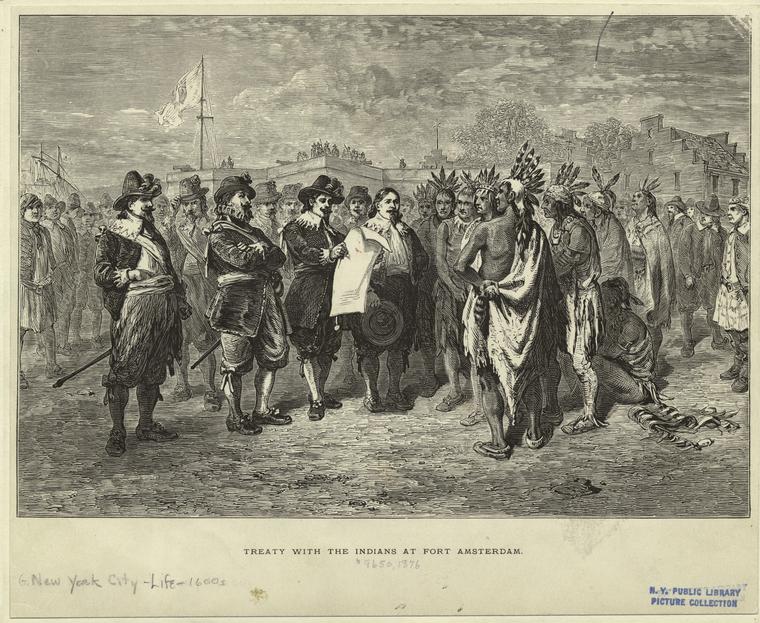 A well-known engraving by Aldert Meijer depicts New Amsterdam as being touched by the hand of providence.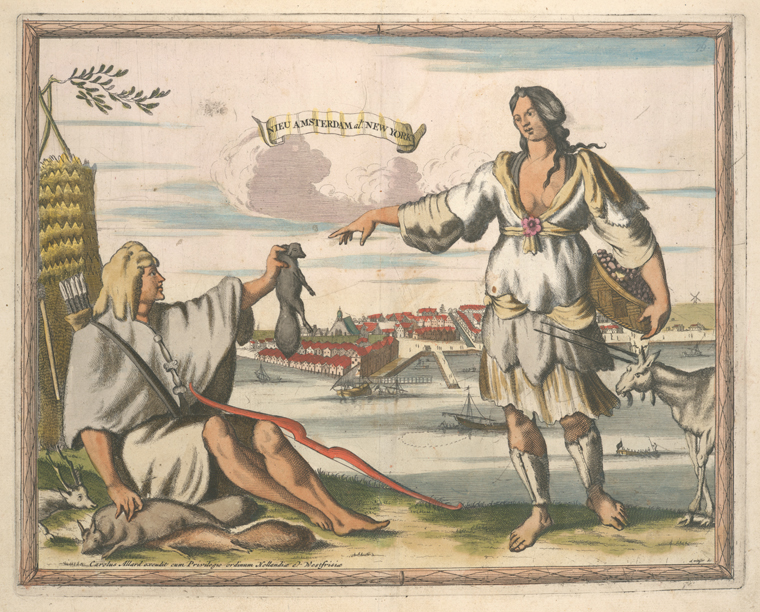 A drawing of the 1926 purchase of Manhattan between the native population and Peter Minuit. Image is from Popular Science Magazine, 1909.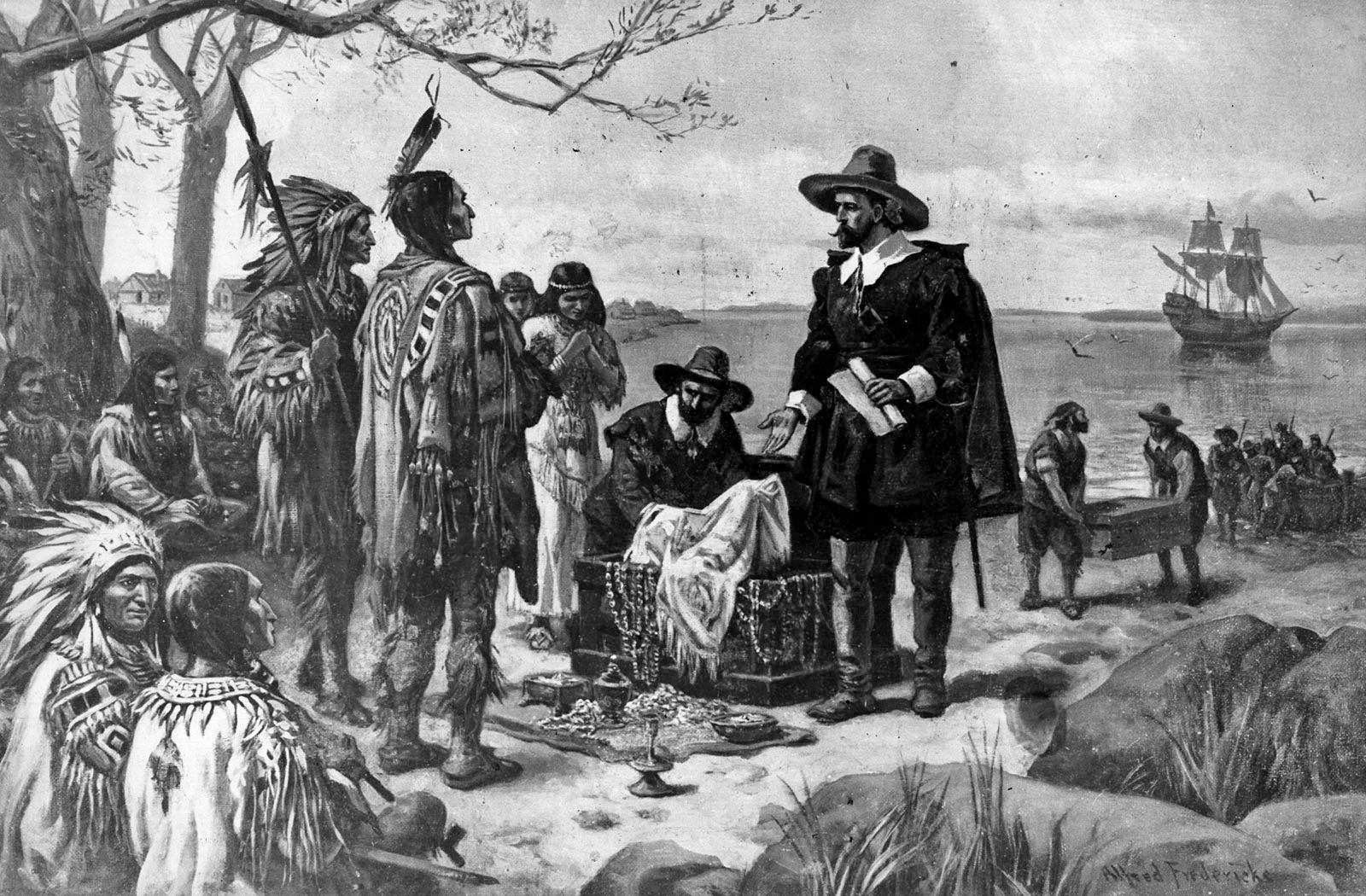 …clearly derived from
"Peter Minuit and the Swedes purchasing lands of the Indians." Illustration dated 1890
William Kieft's reputation as a vicious tyrant is made apparent here in this 1897 illustration captioned 'Kieft's Mode of Punishment.'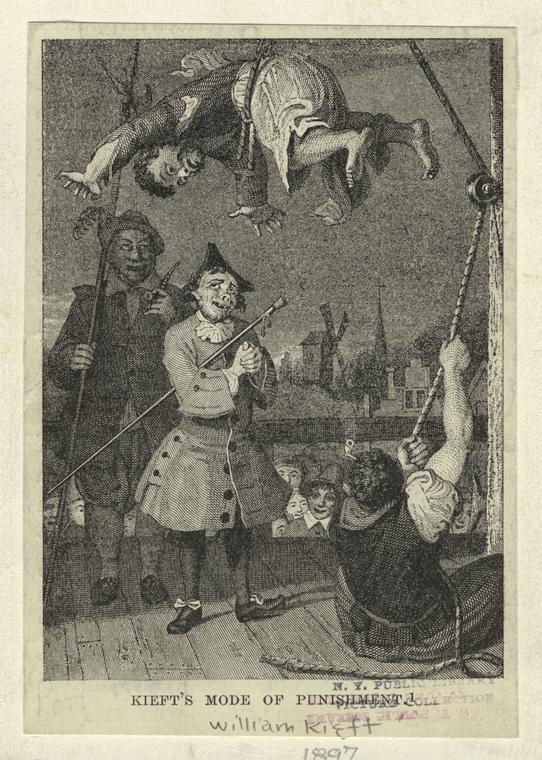 From the Delaware Indians website: "A painting by Lenape artist Jacob Parks (1890-1949), which depicts a Lenape family leaving their home on their reservation in Kansas in 1867. This area had been their home for over thirty-five years, and now the government told them they had to move to Indian Territory (now Oklahoma)."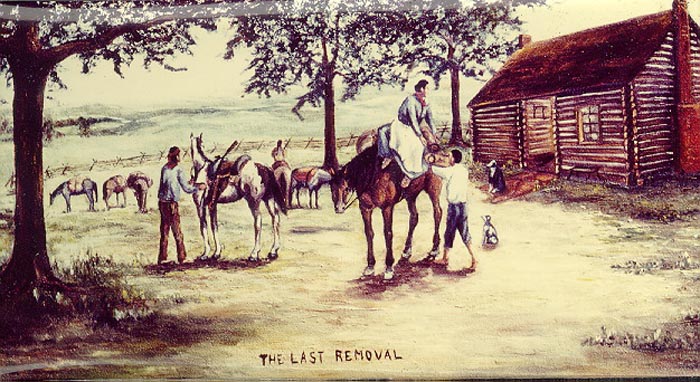 The Smithsonian National Museum of the American Indian is currently living in the Alexander Hamilton U.S. Custom House. It's a FREE museum so you should stop in anytime you're in the Battery Park area.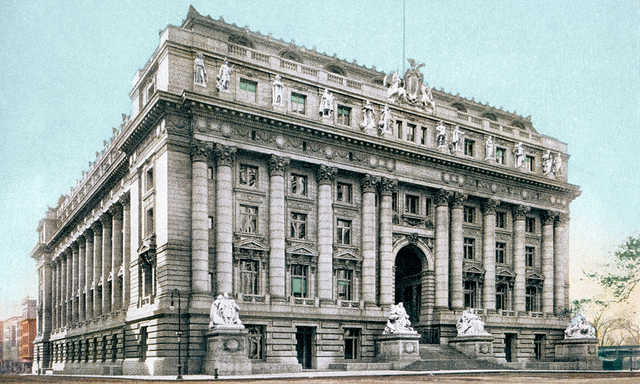 FURTHER READING
The First Manhattans: A History of the Indians of Greater New York by Robert S. Grumet
The Island At The Center Of The World by Russell Shorto
The Delaware Indians: A History by  C.A. Westanger
Native New Yorkers: The Legacy of the Algonquin People of New York by Evan T. Pritchard
The Official Site of the Delaware Tribe of Indians
Lenape Lifeways: An overview of Lenape life and customs
Removal History of the Delaware Tribe
FURTHER LISTENING
After you've listened to this show on the history of the Lenape, check out other shows related to this episode: