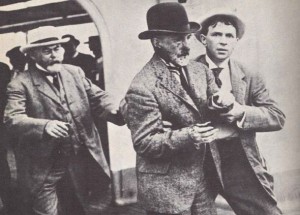 New York City started 2010 with an important bit of ceremony: the swearing-in of Michael Bloomberg. One hundred years ago, New Yorkers did the same thing, but with a new face — former state Supreme Court judge William Jay Gaynor, replacing George B. McClellan.
I did a whole Know Your Mayors posting about Mr. Gaynor awhile back, so I won't elaborate too much about his biography here. However, just eight months after taking the job, on August 9, Gaynor was almost killed by an assassin's bullet. As I originally wrote:
"While vacationing on the ocean liner SS Kaiser Wilhelm der Grosse, a disgruntled city employee James J. Gallagher, fired from his job on the docks, took out his frustration on Gaynor, shooting him through the back of the neck. Gallagher claimed, "He took away my bread and meat. I had to do it." Really, James?
Unbelievably, a photographer for the New York world William Warnecke happened to catch the incident, which quickly became one of the most startling photographs in the short history of photo-journalism. [The photo above!]
Gaynor recovered somewhat, although the bullet would remain lodged in his throat, and for his entire term of mayor, he would remain weakened and haggard. He would even use the injury as a reason to get out of discussing delicate subjects, saying, "Sorry, can't talk today. This fish hook in my throat is bothering me."
Somebody should have advised Gaynor, however, to avoid ocean liners altogether. On Sept. 4 1913 he boarded the Baltic for yet another oceanic vacation and six days later was found dead on a deck chair, his body finally giving in to lingering internal injuries. Curiously, Gaynor's would-be assassin Gallagher had died just a few months prior — at an insane asylum in Trenton, New Jersey."
Read the rest of the piece here
Other political stories of 1910: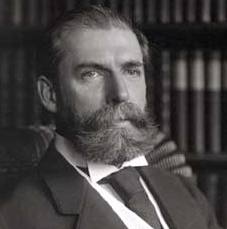 This was the final year in the term of New York governor Charles Evans Hughes (pictured), but it was hardly the last anybody would hear of the distinguished New Yorker. After an unsuccessful bid for president of the United States in 1916, President Warren G. Harding made him Secretary of State in 1921. Then he became the Chief Justice of the Supreme Court in 1930, where he resided over the greatest court in the land for an entire decade, helping bring Franklin D. Roosevelt's New Deal policies to life.
What a surprise: corruption in the New York state senate! Senate Majority Leader Jotham P. Allds resigns on March 29, 1910, after it's revealed that he took bribes from bridge construction companies to kill some undesirable legislation. In April, other senators, including notorious Lower East Side power broker "Big Tim" Sullivan, are implicated in several other bribery schemes, involving streetcar and fire insurance companies.
Capping it off is testimony in September 1910 that several lawmakers, with Williamsburg senator Patrick Henry McCarren smack in the middle, were given "a legislative corruption fund of $500,000" in early 1909 — during a dinner at Delmonico's Restaurant, no less — to squash some critical anti-race track gambling legislation.
Nobody was censured — and McCarren had died in late 1909 — but the largely Republican scandal was probably key in getting a Democrat, John A. Dix, into the governor's seat the next year.
[You can find all the juicy details in Gustavus Myers' wonderful History of Tammany Hall.]
ABOVE: A New York City ratcatcher, photo taken during the 1910s, but those don't look like rats to me. In fact, I think the ferrets are used to sniff out vermin. (Picture courtesy the great Old Photos blog)
And finally, for no reason other than humor, I present to you a letter that Mayor Gaynor wrote in March 20, 1910, to one Charles M. Frey, noted and 'learned' city ratcatcher. Imagine Mayor Bloomberg penning such a missive to one of his constituents:
"Dear Mr. Frey, Your letter of March 15 is at hand, describing how your calling of ratcatcher is being constantly interrupted by your being summoned to serve as a juror.
Sooner than have the city overrun with rats and everything eaten up by them I would have you relieved of jury duty. Do you not think we had better have a bill introduced in the Legislature to exempt ratcatchers from jury service?
The difficulty is, however, that so many exemptions have already been passed by the Legislature that there seems to be only ratcatchers and a few other people left to serve on juries. That might possibly impede the progress of your bill if sent to Albany.
I will have to carefully consider the matter, and some day when you are down this way, come in and we will talk it over, and also about rats. I see that you are a classical scholar, judging by the motto at the head of your letter. My experience is that learned men are to be found everywhere. As we read in Don Quixote: "The mountains breed learned men and philosophers are found in the huts of shepherds."
[More of Gaynor's fascinating correspondence here.]