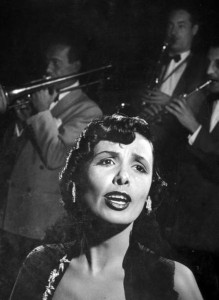 Above: Lena Horne at the Copacabana, October 1948
Lena Horne, the Brooklyn-born entertainer who broke color barriers in the New York nightclub scene as well as in Hollywood, died in a New York hospital yesterday at age 92. She would make history in Harlem, in segregated hotspots like The Cotton Club, where the entertainment was black, the clientele white. And would become the first African-American performer at the legendary Copacabana, shattering the club's attendance records and playing off and on there for years.
If you're looking for a pilgramage here in the city, Lena's childhood home is still standing in Bed-Stuy. Horne was raised by her grandparents in the late 1920s/early 1930s in an iron-gated brownstone at 189 Chauncey Street, part of a small upper-class black community. According to author James Gavin: "An iron fence with sharp black spikes protected 189 Chauncey Street on three sides. That barrier told passersby to keep their distance … it shut out the neighborhood's seamier elements."
Among the many great venues of old that Lena performed in was the original Cafe Society at 1 Sheridan Square. Calling it the 'sweetest job I ever had' and probably her most important gig in terms of connections made, Horne sang there for over a year starting in 1941. Probably the most integrated club in New York, Lena performed for a largely progressive, largely mixed audience. Two years later, she wowed audiences at the long-gone Savoy-Plaza Hotel. A year later was her debut at the nearby Copacabana.
By 1947, she had become famous enough to warrant her own municipal celebration, Lena Horne Homecoming Day in Brooklyn, on August 21, 1947, accepting a key to the city from Brooklyn's borough president on the steps of Borough Hall.