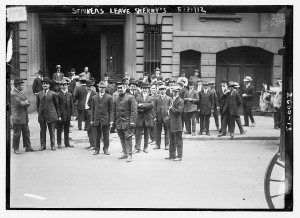 Above: Restaurant workers walk off the job at Sherry's Restaurant at Fifth Avenue in 1912
One hundred years ago today, a rather peculiar worker's strike ended, a protest which had paralyzed New York's restaurant and hotel industries for almost two months. The strike had begun in early May, and by the month's end, thousands of employees had walked off their jobs, leaving diners in emptied restaurants and wealthy hotel guests to carry their own luggage.
What made this particular walkout unusual weren't the demands — improved conditions and pay, recognition of their newly formed union — but the locations where the strikes occurred. The employees of the very toniest and best known restaurants and hotels left their jobs in unison. Establishment affected included the Plaza, the Hotel Astor, Hotel Knickerbocker, the Waldorf-Astoria, the St. Regis, the Vanderbilt, and restaurants like Delmonico's and Sherry's (pictured above), among dozens of others.
Workers decided to return to work after a mass gathering on June 25, at the old New Amsterdam Opera House at 44th Street and Eighth Avenue. While some employers agreed to a few paltry changes, most of the strikers demands were not met, including the recognition of their union. (And to this day, they're not unionized.)
Some hotels actually refused to hire back anybody who had join the strikers. Or as the proprietor of the Waldorf put it: "I told these men that a job at the Waldorf is not an apple hanging on a tree. I told them that we were doing better than ever, then I told them goodbye."
And even their timing was lousy. Drama at the Democratic presidential convention in Baltimore knocked the strike almost completely out of the headlines that week.