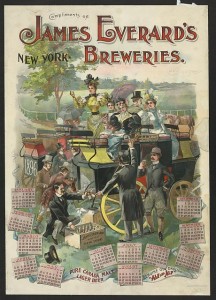 Year-Round Brews: This calendar from 1895 celebrates the Harlem breweries of James Everard. An older Everard brewery building on W. 28th Street was converted into a Turkish bathhouse in 1888. It became the location of a variety of notorious activities during the 20th century. Everard's breweries became the plaintiff in a Prohibition-era Supreme Court case regarding the use of alcoholic beverages for medicinal purposes. (Pic courtesy the Library of Congress)
Piels: We completely skipped one major New York brewer, one that still maintains a presence in New York, if in name only. Three German brothers opened the Piels Brewery in East New York, on the same day as the opening of the Brooklyn Bridge— May 24, 1883. They too had their own beer garden to enjoy the brews manufactured inside. Called the Summer Garden, this festive place adorned with electric lights and a shaded seating area was known for its determined wait staff.
From the Brooklyn Daily Eagle: "The waiters in the summer garden competed to see who could carry the most seidels of Piels Beer from the bar to their customers tables. In 1904 one waiter carried 16 seidels (eight in each hand)." [source]
Piels is still manufactured in Milwaukee by the Pabst Brewing Company.
Five-Borough Beer: In its heyday, you could find breweries in all five boroughs. Brewers were particularly attracted to Staten Island thanks to its spring water. In Stapleton, near the ferry piers, sat two of the largest — George Bechtel's brewery (which opened in 1853) and Rubsam & Hormann's Atlantic Brewing Co.
And then, of course, there's a place we all want to stay — Monroe Echstein's Brewery Hotel and adjoining brewery on Manor Road in Castleton Corners. (Pics courtesy NYPL)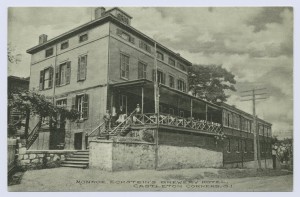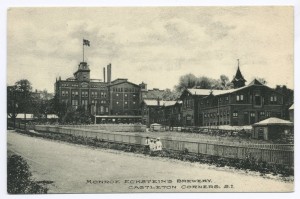 College Point in Queens County attracted a large German population, thanks in part to rubber industrialist Conrad Poppenhausen, who set up his factories here in the 1850s. His workers and daytrippers to the region enjoyed a line of small breweries and beer gardens here. A couple decades later, Henry Steinway would set up his own factory town to the west and with it an assortment of beer gardens and even an outdoor amusement park called North Beach.
Today's Bohemian Hall in Astoria is not far from Steinway's factory. Read about the history of one of Queens' oldest drinking establishments here.
For More Information: The New-York Historical Society exhibit 'Beer Here: Brewing New York's History' is on display until September 2, 2012. I was particularly interested in the Society's collection of ice carving equipment used by early brewers and the very cheeky collection of mid-20th century advertising and media.
For a general history on American beer, I recommend Maureen Ogle's 'Ambitious Brew: The Story of American Beer' and also Gregg Smith's 'Beer In America: The Early Years'. And there is no shortage of History-Channel style documentaries on the subject. Also, for some general information on Bushwick, I highly recommend exploring the Bushwiki, with lots of history about the neighborhood.
There's now a New York Beer and Brewery Tour with stops at brewers in three different boroughs. And it takes you down 'Brewer's Row' after having a couple rounds of beer elsewhere. You can catch a tour of the Brooklyn Brewery of course; visit their website for more information.
Thanks again to Scott Nyerges for helping me out with this one! Please visit his website for more information on his upcoming gallery show in Bushwick. And also my thanks to the Bodega Bar in Bushwick where I was going to pull together the Bowery Boys' very first real 'on location' recording at a bar. Unfortunately I was not able to work that out, but I thank them for opening their door to the show anyway.