Behold the lager: A German variety of beer revolutionized American drinking, inspiring a new kind of drinking establishment (Courtesy the New-York Historical Society
Inspired by 'Beer Here: Brewing New York's History', the terrific summer show at the New-York Historical Society, the latest Bowery Boys podcast explores the story of one of America's greatest, most treasured products– beer.
PODCAST New York City's thriving craft brewing industry today hearkens to a time over a century ago when the city was one of America's great beer-making capitals, the home to a robust industry of breweries and beer halls. In the 19th century, German immigrants introduced the lager to thirsty crowds, manufacturing thousands of barrels per year from breweries in Manhattan and Brooklyn's 'Eastern District' (primarily Bushwick and Williamsburg).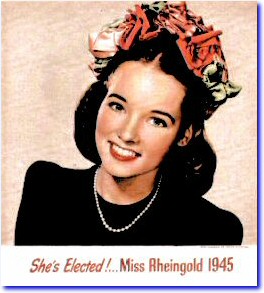 The top Manhattan brewers were Hell Gate Brewery and the Jacob Ruppert Brewing Company, situated right next to each other in the old German neighborhood of Yorkville. Both Ruppert and Hell Gate's founder George Ehret rode the beer craze to become two of New York's wealthiest businessmen. Meanwhile, out in Brooklyn, a phalanx of brewers clustered along Bushwick Avenue in fine red-brick factories.

Following World War I and Prohibition, New York lost its hold over beer manufacturing to more savvy Midwestern beer makers. But a few local brands weathered the century with unusual marketing ploys — from sports sponsorships to the Miss Rheingold beauty pageant.

By the late 1970s, significant brewing had vanished from New York entirely. But somewhere in SoHo in the 1980s, a renaissance was about to begin…..
For a little extra ambiance, the show is recorded on location, live in Bushwick, Brooklyn, within a couple blocks of the original Brewers Row.
---
NOTE: It wouldn't be a show without my vocal slipup o' the month. Perhaps  I watched too much Buffy The Vampire Slayer when I was younger. I keep referring to Hell Gate as Hell's Gate. Scott says it correctly. Both the turbulent confluence of waters and the brewery are called Hell Gate.  

Next Week: Some books, additional resources, a few more pictures and some more stories left out of this week's podcast.
Perhaps the most notorious example of an early New York brewery was the Coulthard's Brewery situated on the banks of Collect Pond. It survived the draining of that polluted body of water, only to survive as the center of the most disreputable elements of the Five Points neighborhood.  It was eventually demolished in 1853, replaced with a mission house.
George Ehret was New York's most successful brewer of the late 19th century. His assertion that 'no other brewery east of the Mississippi River has as large a storage capacity as Ehret's Hell Gate Brewery' was certainly accurate.  This ad from 1909 presents a company still at the top of its game. However Ehret would encounter serious opposition in the coming years, with both World War I and Prohibition cutting short the brewery's meteoric success.
Ehret was stuck in Germany during World War I due to illness, not a great place to be during a war. His entire estate was seized by the government while he was away. When he finally returned, he threw his weight behind pro-American causes to banish any suspicions. This U.S bonds ad from 1918, the year Ehret returned to New York was one of many placed by the brewery.
The brewery of Jacob Ruppert wasn't just situated next to Ehret's in this 1894 New York World newspaper; the buildings themselves were near one another, in the burgeoning neighborhood of Yorkville on the Upper East Side.  (Newspaper clippings courtesy the Library of Congress.)
A sample page from a 1909 New York Sun newspaper illustrating some of the many breweries in the region.   Included here are the Liebmanns (who produced Rheingold Beer), the Otto Huber Brewery, William Ulmer, Trommer's and the Excelsior Brewing Company — Brooklyn most prominent lager brewers.
Temperance causes were greatly beginning to clamp down on the brewing industry, so beer makers attempted to market their product as true American beverages — with links to the Founding Fathers — or as products important to a person's health. This Knickerbocker Beer ad from 1914 gamely attempts both.
New York's 'boy mayor' John Purroy Mitchell sits with Jacob Ruppert at the Polo Grounds in anticipation of a game by the team owned by the brew man, the New York Yankees. The Yankees would play at the Polo Grounds until 1923, when they moved to the newly built Yankee Stadium.
Rheingold Beer was one of the few remaining locally-based brewers to survive by the mid 20th Century, partially thanks to their annual Miss Rheingold beauty competition. [source]
This jingle, with true New York flavor, was featured in our podcast, but it really works better as a vintage television commercial!

And this Schaefer's advertisement visualizes a world where robots are all-in-one bartenders.
---
I want to especially thank my guest host this week, Scott Nyerges, photographer, filmmaker and my old college friend! 
Oh, and do you need another reason to have a beer today? Well, it's the birthday of Joseph Mitchell, born in 1908, the author of a great many profiles for The New Yorker. One of his best known collections is 'McSorley's Wonderful Saloon' from 1943, featuring a classic New York profile of the old ale house on East 7th Street.