A session with a ouija board, a haunting illustration from a piece of 1901 sheet music 'There's A Charm About The Old Love Still'. (NYPL)
PODCAST Our sixth annual ghost story podcast takes a little twist this time around. Oh sure, we have two of New York's most FAMOUS horror stories in our first part, beginning with a spirited sailor named Mickey who haunted a classic structure on the Lower West Side. Today it's the Ear Inn, where you better watch your drink. Then we switch to a Colonial-era tale of obsession and entrapment in old Flatbush, the tale of Melrose Hall with its secret passages, stairwells and dungeons.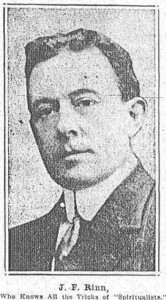 But in the second half, we observe New York's spiritualism craze of the early 20th century through two frightening faceoffs. In the first, its the madame of the Ouija board, Pearl Curran, and her ghostly companion Patience Worth vs. one of New York's original ghostbusters, the adventurer and conjurer Joseph Rinn (pictured at right). And in the final tale, Tom explores the secrets of Harry Houdini and what happens when a close confidante — in this case, the noted author Sir Arthur Conan Doyle — believes his powers are of a supernatural variety.
Featuring our annual ghost-story dramatics, a few sound effects, and the surprising haunted history of Carnegie Hall!
---
From the pages of the New York Post, July 1936. Crowds hunt for the spirit of Angelina, the Italian 'banshee'. Crowds lined up to get a glimpse, so many that 'special police patrols' were called to control the search. [source]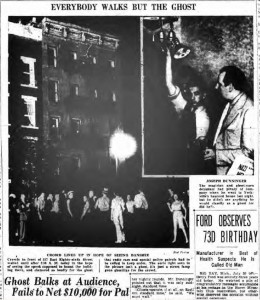 The house of Revolutionary War veteran James Brown, today the worn and welcoming Ear Inn, is almost 200 years old, which means it has a great many ghosts, including a couple literal ones, including the randy spirit of a sailor named Mickey. (Picture courtesy Flickr/wallyg)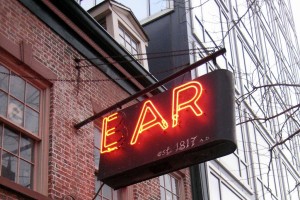 The haunted Melrose Hall in Flatbush, Brooklyn, the site of some improbable architecture and a terrible crime. Is that Alma peering from the third floor window? Do you dare enter?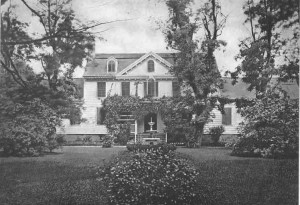 Pearl Curran, the St. Louis woman who began conjuring the spirit of an 17th century English woman named Patience Worth, via the Ouija board. She was frequently questioned by prominent medium debunkers, including Houdini's friend Joseph Rinn.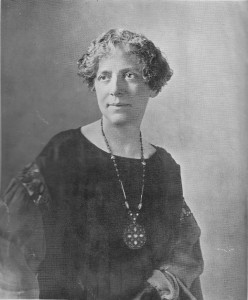 Harry Houdini in 1912, about to step in to a sealed sunken chest, which he will inevitably escape from. But what was his secret? Was Sir Arthur Conan Doyle — and his wife Lady Jean — onto something about Houdini's secret powers? (Courtesy Library of Congress)