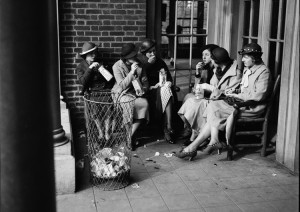 ABOVE: These are the ladies who lunch in Prospect Park 1935
We talk about a lot of white men on the Bowery Boys podcast. When discussing the mainstream history of the city, it's pretty unavoidable. Men had the money, the power, the influence. Not to mention most of the corruption, the crime, the scandal.
So as Women's History Month draws to a close (okay, I'm one day late), I thought I'd make a very opinionated list of the 25 women who made the biggest impact to the city of New York, at least as seen by this humble blogger and podcaster.
There have obviously been many, many New York-based women whose contributions changed the country and the world. There are your feminists (Elizabeth Cady Stanton), your activists (Ella Baker), your entrepreneurs (Estee Lauder), your tastemakers (Diana Vreeland) and your entertainers (Madonna).
But these 25 helped shape the actual city itself. The neighborhoods, populations and culture, to be sure. But most importantly, they each effected perceptions of the city, both to its residents and outward to the world. (Thus, for instance, you'll note my heavy emphasis on preservationists.)
This is not an ultimate list. I obviously do not know the impact of every woman who ever lived in New York City. Many women communicated power through wealth and property; I don't have the social register from every season and cannot gauge the influence of every bold-faced name. These are just 25 that have crossed my path since we started the Bowery Boys that I just wanted to celebrate today.
I've obviously missed out on a few, so if you have a particular favorite that's missing, please put them in the comment section. At the bottom I have a list of ladies that made my personal honorable mention. So here we go!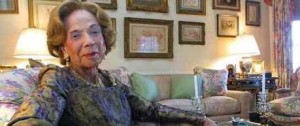 Brooke Astor (1902-2007)
Philanthropist
She was the last of the socialites, as they say. The queen of old American money, for 105 years Astor ruled as the last official vestige of one of Manhattan's wealthiest families, setting a standard for philanthropy and sadly leaving an uncertain legacy amid scandals involving her heirs.
Power is the ability to do good things for others. — Brooke Astor

Alice Austen (1866-1952)
Photographer
Few saw the Gilded Age city quite as Austen did, a Staten Island native who captured the beauties of New York, the horrors of Ellis Island's quarantine station, and the wonders of the world, but probably took her best shots from her own backyard at Clear Comfort, in Rosebank, SI.
Below: a girl newsie in 1896, as captured by Austen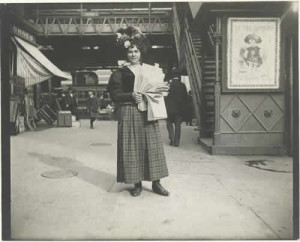 Nellie Bly (1864-1922)
Journalist
Her bravery, curiosity and outright nerve made her a writer of international fame, one of the first investigative journalists in the age of sensational journalism. But the story that put her on the map was her undercover expose at Blackwell's Island, ripping open the abuses of New York's island of untouchables, changing how the city thought about both the infirm and the incarcerated.

Could I pass a week in the insane ward at Blackwell's Island? I said I could and I would. And I did. — Nellie Bly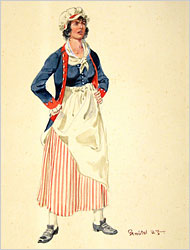 Margaret Corbin (1751-1800)
Revolutionary
Things were so precarious in the fall of 1776, the dawn of the Revolution, that anyone who lived in New York might have turned the tide of war. Many women did their part to battle the British, from Mary Lindlay Murray the to the mysterious Agent 355, a shrouded spy among the British. But Corbin is notable not just for particular bravery but for sacrifice; she continued to lob cannon fire at the British from Fort Washington in today's Washington Heights well after her husband was killed. Corbin herself was later imprisoned by the British. Today the street along Fort Tryon is named for her.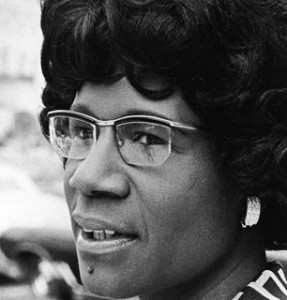 Shirley Chisholm (1924-2005)
Trailblazer
The pride of Bedford-Stuyvesant maneuvering through the precarious world of New York politics, Chisholm won a seat in the state legislature in 1964 but always dreamed to represent Brooklyn on a national level, in the U.S House of Representatives. She finally got her wish to represent her neighborhood when redistricting lines were finally redrawn — finally allowing a black candidate to run (and win) in a largely black community — and won her seat in Congress in 1968. Shirley never disguised her ties to her beloved Brooklyn neighborhood, even as a candidate for president of the United States.
That I am a national figure because I was the first person in 192 years to be at once a congressman, black and a woman proves, I think, that our society is not yet either just or free. — Shirley Chisholm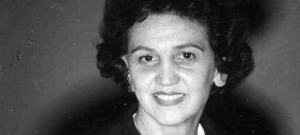 Margot Gayle (1908-2008)
Community leader
Gayle, who died last year at age 100, loved her Victorian architecture and in particular cast-iron, the antiquated style of downtown New York warehouses. Seeing destruction imminent, she decided to save what she considered one of the city's most neglected treasures. Forming her first community group in the 1950s to save castle-like Jefferson Market Courthouse, Gayle galvanized a grassroots architecture movement.
There might be no SoHo without Gayle; as a campaigner, her work in saving and preserving this heretofore disregarded part of downtown led to one of Manhattan's great neighborhood success stories. The SoHo Cast Iron Historic District exists due to her efforts. And, more importantly, her work became a template for how future neighborhoods could be revitalized. (Read her Times obituary here).


Emma Goldman (1869-1940)
Agitator
Probably the most influential anarchist in American history, Goldman promoted the rights of workers and upended the role of women in New York politics. The Russian-born activist made her name on the streets of Manhattan, stirring Bohemia and workers alike, butting heads with most of New York's leading industrialists in the process.
Her views are controversial, often horrifying by today's standards. (She once ordered the assassination of Henry Clay Frick, for instance.) But her powers as an orator and rabble-rouser are unquestioned; her stirring words in Union Square (pictured above) during the panic of 1893 gave voice to the outrage of the city.
If voting changed anything, they'd make it illegal. — Emma Goldman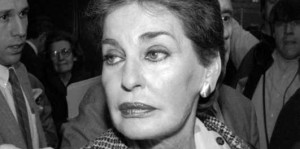 Leona Helmsley (1920-2007)
Magnate
Leona and her husband Harry reigned over a vast Manhattan empire of highrises and hotels, permanently changing Park and Madison avenues, helping transform New York into a city of condominiums. Her status as the Queen of Mean also formed the modern caricature of overbearing and out of touch wealthy elite. Later convicted of tax evasion, Leona died in 2007 a laughing-stock. (That Suzanne Pleshette film didn't help either.) But her reach extends through many of the city's great iconic buildings, including the Empire State Building, which she and her husband once managed.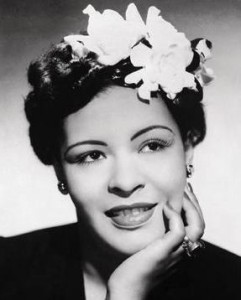 Billie Holiday (1915-1959)
Chanteuse
Of all the thousands of entertainers that have left their imprint on the city, Holiday's is the one that makes the deepest impact. Her entire story — her birth, her rise to fame, her indiscretions and her tragic death — takes place in New York. Her greatest performances electrified and reshaped race assumptions in 1930s and 40s nightlife; legendary nights at places like Cafe Society ensured entertainment would no longer be strictly a black and white affair. Her performance style is emulated nightly in cabarets and clubs throughout the city.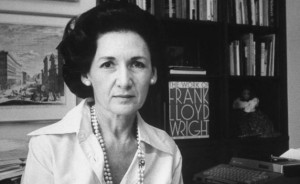 Ada Louise Huxtable (1921-2013)
Critic
She is the best known woman in twentieth century architecture, and she isn't even an architect. It's hard to analyze the history of any building without first checking in with Ada to see what she has to say on the matter. Her writing is elegant, persnickety, direct and affectionate to architectural aesthetic as a whole, and New York City in specific. As a writer for the New York Times and Wall Street Journal, Huxtable directed New York's architecture scene from behind her desk, excoriating designers for excess or dullness, praising beauty when it improved the city's legendary skyline.
I like old buildings that are intriguing and quite wonderful but don't make the history books. What you discover is there's a little group of people that have been admiring them quietly by themselves all along. — Ada Louise Huxtable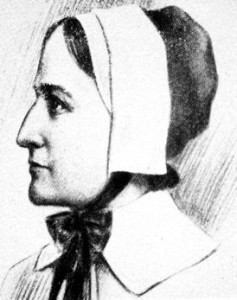 Anne Hutchinson (1591-1643)
Dissident
Escaping persecution in both Puritan Massachusetts and Rhode Island, religious revolutionary Hutchinson and her followers settled in today's area of the North Bronx in the 1640s, one of two significant female leaders in the early New York area. Although she was later murdered — Lenapes wiped out the settlement in 1643, a victim of New Amsterdam's persistent conflicts with native tribes — she still leaves her mark today. The Hutchinson River and Parkway both carry her name.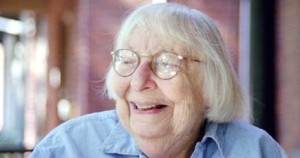 Jane Jacobs (1916-2006)
Community defender
Her theories on urban life have benefited many North American cities, but it was her struggles to save neighborhoods from Robert Moses and the rise of car culture in the 1950s and 60s that make her most influential today. The entirely of downtown Manhattan has her to thank for fighting back — and ultimately defeating — Moses' destructive Lower Manhattan Expressway proposal. The theories described in her classic "Death and Life of Great American Cities" were shaped from observing life from her window at 555 Hudson Street in the West Village.
Cities have the capability of providing something for everybody, only because, and only when, they are created by everybody. — Jane Jacobs
Lady Deborah Moody (1586 – 1659)
Founder
The British-born Moody, like Hutchinson, took to the unknown when persecuted for her religious beliefs. With the permission of William Kieft, the "dangerous" Moody set up the colony of Gravesend in 1645, becoming the first female founder of an American colony. Gravesend was one of the original towns of Brooklyn and is still the name of a south Brooklyn neighborhood today.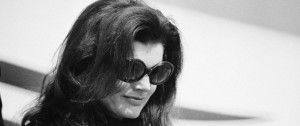 Jackie Kennedy Onassis (1929-1994)
Icon
Settling in New York after the deaths of two husbands, Onassis was the biggest bold-faced name in the city, famously suffering the intrusive effects of paparazzi. However she used her headline grabbing name wisely as a member of the Municipal Art Society, helping defend Grand Central Station, Columbus Circle and Staten Island's Snug Harbor from modification or outright destruction. The Central Parks reservoir is named in her honor, and MAS gives out a yearly Jackie Kennedy Onassis Medal to noteworthy New Yorkers. (Margot Gayle received it in 1997.)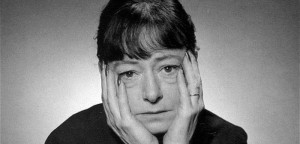 Dorothy Parker (1893-1967)
Wit
As doyenne of the Algonquin Round Table, Parker had the sharpest friends in town in the 1920s. Her droll charm helped create the archetype of New York caustic intellectualism, something Woody Allen, Fran Lebowitz and an entire culture of New Yorker readers can well recognize.
I'd rather have a bottle in front of me, than a frontal lobotomy. — Dorothy Parker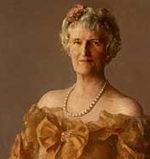 Abby Aldrich Rockefeller (1874-1948)
Collector
She could very well have stayed in the sidelines with the other spouses of multi-millionares. But Abby's tastes and passions for modern art led her to an astonishing collection she kept on an upper floor of her townhouse, away from her husband J.D. Rockefeller Jr., who didn't much care for those odd little pictures. Years later, that townhouse would give way to Abby's pet project, the Museum of Modern Art, one of the most influential galleries for 20th Century art. Her memory is kept alive at the museum with the Abby Aldrich Rockefeller Sculpture Garden.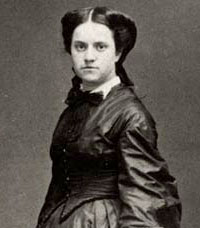 Emily Warren Roebling (1843-1903)
Bridge Builder
Construction on the Brooklyn Bridge had barely begun when her husband and master engineer Washington Roebling came down with crippling symptoms of the Bends. Emily at first operated only as his eyes and ears, but soon grew into the role of leading the completion of New York's first great bridge. Ceremonially, she was the first person to cross it.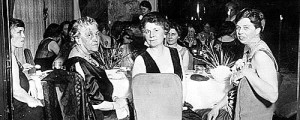 Eleanor Roosevelt (1884-1962)
World Leader
One of the most powerful American women to have ever lived was a New Yorker through and through. Her aristocratic name may have opened doors for her early on, but her compassion and ingenuity would soon set her apart, first as a social worker in Manhattan slums, then as the spouse of a governor and president. She returned to New York after FDR's death to become a U.S. delegate to the United Nations. (Above: Eleanor with New York City society women.)
Beautiful young people are accidents of nature, but beautiful old people are works of art. — Eleanor Roosevelt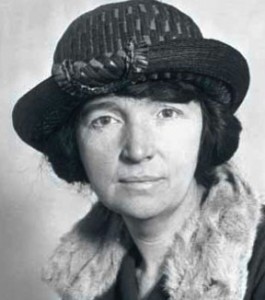 Margaret Sanger (1879-1966)
Rebel
Her influence in the fields of reproduction and birth control would eventually go global, but all nurse Sanger really wanted to do at first was help out women in the Lower East Side. From her work in the slums, Sanger believed radical action was neccessary to control the rising tide of pregnancies, leading to larger families and greater poverty. In 1917 she opened New York's first birth control clinic in Brooklyn and was promptly thrown in jail. Ten years later, her innovations as an educator in birth control — she's the mother of Planned Parenthood! — would catch on worldwide.
During these years in New York more and more my calls began to come from the Lower East Side, as though I were being magnetically drawn there by some force outside my control. — Margaret Sanger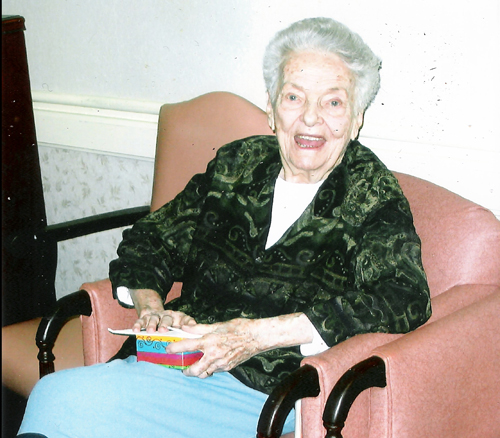 Verna Small (1916-2008)
Preservationist
Small is the queen of Greenwich Village, a fiesty, often poetic community leader who provoked residents into lobbying for historic preservation. She organized or led one group after another, all in an effort to preserve the remainder of the Village before developers could sweep it away. She succeeded. Today it seem impossible that the Village was ever in that much danger at all. Her many years with the Landmarks Committee in the 1980s assured the rest of the city would benefit from her tender loving care.
The attitude of the Village was 'We've got to catch up with Brooklyn Heights!' — Verna Small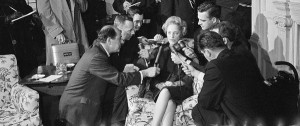 Dorothy Schiff (1903-1989)
Publisher
Native New Yorker Schiff owned the New York Post from 1939 to the 1970s and eventually shaped its editorial policy as publisher, the first New York woman to do so. Her stinging, left-leaning views and saavy tastes for great writers turned the once tame newspaper into the city's most successful tabloid. Her sudden decision to sell it to Rupert Murdoch in 1976 led to the decidedly different, far more sensational Post we're familiar with today.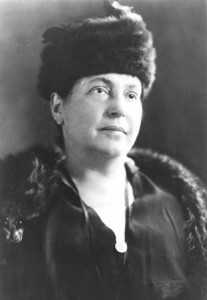 Lillian Wald (1867–1940)
Social Worker
The patron saint of the Lower East Side, devoted nurse Wald helped found both the Henry Street Settlement and the National Association for the Advancement of Colored People. Her desire to help New York's poorest consumed her life. Her altruism helped save thousands of lives and set the standard modern social work and nursing. If that isn't enough, her innovations from everything to playgrounds and school lunch programs redefined New York education and reverberated throughout America. Um, what have you done today to help your fellow man?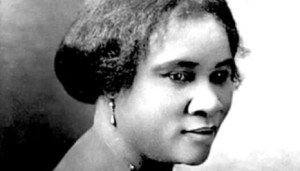 Madam C.J. Walker (1867-1919)
Tycoon
Walker, a self-made entrepreneur and hair product queen, was the richest and most powerful woman in Harlem, during the neighborhood's pivotal years of growth in the dawn of the Harlem Renaissance. (Some sources say she was America's first female millionaire.) She shattered color and gender barriers, employing hundreds of other black women and eventually leaving most of her wealth to notable African-American organizations. Walker's daughter A'Lelia was a patron of many great writers of the Renaissance era.
And her name? She was once married to a man named Charles Joseph Walker; he left in 1910, but the C.J. — and the Madam — stayed.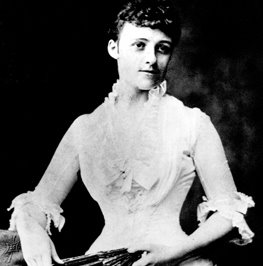 Edith Wharton (1862-1937)
Observer
Wharton was a woman of ultimate privledge in Gilded Age New York but had an uncanny ability to describe it. Our notions of what upper-crust New York was at this time are shaped in part by her novels and short stories. Her creations Lily Bart and the Countess Ellen Olenska are still the best evidence we have of the absurdities and restraints upper-class New York.
A New York divorce is in itself a diploma of virtue. — Edith Wharton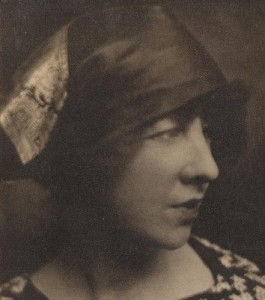 Gertrude Vanderbilt Whitney (1875-1942)
Patron
Gertrude, the daughter of Cornelius Vanderbilt, turned her powerful name, untold wealth and fascinations with art into an endeavor that would benefit the general public, eventually founding the Whitney Museum in 1931. But unlike Abby Rockefeller, Whitney actually was an artist herself, a sculptrress and a habitue of turn-of-the-century Greenwich Village bohemia. Gertrude's daughter Flora Payne Whitney would go on to head her mother's museum for decades.
And 25 more that I didn't get to write about this time around:
Society ruler Caroline Webster Schermerhorn Astor, aka THE Mrs. Astor, civil rights organizer Ella Baker, photographer Margaret Bourke-White, journalism pioneer Jane Cunningham Croly, interior decorator and culture hound Elsie de Wolfe, feminist march organizer Betty Friedan, Brooklyn community activist Rosetta "Mother" Gaston, dance icon Martha Graham, New Yorker co-founder Jane Grant, art aficionado Peggy Guggenheim, speakeasy queen Texas Guinan, Harlem Renaissance writer Zora Neale Hurston, daring socialite Eliza Jumel, film critic Pauline Kael, restauranteur Elaine Kaufman, survivor Tricia Meili, mayoral candidate Ruth Messinger, superstar and parks lover Bette Midler, 19th Century philanthropist Anna Ottendorfer, politician Francis Perkins, abortionist Madame Restell, Central Park maven Elizabeth Barlow Rogers, presidential mom Sara Delano Roosevelt, wealthy suffragette Alva Vanderbilt, Village defender Ruth Wittenberg and grand rebel-rouser Victoria Woodhull