Today is National Doughnut Day which is not a real holiday although that shouldn't stop you from celebrating in whatever powdered, glazed, creme-filled way you see fit.
However you will be surprised to learn that this day traces its roots to the Salvation Army and World War I.
To provide for the American troops fighting in France in 1917-18, Salvation Army workers set up small tents or 'huts', providing the comforts of home, with nourishing meals, a quiet place to write letters or to get clothing mended.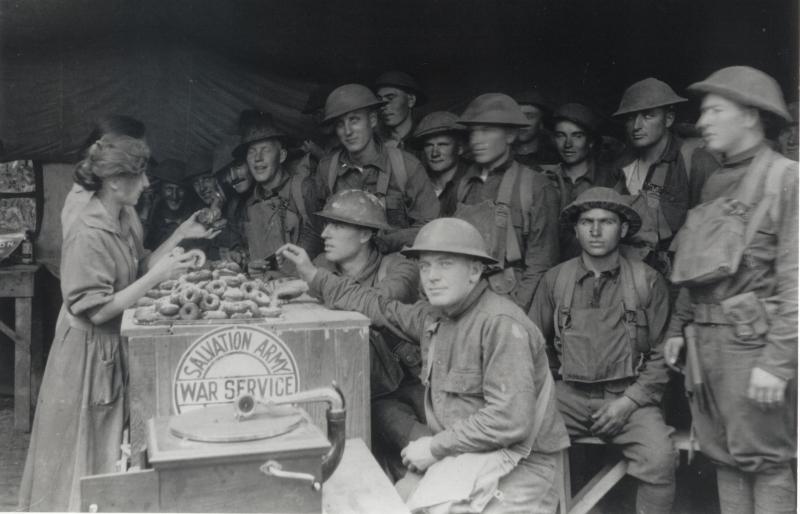 There were actually several dozen of these Salvation Army huts already set up in the United States near military bases so the tradition was simply transferred over to Europe when the war began, with workers often setting up huts in abandoned or even bombed-out buildings.
Below: A doughboy eating a doughnut on a 1919 magazine cover. (LOC)
What brings greater pleasure than a baked good? But the Salvation Army couldn't transport large baking ovens, so they improvised with the doughnut, deep-frying dough on small portable stoves.
Irving and the Oly Koek
The round pastry was not invented by the Salvation Army. Indeed, Washington Irving himself is credited with the first mention of the doughnut in print back in 1809.
Regaling on old Dutch custom, he writes "[I]t was always sure to boast of an enormous dish of balls of sweetened dough, fried in hog's fat, and called dough-nuts, or oly koeks: a delicious kind of cake, at present known scarce to this city, except in genuine Dutch families."
Above: A scene from the Knickerbocker Kitchen in 1864 (NYPL)
Due to their ease of preparation, doughnuts became associated with wartime cuisine. But even the original Dutch 'oly koeks' made a wartime return as well, brought back as a fund-raiser during the Civil War, sold during the 1864 Metropolitan Fair in the Knickerbocker Kitchen, a sort-of theme restaurant where Dutch delights were sold.
The Battleship in Union Square
Interestingly, the Knickerbocker pavilion was located just off of Union Square. Many decades later, the doughnut would return to Union Square for yet another war-related pageant.
In 1917, during World War I, the U.S. Navy set up a curious recruitment tool in Union Square — a life size wooden battleship called, appropriately, the USS Recruit.
Once the war was over, the Salvation Army thought it would be a kind gesture to those New Yorkers were fought in the war to recreate their welcoming war huts. And it made natural sense to set one up here in Union Square, next to the wooden battleship and conveniently located near their headquarters on West 14th Street (still there today).
The Salvation Army's Union Square hut opened for business January 12, 1919, with a grand ceremony around the USS Recruit and military officers from the Brooklyn Navy Yard.
Inside Salvation Army workers were busily preparing the doughnuts, using the same tools as on the battlefield. It was led by Adjutant Violet McAllister, one of the original "doughnut sweethearts" of the war, with "flour on her nose and a great white apron over her khaki uniform.
That day over 1,000 doughnuts were prepared, many for soldiers returning from the war. In emulation of the war front huts, the Union Square edition was "open every day for reading, writing and gossip, with doughnut and coffee for 10 cents for all men in uniform." [source]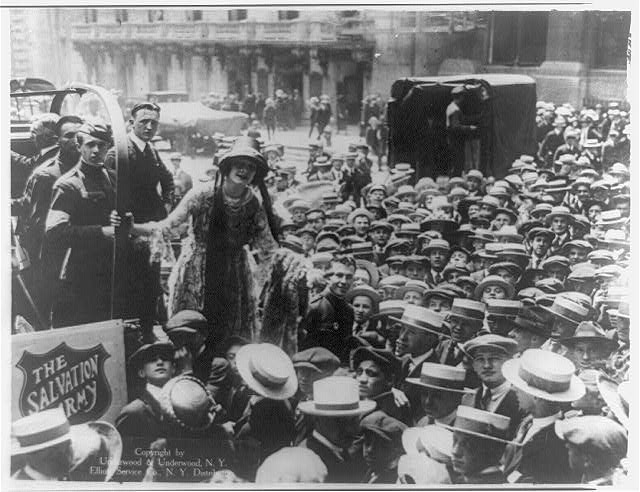 Above: Silent film star and New Yorker Martha Mansfield sells doughnuts for $1 apiece on the streets of New York during a fundraiser for the Salvation Army. (LOC)
Doughnuts on Every Corner
To those at home, observing the battles of World War I from afar, the doughnut became a symbol of the war effort (although the word doughboy is not related.) A month before the Treaty of Versailles was signed, Salvation Army volunteers sold doughnuts on street corners throughout the city and even auctioned off doughnuts on the steps of the Sub-Treasury Building (today's Federal Hall), with one doughnut being sold for $5,000!
Below: The doughnuts were prepared at the Hotel Commodore, Lexington and 42nd Street.
By 1920, the battleship — and I assume the doughnut hut as well — were dismantled. In 1938, two decades after World War I, the Salvation Army started National Doughnut Day as a fundraiser and in honor of its phalanx of busy doughnut makers.
New Yorkers of course no longer needed to associate this food with wartime activities as the pastry soon sprang up at every lunch corner and automat in town.
Below: Mayfair Doughnut under the elevated at 32-36 Greenwich Street (courtesy NYPL)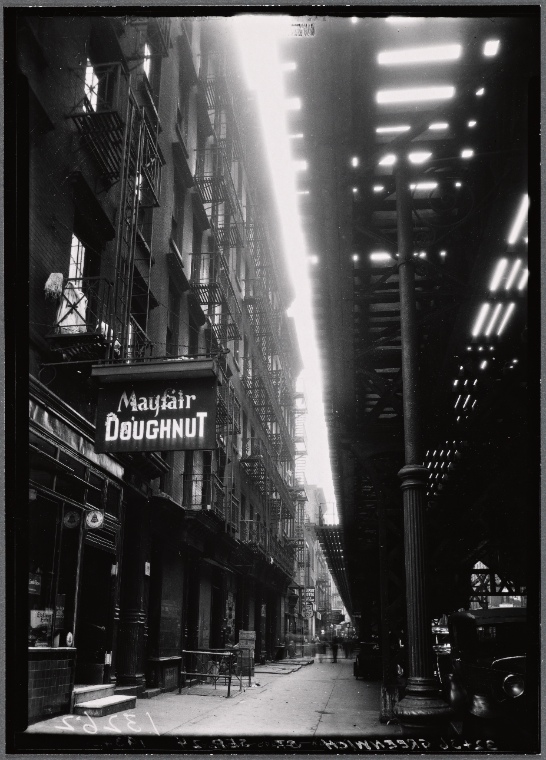 A doughnut eating contest from 1922. I'm not sure this is from New York City, but how could I overlook this hilarious picture? (LOC)