Sixteen years ago (officially on June 19, 2007) we recorded the very first Bowery Boys podcast, appropriately about Canal Street, the street just outside the window of Tom's apartment on the Lower East Side.
That's right! If our podcast were a person, it could now legally drive in the state of New York.
(For more information, check out our 15th anniversary show from last year.)
We cannot have possibly imagined on that hot June night, wielding only a bad microphone, a new laptop and some reasonably interesting information about a terribly polluted water soure, that would still be doing this, stronger than ever.
Thank you, listeners and readers, for helping us celebrate almost four hundred years of history in the past sixteen.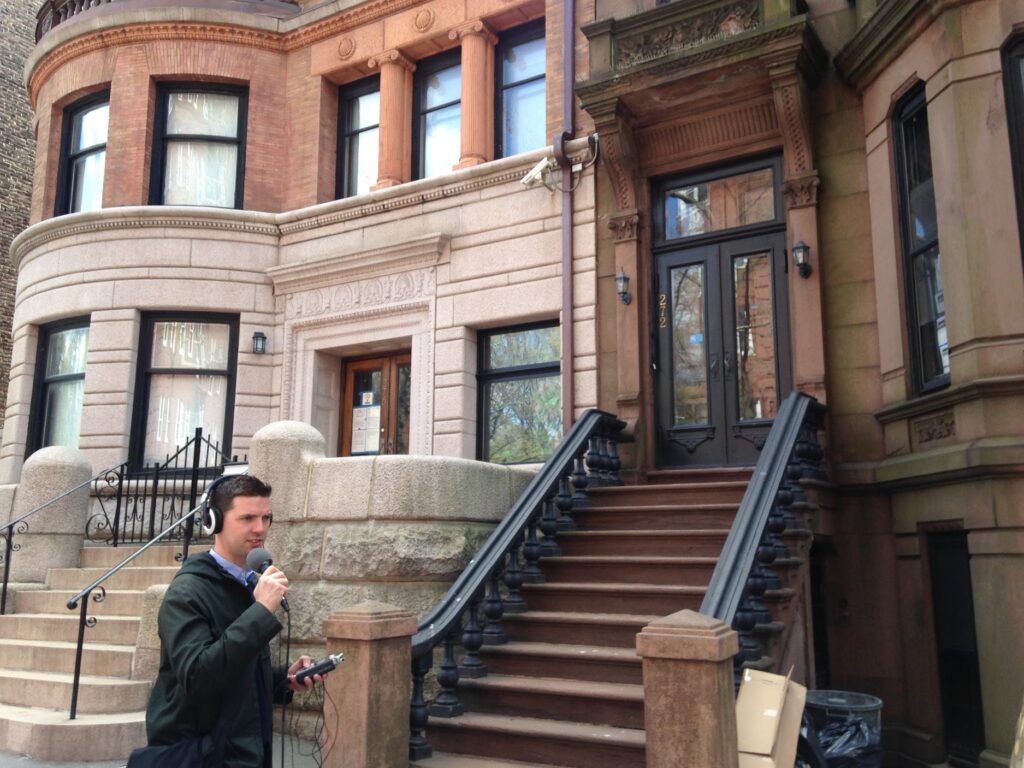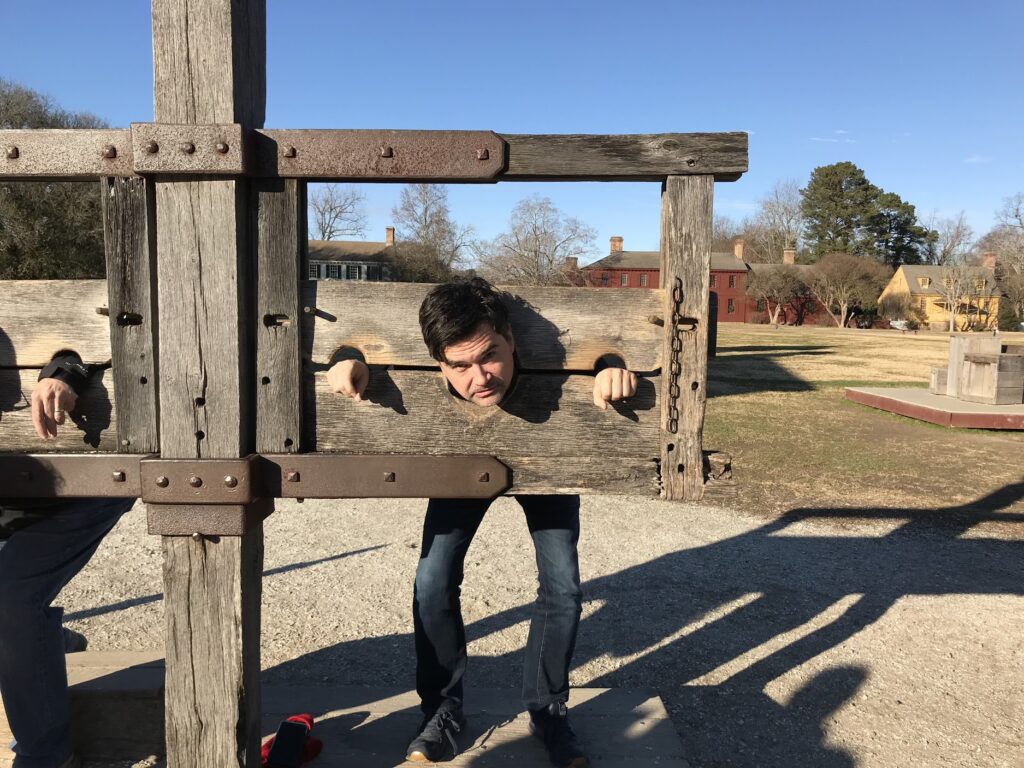 Here's a new way to experience our old podcasts.
Below is our entire list* of shows, placed in a particular chronological order, based on a critical date in that subject's history.
Viewing our back catalog of podcasts in this fashion, we hope that you can really start seeing the entire history of New York City emerging. To this day, there are some blatant holes in our historical coverage that we hope to close up in future shows.
So enjoy! And thank you all again.
*In the rare case where we revisited a subject (Flatiron Building, Canal Street) we only included the most recent show. For 'rewind' episodes with updates, they have been included over the original. And the first four episodes are not available (but those who support us on Patreon have access to episodes #2-4).
You can find our podcasts anyplace. Read here for more information on where you can find our shows.
And finally — we can continue recording the Bowery Boys podcast thanks to the generous support of those on Patreon. Supporters receive bonus audio, free merchandise and first access to tickets for upcoming live shows.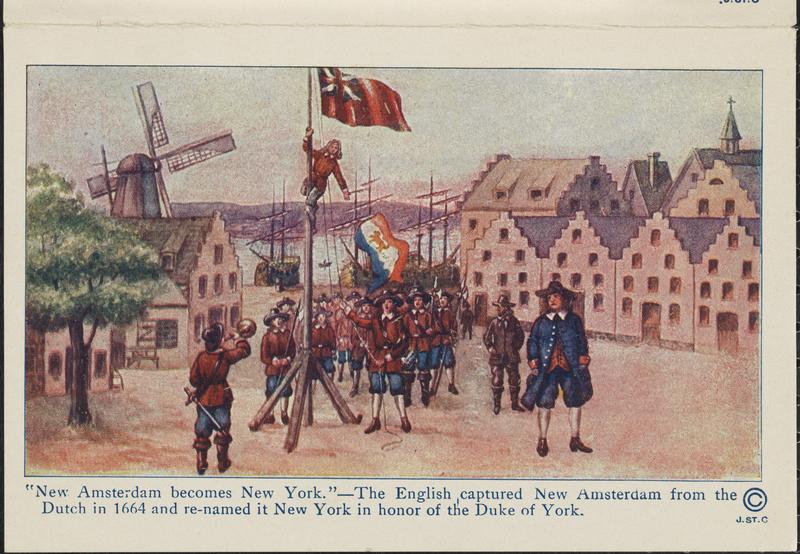 DUTCH AND ENGLISH PERIOD
Land of the Lenape (Pre 1609 inhabitants)
#83 Henry Hudson and the European Discovery of Mannahatta (1609 – Hudson sails into the harbor)
#272 Life in New Amsterdam (1624 First permanent European on Manhattan Island)
#212 Bronx Trilogy: The Bronx Is Born(1639 Jonas Bronck sets up a farm on what would be called the Bronx River)
#267 Broadway: The Story of a Street (1642 First mention of the street in Dutch documents)
#273 Peter Stuyvesant and the Fall of New Amsterdam (1647 Stuyvesant arrives)
#390 The Story of Flatbush: Brooklyn Old And New (1651 The village of Flatbush chartered)
#301 Haunted Houses of Old New York (1680 Conference House built)
#228 The Pirate of Pearl Street: The New York Adventures of Captain Kidd (1690 Kidd moves to New York)
#97 Trinity Church (1698 First Trinity Church opens)
#406 How Wall Street Got Its Name (1711 Wall Street slave market opened)
#149 John Peter Zenger and the Power of the Press (1735 Zenger trial)
#379 How Chelsea Became a Neighborhood (1750 The original Chelsea Manor is completed)
#90 Columbia University (1754 King's College established)
#115 African Burial Ground (Mid 18th century — Burials begin in the area south of Collect Pond)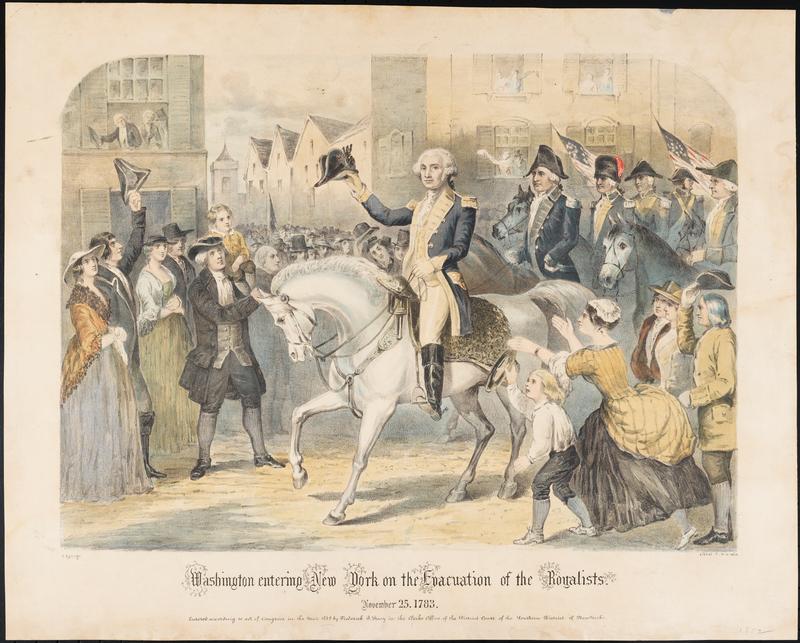 REVOLUTION
The Revolutionary Tavern of Samuel Fraunces (1762 Samuel Fraunces opens tavern)
#266 New York City During the Revolutionary War (1776-1783)
#333 Tearing Down King George: The Monumental Summer of 1776
#201 GOWANUS! Brooklyn's Troubled Waters (1776 Battle of Brooklyn)
#191 The Great Fire of 1776 (1776 Fire at the Fighting Cocks Tavern)
#298 The Story of Brooklyn Heights (1776 Washington's meeting at the House of the Four Chimneys)
#157 Early Ghost Stories of Old New York (1778 Mohican tribe fighting for the Continental Army slaughtered)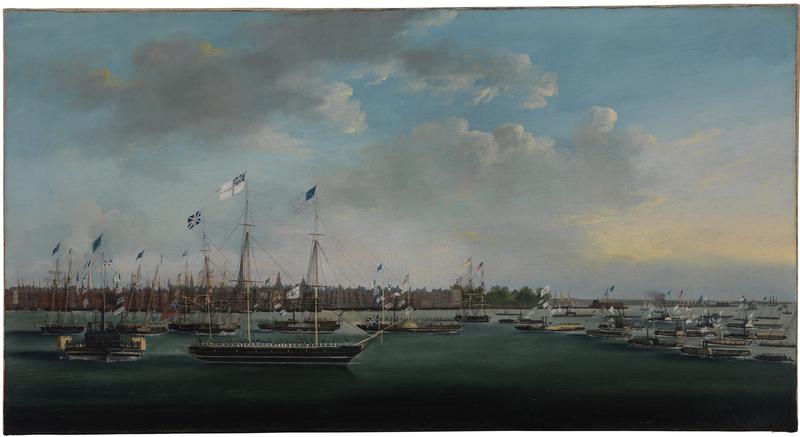 NEW YORK IN THE NEW NATION
#373 New York Underground: The Story of Cemeteries (1788 The Doctors Riot)
#220 George Washington's New York Inauguration (1789)
#221 New York: Capital City of the United States (1789-1790)
#63 New York Stock Exchange (1792 Buttonwood Agreement)
#354 Who Wrote The First American Cookbook? (1796 Amelia Simmons publishes American Cookery)
#240 Ghosts of Greenwich Village (1797 The area of today's Washington Square becomes a potter's field)
#112 Archibald Gracie and His Mansion (1799 Mansion constructed)
#138 St. Mark's-in-the-Bowery (1799 Chapel opens)
#239 Murder at the Manhattan Well (1799 Elma Sands is murdered)
#65 Spooky Stories of New York (1799 Featuring the 'ghost story' version of the tale above, among other tales)
#41 New York Post (1801 Alexander Hamilton establishes the paper)
#297 Dr. Hosack's Enchanted Garden (1801 Hosack opens Elgin Botanic Garden)
#19 Washington Irving (1802 Irving begins writing)
#169 DUEL! Aaron Burr vs. Alexander Hamilton (1804 The infamous duel between Burr and Hamilton)
#367 The Ice Craze: How the Ice Business Transformed New York (1806 The first American ice business is formed)
#185 Adventures in Governors Island (1807 Castle Williams constructed)
#258 Tales from Tribeca History (1807 St. John's Chapel and the first 'upscale' neighborhood are created)
#31 Battery Park and Castle Clinton (1808 Castle Clinton constructed)
#9 St. Patrick's Old Cathedral (1809 Cathedral begins construction)
#50 Canal Street and Collect Pond (1811 Collect Pond is filled)
#163 South Street Seaport (1811 Schermerhorn Row counting houses constructed)
#93 City Hall and City Hall Park (1811 City Hall constructed)
#40 Union Square (1815 Union Place opened)
#343 Literary Horrors of New York City (1819 The Legend of Sleepy Hollow is published)
#145 Bicycle Mania! From Velocipede to Ten-Speed (1819 First bicycle on the streets of New York)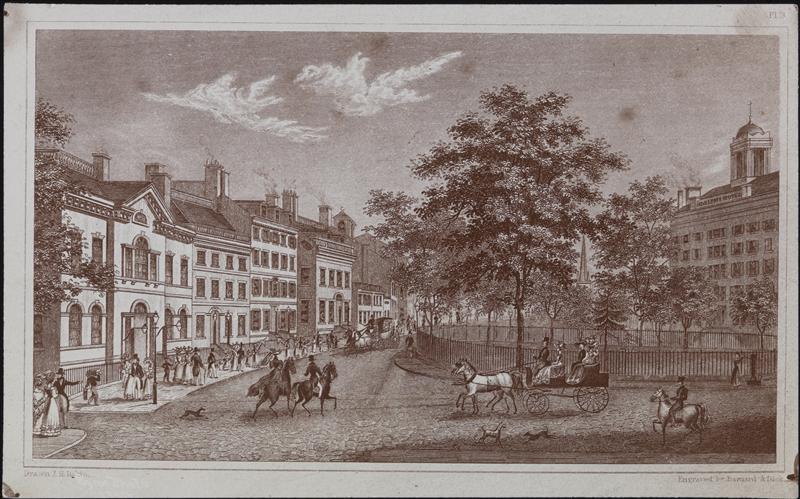 NEW YORK, NEW WEALTH
#152 Bellevue Hospital (1821 Hospital opens)
#403 The Fulton Fish Market: History at the Seaport (1822 Market opens)
#407 New York By Gaslight (1823 New York gets its first gas company)
#52 DeWitt Clinton and the Erie Canal (1825 Canal opens)
Seneca Village and New York's Forgotten Black Communities (1825 Seneca Village founded)
#388 The Hudson River School: An American Art Revolution (1825 Thomas Cole moves to Catskill, New York)
#7 Washington Square Park (1826 City buys potter's field to create a military parade ground)
#70 The Bowery Files (1826 – Bowery Theatre opens)
#252 The Underground Railroad: Escape Through New York (1826 David Ruggles moves to New York)
#58 Delmonico's Restaurant (1827 First restaurant opens)
#142 New York University (NYU) (1831 College founded on Washington Square)
#193 St. Mark's Place: Party In The East Village (1831 Hamilton-Holly house constructed)
#241 Edgar Allan Poe in New York (1831 Poe moves to New York)
#91 Haunted Tales of New York (1832 Merchant's House built)
#171 The Keys to Gramercy Park(1833 Gramercy Park enclosed with a private fence)
#94 Corlear's Hook and the Pirates of the East River (1833 First tenement built in the Hook)
#140 Rockaway Beach (1833 Marine Pavilion opens)
#224 The Arrival of the Irish: An Immigrant Story (1830s)
#113 Niblo's Garden (1834 William Niblo opens the theater)
Strange Hoaxes of the 19th Century (1835 The Moon Hoax runs in the New York Sun)
City in Flames: The Great Fire of 1835
#211 The Notorious Madame Restell: The Abortionist of Fifth Avenue (1836 Ann Lohman begins work)
#222 Who Killed Helen Jewett? A Mystery By Gaslight (1836 Jewett murdered that Spring)
#59 Five Points: Wicked Slum (1837 Old Brewery becomes a slum)
#38 Tiffany & Co. (1837 Tiffany's first opens)
#64 Green-Wood Cemetery (1838 Cemetery opens in Brooklyn)
#291 The Tombs: Five Points' Notorious House of Detention (1838 Prison opens)
#82 Roosevelt Island (1839 – Lunatic asylum opens)
#242 New York and the Dawn of Photography and The First Woman Ever Photographed (1839 John Draper and his sister Dorothy Catherine first work on the photographic process at NYU)
#130 Haunted Histories of New York (1841 – Most Holy Trinity in Bushwick constructed)
#46 Barnum's American Museum (1841 Museum opens)
#66 Who Killed Mary Rogers? (1841 Rogers is murdered)
#143 Water for New York: Croton Aqueduct (1842 Croton Aqueduct opens)
#386 On the Trail of the Old Croton Aqueduct (1842 Croton Aqueduct opens)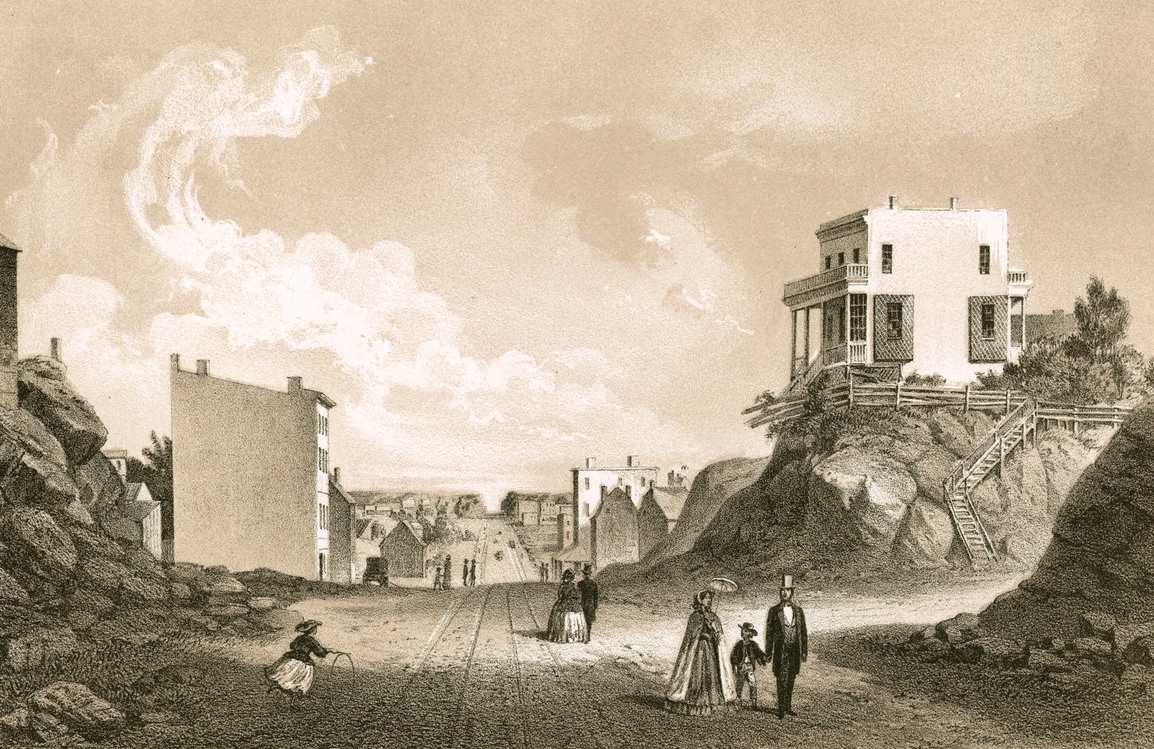 NEW YORK: THE GROWING CITY
#324 Moving Day: Mayhem and Madness in Old New York (Essentially Every May)
#133 Red Hook: Brooklyn on the Waterfront (1847 Atlantic Basin constructed)
#37 Henry Ward Beecher and Plymouth Church (1847 Beecher moves to Brooklyn)
#281 The Treasures of Downtown Brooklyn (1848 Brooklyn City Hall constructed)
#293 Secrets of Upper Manhattan (1848 High Bridge constructed)
#289 Blood and Shakespeare: The Astor Place Riot (1849 Riot erupts outside Astor Place Opera House)
#356 Pfizer: A Brooklyn Origin Story (1849 Charles Pfizer begins selling worm medication)
#394 New York Calling: A History of the Telephone (1849 Antonio Meucci invents a version of the telephone in Staten Island)
#160 Tompkins Square Park (1850 Park opens)
#316 Jenny Lind at Castle Garden (1850 Lind performs at the Garden)
#181 Park Slope and the Story of Brownstone Brooklyn (1850s Edwin Litchfield purchases parcels of land in South Brooklyn)
#75 Williamsburg(h), Brooklyn (1852 City of Williamsburgh)
#178 The Crystal Palace: America's First World's Fair (1853 Crystal Palace opens)
#92 Steinway: the Piano Man (1853 Henry Steinway opens first shop in Manhattan)
#117 Mark Twain's New York (1853 Young Mark Twain first visits New York)
#60 Five Points Part Two: The Fate of Five Points (1853 New Mission replaces the Old Brewery)
#51 McSorley's Old Ale House (1854 Tavern opens)
#25 The Original Bowery Boys (1855 Death of Bowery Boys leader Bill the Butcher)
#283 Walt Whitman in New York and Brooklyn (1855 Whitman first publishes Leaves of Grass)
#389 The Ruins of Roosevelt Island (1856 Smallpox Hospital built on Blackwell's Island)
#103 Case Files of the NYPD (1857 Infamous police riot between Municipals and Metropolitans)
#382 Architect of the Gilded Age (1857 Hunt opens the Tenth Street Studios building)
#232 The Story of SoHo (1857 E.V. Haugtwout's emporium opens)
#276 Murder on Bond Street (1857 Harvey Burdell is murdered)
#300 The Forgotten Father of New York City (1857 Andrew Haswell Green becomes involved with the Central Park Commission)
#385 Frederick Law Olmsted and the Plan for Central Park (1858 Olmsted and Vaux win the Central Park design competition)
#54 The Creation of Central Park (1857 Park opens)
#134 St. Patrick's Cathedral (1858 Cornerstone laid)
#30 Peter Cooper and Cooper Union (1858 Cooper Union begins construction)
#23 Macy's: the Man, the Store, the Parade (1858 Rowland Macy opens first store)
#129 Chinatown (1858 First Chinese resident of New York documented)
#325 The Staten Island Quarantine War (1858 Residents burn the hospital)
#268 The Astonishing Saga of the Atlantic Cable (1858 First communications made)
#126 Fernando Wood: The Scoundrel Mayor (1860 Wood becomes mayor of New York)
#139 Brooklyn Academy of Music (1861 Academy opens)
#285 Boss Tweed's House of Corruption (1861 Construction begins on the courthouse)
#286 Uncovering Hudson Yards (1861 Abraham Lincoln first arrives in New York via the Hudson River Railroad)
The Real Mrs. Astor: Ruler or Rebel? (1862 The Astors move to 34th and Fifth Avenue)
#357 Edith Wharton's New York (1862 Wharton is born on 23rd Street)
#348 Cheers! The Stories of Four Fabulous Cocktails (1862 Jerry Thomas publishes his bartending guide)
#340 The Real Life Adventures of Tom Thumb (1863 Stratton marries Lavinia Warren)
#183 Orchard Street: Life On The Lower East Side (1863 Construction of 97 Orchard Street)
#127 The Civil War Draft Riots (1863 Summer of Draft Riots)
#10 Central Park Zoo (1864 Menagerie opens)
#128 Hoaxes and Conspiracies of 1864 (1864 Confederate fires set in November)
#320 The History of Hart Island (1864 The island becomes a potter's field)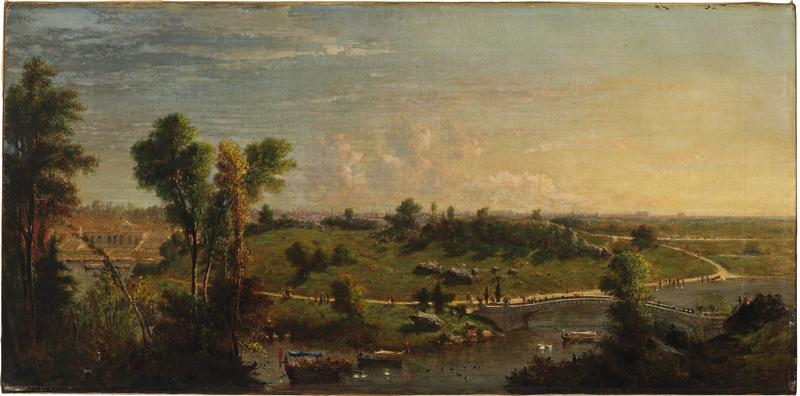 NEW YORK: BEGINNINGS OF A GILDED AGE
The Bowery Boys Presents: The First Broadway Musical (1866 The Black Crook debuts)
#368 Henry Bergh's Fight for Animal Rights in Gilded Age New York (1866 Bergh founds the ASPCA)
#84 Prospect Park (1867 Park opens to the public)
#141 New York Beer History (1867 George Ehret opens brewery)
#102 Brighton Beach and Manhattan Beach (1868 – First resort in Brighton Beach)
#274 Ghost Stories of Hell's Kitchen (1868 Landmark Tavern opens)
#114 Supernatural Stories of New York (1869 – Hart Island first used as a potter's field)
#131 The First Apartment Building (1869 Stuyvesant Apartments constructed)
#207 The First Subway: Beach's Pneumatic Marvel (1869 Alfred Ely Beach builds under Broadway)
#329 The First Ambulance: The Humans (And Horses) Who Saved New York (1869 Bellevue debuts its ambulance service)
#366 North Brother Island: New York's Forbidden Place (1869 The lighthouse is constructed)
#331 The East Side Elevateds: Life Under the Tracks (1870 First elevated railroad for passengers)
#161 Fire Department of New York (FDNY) (1870 City-funded fire team founded)
#341 The Metropolitan Museum of Art (1870 Museum is founded)
#238 Astoria and Long Island City (1870 Long Island City becomes an official municipality)
#177 The Big History of Little Italy (1870s Italian immigrants began arriving in large numbers)
#86 Boss Tweed and Tammany Hall (1871 Boss Tweed arrested)
#45 Grand Central (1871 Grand Central Depot opens)
#198 Greenpoint, Brooklyn: An Industrial Strength History (1874 Faber Pencil Factory opens)
#270 Heaven on the Hudson: A History of Riverside Park (1875 Riverside Park first opens)
#323 The Bowery Wizards: A History of Tattooed New York (1876 Edison invents the tattoo machine)
#396 Samuel Tilden and the Presidential Election of 1876 (1876 Americans go to the polls and make an indecisive choice)
Dinosaurs and Diamonds: The American Museum of Natural History (1877 First portion of museum opens)
#215 Ghosts of the Gilded Age (1877 Mysterious body found in an abandoned Queens farmhouse)
#395 Jefferson Market and the Women's House of Detention (1877 Jefferson Market Courthouse opens)
#339 James H. Williams and the Red Caps of Grand Central (1878 James Williams born)
#107 New York's Elevated Railroads (1878 First regular elevated railroad in service)
#375 The Great Bank Robbery of 1878
#172 Ghost Stories of Brooklyn (1878 Reports of a ghostly doorbell in Clinton Hill)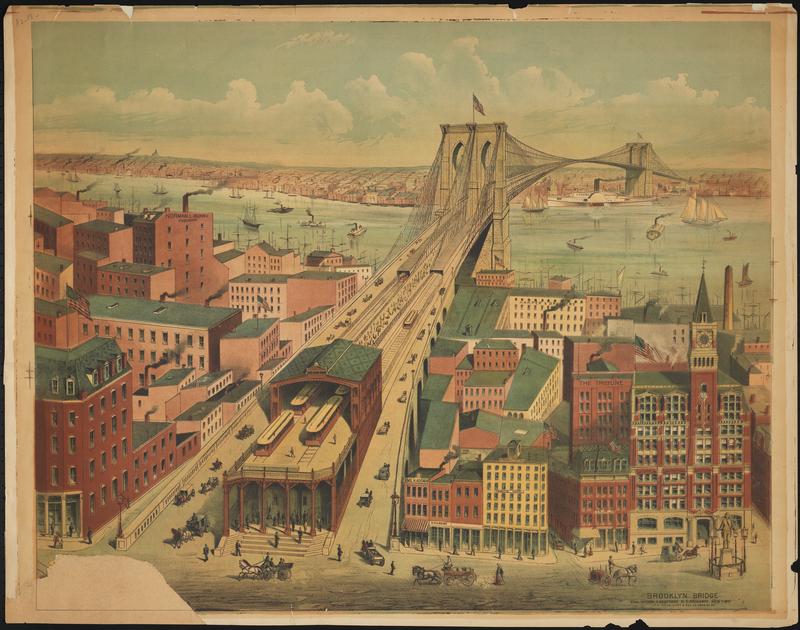 NEW YORK: CITY OF INNOVATION
#99 Madison Square Garden (1879 First Madison Square Garden opens)
#376 Skid Row: The Bowery of the Forgotten (1879 The Bowery Mission opens)
#8 Dakota Apartments and 'Rosemary's Baby' (1880 Dakota begins construction)
The Mystery of the Central Park Obelisk (1881 Obelisk erected in Central Park)
#186 Hell's Kitchen: New York's Wild West (1881 Incident at Hell's Kitchen tenement)
#225 P. T. Barnum and the Greatest Show on Earth (1881 Barnum and Bailey Circus formed)
#132 Electric New York: Edison and the City Lights (1882 Pearl Street Station opened)
#347 Steam Heat! A Gilded Age Miracle (1882 Steam system constructed)
#387 Hyde Park: The Roosevelts on the Hudson (1882 Franklin D. Roosevelt born in Hyde Park)
#108 Cable Cars, Trolleys and Monorails (1883 New York's first cable car system)
#29 Brooklyn Bridge and #410 The Roeblings: The Family Who Built The Bridge (1883 Bridge completed)
#261 The Huddled Masses: Emma Lazarus and the Statue of Liberty (1883 Lazarus writes poem)
#89 Chelsea Hotel (1883-5 Hotel is constructed as a cooperative)
#79 The Whyos: Gang of New York (1884 Whyos list of 'killing prices' published)
#179 The Fight for Bryant Park (1884 Park renamed for William Cullen Bryant)
#275 Return to Tin Pan Alley: Saving American Music History (1885 First music publishers move to West 28th Street)
#81 The Puck Building: "What Fools These Mortals Be!" (1885 Puck Building constructed)
#34 Katz Delicatessen (1886 Deli opens as the Iceland Brothers)
#73 Webster Hall "The Devil's Playhouse" (1886 Webster Hall completed)
#16 Statue of Liberty (1886 Statue dedicated)
#294 That Daredevil Steve Brodie (1886 Brodie jumps of the Brooklyn Bridge — or does he?)
#308 Andrew Carnegie and New York's Public Libraries (1886 Carnegie donates money for his first library in the United States)
#194 Nellie Bly – Undercover In the Madhouse (1887 Nellie goes to the asylum)
#304 The Miracle at Eldridge Street (1887 Synagogue opens)
#269 Harry Houdini and the Golden Age of Magic in New York (1887 The future Harry Houdini moves to New York)
#148 Frozen In Time: The Great Blizzard of 1888 (1888 The blizzard hits)
TESLA: The Inventor in Old New York (1888 Westinghouse licenses Tesla patents)
#216 Edwin Booth and the Players Club (1888 Booth forms the Players Club in Gramercy Park)
#400 Jacob Riis: 'The Other Half' of the Gilded Age (1888 Riis begins the lectures which will culminate in his landmark book)
#169 The Tallest Building In New York: A Short History (1890 Construction of the New York World Building)
#213 Bronx Trilogy: The Bronx Is Building (1890 Construction begins on the Grand Concourse)
#256 DUMBO: Life on Brooklyn's Waterfront (1890 Robert Gair invents the cardboard box)
#371 A Visit to Little Syria: An Immigrant Story (1890 Sahadi's opens on the Lower West Side)
#312 Has Jack the Ripper Come To Town? (1891 Carrie Brown is brutally murdered)
#57 Carnegie Hall (1891 Hall opens)
#360 The Botanical Gardens of New York City (1891 The New York Botanical Garden is established)
Nickelodeons and Movie Palaces: New York and the Film Industry (1892 First Kinetoscope parlor)
#88 Ellis Island(1892 Immigration station opens)
#237 Columbus Circle: A Century of Controversy (1892 Columbus Circle opens)
#262 Secrets of the Cathedral of St. John the Divine (1892 Work begins on the cathedral)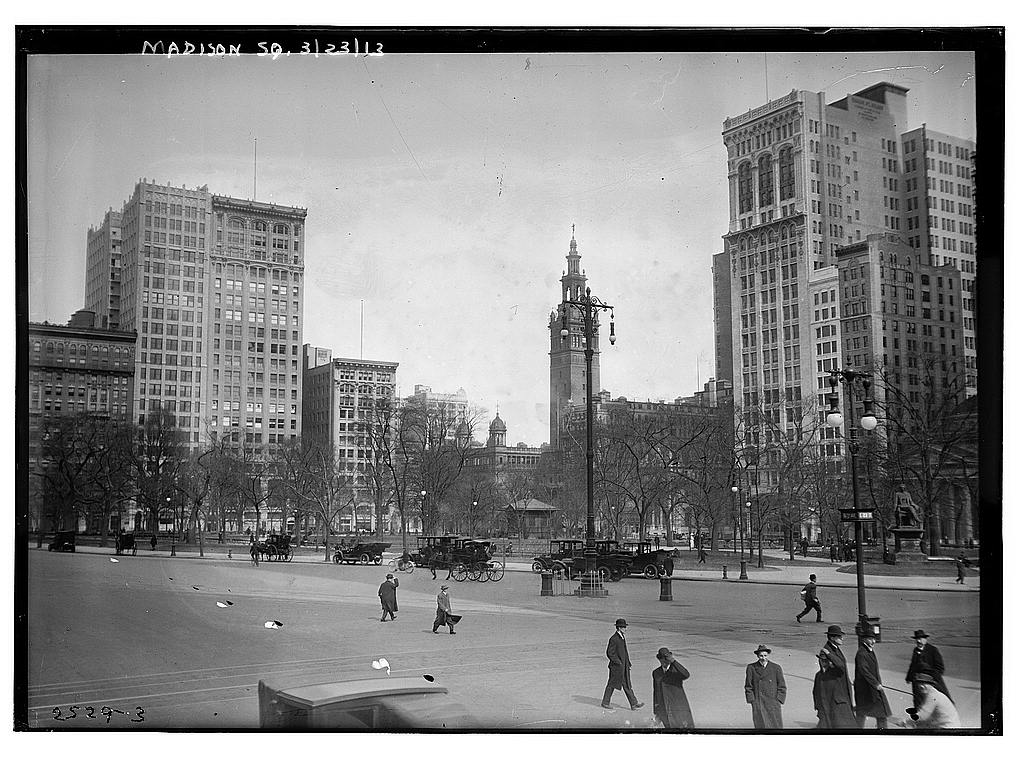 NEW YORK: CITY OF SCANDALS
#21 The Astors and the Waldorf-Astoria

#244 The Rise of the Fifth Avenue Mansions (1893 Waldorf Hotel Opens)
#295 Saving The City: Women Of The Progressive Era (1893 Lilian Wald opens the Henry Street Settlement)
#296 Talking Trash: A History of New York City Sanitation (1894 George E. Waring Jr becomes commissioner)
#335 Pulitzer vs Hearst: The Rise of Yellow Journalism (1895 Hearst buys the New York Morning Journal)
#146 Herald Square (1894 New offices for the New York Herald)
#355 The Midnight Adventures of Doctor Parkhurst (1894 Parkhurst goes on his trip to the 'underworld')
#409 The Great New York City Pizza Tour (1894 New evidence of the first pizza sold in America)
#165 Ladies' Mile (1896 Siegel-Cooper Department Store opens)
#305 Christmas in New York: The Lights of Dyker Heights (1896 Dyker Heights Club opens)
#359 The Magic of the Movie Theater (1896 The Vitascope debuts at Koster and Bial's vaudeville house)
#378 The Ansonia: Only Scandals In The Building (1897 The Ansonia is completed)
#87 The Kings of New York Pizza (1897 Lombardi's Pizza opens)
#47 Grants Tomb (1897 Tomb completed)
#189 TAXI: History of the New York City taxicab (1897 first electric taxis)
#71 Saks Fifth Avenue (1898 Store founded)
#150 Consolidation! Five Boroughs, One Big City (1898 Five boroughs created)
#336 The War on Newspaper Row (1898 The Spanish American War)
#101 The Bronx Zoo (1899 Zoo opens)
#251 McGurk's Suicide Hall (1899 – McGurk's earns its grim nickname)
#219 Newsies on Strike! (1899 Strike freezes newspaper delivery)
#290 Bagels: A New York Story (1900s First bagel unions established)
#315 Abandoned Pantheon: The Hall of Fame For Great Americans (1900 Pantheon established in the Bronx)
#159 The Broadway Musical: Setting the Stage (1901 Florodora opens)
#328: Chop Suey City: A History of Chinese Food in New York (1901 Chinese Tuxedo opens in Chinatown)
#397 Ghost Stories of the Hudson River (1901 Construction begins on Bannerman Castle)
#184 The Flatiron Building: A Story from Three Sides (1902 Flatiron constructed)
#259 Crossing to Brooklyn: How the Williamsburg Bridge Changed New York (1903 Bridge opens)
#166 General Slocum Disaster 1904
#12 Coney Island: The Golden Age (1904 Dreamland opens)
#109 New York City Subway, Part 1: Birth of the IRT

#253 Opening Day of the New York Subway (1904 — First subway opens)
#28 One Times Square (1904 New York Times opens new headquarters)
#118 Times Square (1904 – New York Times opens new headquarters)
#352 The Birth of Black Harlem (1904 — Philip A. Payton incorporates Afro-American Realty Company)
#332 Welcome to Yorkville: German Life on the Upper East Side (19o4 Yorkville Casino Opens)
#106 Staten Island Ferry (1905 – New York takes over private ferry service)
#188 The Murder of Stanford White (1906 White is killed at MSG)
The Curious Case of Typhoid Mary (1906 Mary gets a job in Oyster Bay)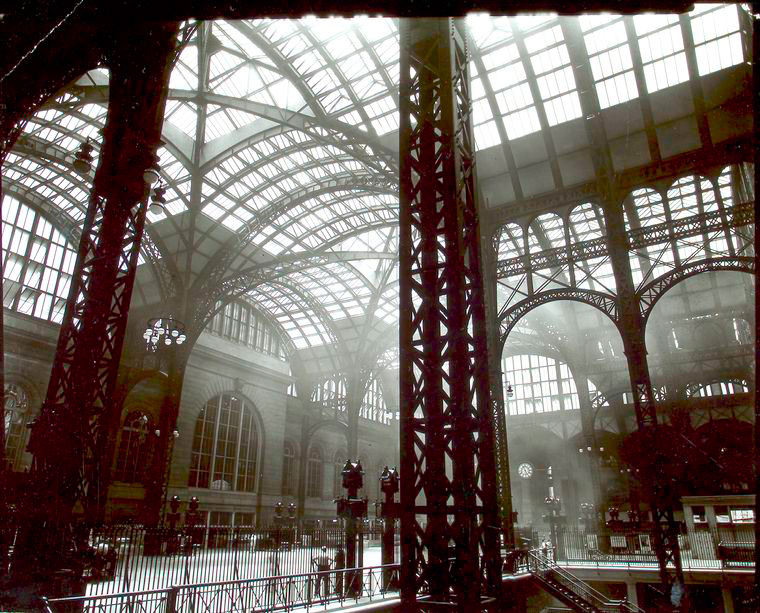 NEW YORK IN TRANSITION
#245 The Fall of the Fifth Avenue Mansions (1906 B. Altman's department store opens on Fifth Avenue)
#69 The Plaza Hotel (1907 Hotel opens)
#74 The Ziegfeld Follies (1907 The first Follies)
#284 Scott Joplin in New York: A Ragtime Mystery (1907 Joplin moves to New York)
#279 A New Year in Old New York: From Times Square to Chinatown (1907 – first Times Square ball drop)
#98 Manhattan Bridge (1909 Bridge opens)
#349 The Queensboro Bridge and the Rise of a Borough (1909 Bridge opens)
#370 Tragic Muse: The Life of Audrey Munson (1909 Munson moves to New York)
#311 Uprising: The Shirtwaist Strike of 1909
#280 House of Mystery: The Story of the Collyer Brothers (1909 The Collyer family moves to Harlem)
#180 The Chelsea Piers and the Age of the Ocean Liner (1910 – Chelsea Piers constructed)
#205 The Disappearance of Dorothy Arnold (1910 – Dorothy Disappears)
The Construction of Penn Station (1910 – Penn Station opens)
#42 The Triangle Factory Fire (1911 Disaster occurs in March)
#372 The Shuberts: The Brothers Who Built Broadway (1911 The Shubert open the Winter Garden)
#17 New York Public Library (1911 Main branch opens)
#271 Counter Culture: Diners, Automats and Luncheonettes in New York (1912 — The first automat opens in NYC)
#408 The Titanic and the Fate of Pier 54 (1912 The Titanic sinks)
#399 The Changing Lower East Side: A View From Seward Park (1912 The Forward Building opens)
#147 Art Insanity: The Armory Show of 1913 (1913 — Exhibition debuts)
#110 New York City Subway, Part 2: By the Numbers (and Letters) (1913 — The Dual Contracts agreement inspired subway growth)
Harlem Nights at the Hotel Theresa (1913 — Hotel constructed)
#156 The Boy Mayor of New York (1913 – Mitchel elected mayor)
#76 Woolworth Building (1913 — Woolworth Building completed)
#249 Madam C.J. Walker: Harlem's Hair Care Millionaire (1913 Walker opens her first salon in Harlem)
#39 New York Yankees (1913 Highlanders renamed the Yankees)
#263 Ebbets Field and the Glory Days of the Brooklyn Dodgers (1913 Ebbets Field opens)
#401: The World Before Wordle: A History of Puzzles (1913 The first crossword puzzle)
#202 The Lower East Side: A Culinary History (1914 – Russ & Daughters opens)
#226 Beauty Bosses of Fifth Avenue (1915 – Rubinstein opens her first shop)
#353 Harlem Before the Renaissance (1916 Marcus Garvey moves to Harlem)
#199 Battle For The Skyline: How High Can It Go (1916 – Zoning Law)
#197 Danger In The Harbor: The Black Tom Explosion (1916 – Explosion Occurs)
#384 Nuyorican: The Great Puerto Rican Migration (Puerto Ricans receive American citizenship)
#330 The Silent Parade of 1917: Black Unity in a Time of Crisis
#310 1918: The Story of the Harlem Hellfighters (1918 Hellfighters in France)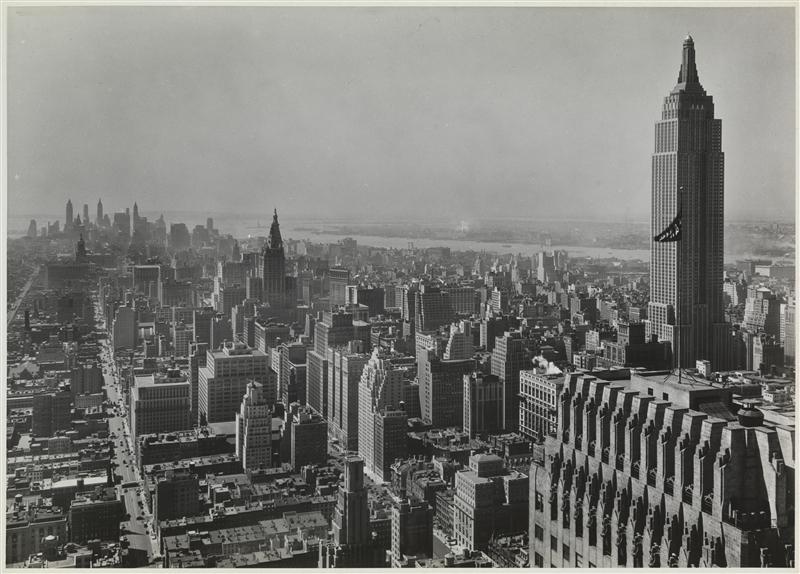 NEW YORK IN THE JAZZ AGE
#223 The Algonquin Round Table (1919)
#369 Last Dance at the Hotel Pennsylvania (1919 The Hotel Pennsylvania opens)
The Landmarks of Coney Island (1920 Wonder Wheel opens)
#144 Mysteries and Magicians of New York (1920 – Joseph Rinn debunks spiritualists at Carnegie Hall)
On the Radio: A History of the Airwaves (1920 – First radio station)
#18 Ghost Stories of New York City (1920 Showgirl Olive Thomas commits suicide)
#243 New York In Neon: Signs of the City (1920s The first neon signs in NYC)
#265 Absolutely Flawless: A History of Drag in New York (1920s Harlem drag balls draw thousands of spectators)
#125 Sardi's Restaurant (1921 – Sardi's opens for business)
#196 Ready to Wear: A History of the Garment District (1920s – Moves from LES to Midtown)
#100 Robert Moses (1922 Robert Moses begins work on New York City parks)
#362 Gatsby and the Mansions of the Gold Coast (1922 The year The Great Gatsby is set)
#313 The Straw Hat Riots of 1922
#192 Haunted Landmarks of New York (1923 – John Campbell leases his Apartment in Grand Central)
#260 Journey to Grey Gardens: A Tale of Two Edies (1924 — The Beales move to the Grey Gardens estate)
#321 Lauren Bacall: At Home at the Dakota Apartments (1924 Betty Joan Perske is born)
#153 NYC and the Birth of Television (1925 – First television broadcast from Roosevelt Hotel)
#174 American Kicks: A History of the Rockettes (1925 – Dance troupe founded in St. Louis)
#233 The Roaring '20s: King of the Jazz Age (1926 Jimmy Walker becomes Mayor of New York
#170 The Life and Death of Rudolph Valentino (1926 – Rudolph Valentino dies)
#182 Mae West, "Sex" on Broadway (1926 – The play 'Sex' opens)
#307 The Holland Tunnel: The Wonder of the Jazz Age (1927 — The Tunnel opens for traffic)
#204 The Cotton Club: Aristocrat of Harlem (1927 – Duke Ellington debuts)
#234 Queen of the Speakeasies: A Tale of Prohibition New York (1928 Texas Guinan arrested for operating a speakeasy)
#363 The Sunny Saga of Jones Beach (1929 Jones Beach is built)
#278 Newark vs. LaGuardia: A Tale of Two Airports (1929 Newark Airport opens)
#314 Tillie Hart: The Holdout of London Terrace (1929 Tillie holds out!)
#383 The Temple on Fifth Avenue (1929 The new Temple Emanu-El opens near Central Park)
#235 The Crash of '29: New York In Crisis (1929 stock market crashes)
#11 The Chrysler Building (1930 Building completed)
#162 George Washington Bridge (1931 – GWB opened)
#209 The Waldorf-Astoria's Complicated History (1931 Hotel opens)
#250 The Empire State Building: Story of an Icon (1931 Empire State Building opens)
#377 The Rockefeller Center Christmas Tree (1931 The first Rockefeller Center Christmas tree)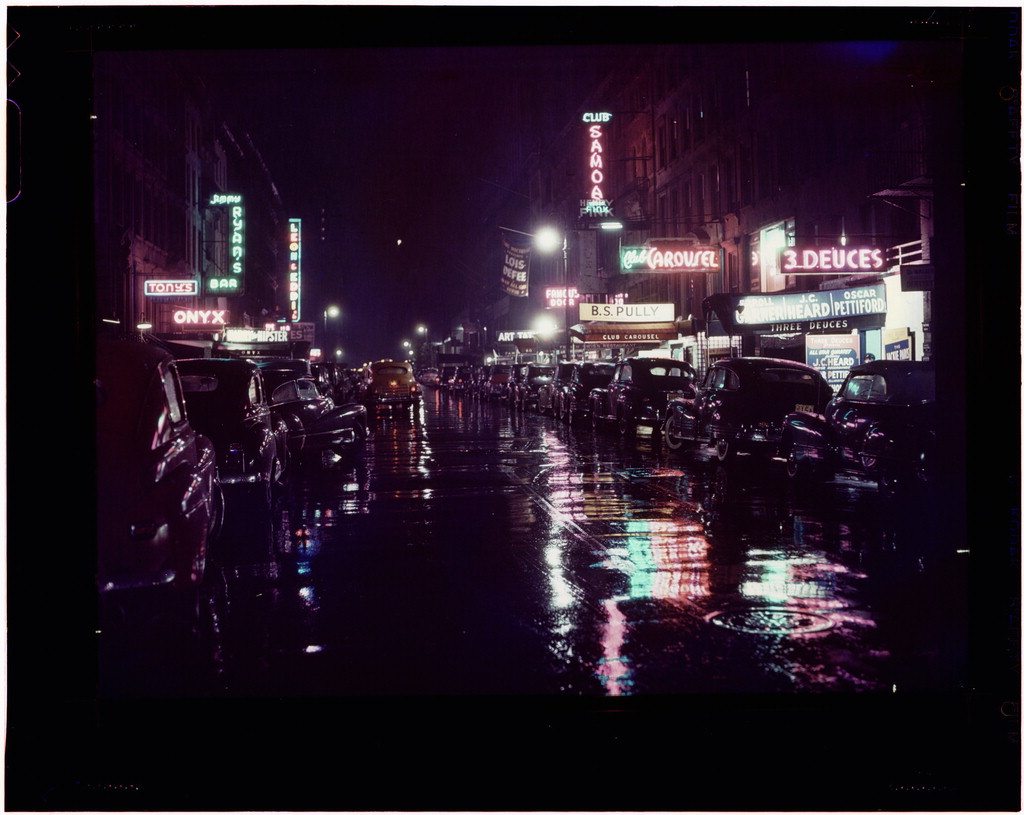 NEW YORK DURING THE DEPRESSION
#44 Rikers Island (1932 Jail opens)
#27 Radio City Music Hall (1932 Opening night)
#337 Robert Moses and the Art of the New Deal (1933 The first programs of the New Deal enacted)
#55 The Evolution of Central Park (1934 New York Parks Department created)
#15 The Apollo Theater (1934 Vaudeville house becomes the Apollo)
#53 Glamour and Gore: The Meatpacking District (1934 Elevated railway opens)
#135 The High Line (1934 Elevated railway opens)
#136 High Line Walking Tour (1934 Elevated railway opens)
#56 Randall's Island (1936 Jesse Owens wins the Olympic trials)
#338 A New Deal For New York: Murals, Music and Theatrical Mayhem (1936 Orson Welles stages 'Voodoo Macbeth')
#227 The Hindenburg Over New York (1937 The zeppelin crashes in New Jersey)
The Secret Origin of Comic Books (1938 – Action Comics debuts)
#96 The Cloisters and Fort Tryon Park (1938 – Cloisters Museum opens)
#364 The Very Gay History of Fire Island (1938 – The Great Hurricane of 1938 prompts rebuilding)
#49 LaGuardia Airport and Early New York Flight (1939 New York Municipal Airport opens)
#288 The World of Tomorrow: The New York World's Fair of 1939
#72 Rockefeller Center (1939 Opens to the public)
#176 Billie Holiday's New York (1939 – Billie Holiday sings "Strange Fruit")
#24 The Copacabana (1940 Club opens)
#345 LaGuardia's War on Pushcarts (1940 Essex Street Market opens)
#411 Miss Subways: Queens of the New York Commute (1941 First winner announced)
#404 Nighthawks and Automats: The World of Edward Hopper (1942 Hopper paints Nighthawks)
#247 Rodgers and Hammerstein: The Golden Age of Broadway (1943 Oklahoma! opens on Broadway)
#381 The Wonderful Home of Louis Armstrong (1943 The Armstrongs move to Corona, Queens)
NEW YORK POST-WAR
#13 Coney Island: 20th Century Sideshow (1944 Luna Park damaged in fire)
#154 New York in the Golden Age of Television (1947 – Howdy Doody first broadcast
#303 Building Stuyvesant Town (1947 First apartments opened)
#124 Idlewild/JFK Airport (1948 — New York International Airport opens)
#246 Tales from a Tenement: Three Families on the Lower East Side (1950s — The Epsteins move to Orchard Street)
#299 The Promenade and Preservation of Brooklyn Heights (1950 Promenade opens)
#306 Just Desserts: The Origins of New York Cheesecake, Cannoli and More (1950 Junior's opens for business)
#20 United Nations Headquarters (1952 Building Completed)
Two Stories of Historic Vaccines: The End of Polio and Smallpox (1953 Salk discovers the polio vaccine)
#85 Shakespeare in the Park (1954 — Festival founded by Joe Papp)
#398 Marilyn Monroe in New York (1954 Monroe moves to New York)
#67 Guggenheim Museum (1959 — Upper East Side museum opens its doors)
#218 LincolnCenter and West Side Story (1959 — Groundbreaking and construction begins)
#77 Freedomland U.S.A.: New York's Weirdest Theme Park (1960 – Park opens in the Bronx)
#61 Pan Am Building (1960 Construction begins)
RADICAL NEW YORK
#287 Greenwich Village in the 1960s
#200 Jane Jacobs: Saving the Village (1961 – The Death and Life of Great American Cities)
#405 Mona Lisa at the Metropolitan Museum (1962 Mona Lisa visits New York)
The Destruction of Penn Station (1963 — Penn Station demolished)
#277 The New York Comedy Scene: A Marvelous History (1963 — Budd Friedman opens The Improv)
#33 The World's Fair of 1964-65 (1964 World's Fair opens)
#402 Treasures from the Worlds Fairs (1964 World's Fair opens)
#346 The Beatles Invade New York (1964 Beatles arrive at JFK Airport)
#119 The Verrazano-Narrows Bridge (1964 – Bridge opens)
#173 Ruins of the World's Fair: New York State Pavilion (1964 – World's Fair opens)
#62 Shea Stadium (1964 – Stadium opens)
#309 What Gets Saved? Landmarks and Historic Districts Explained (1965 New York's landmark law is enacted)
#292 Sip-In At Julius': Gay New York in the 1960s (1966 Mattachine Society engages in the 'sip in')
#217 Truman Capote's Black And White Ball (1967 Ball is held at the Plaza Hotel)
#380 Dorothy Parker's Last Party (1967 Dorothy Parker dies)
#155 Sesame Street to Seinfeld: NYC TV 1969-2013 (1969 – Sesame Street on the air)
#231 The Stonewall Riots (1969 Riots erupt in the early morning hours)
#236 Times Square in the 1970s (1970)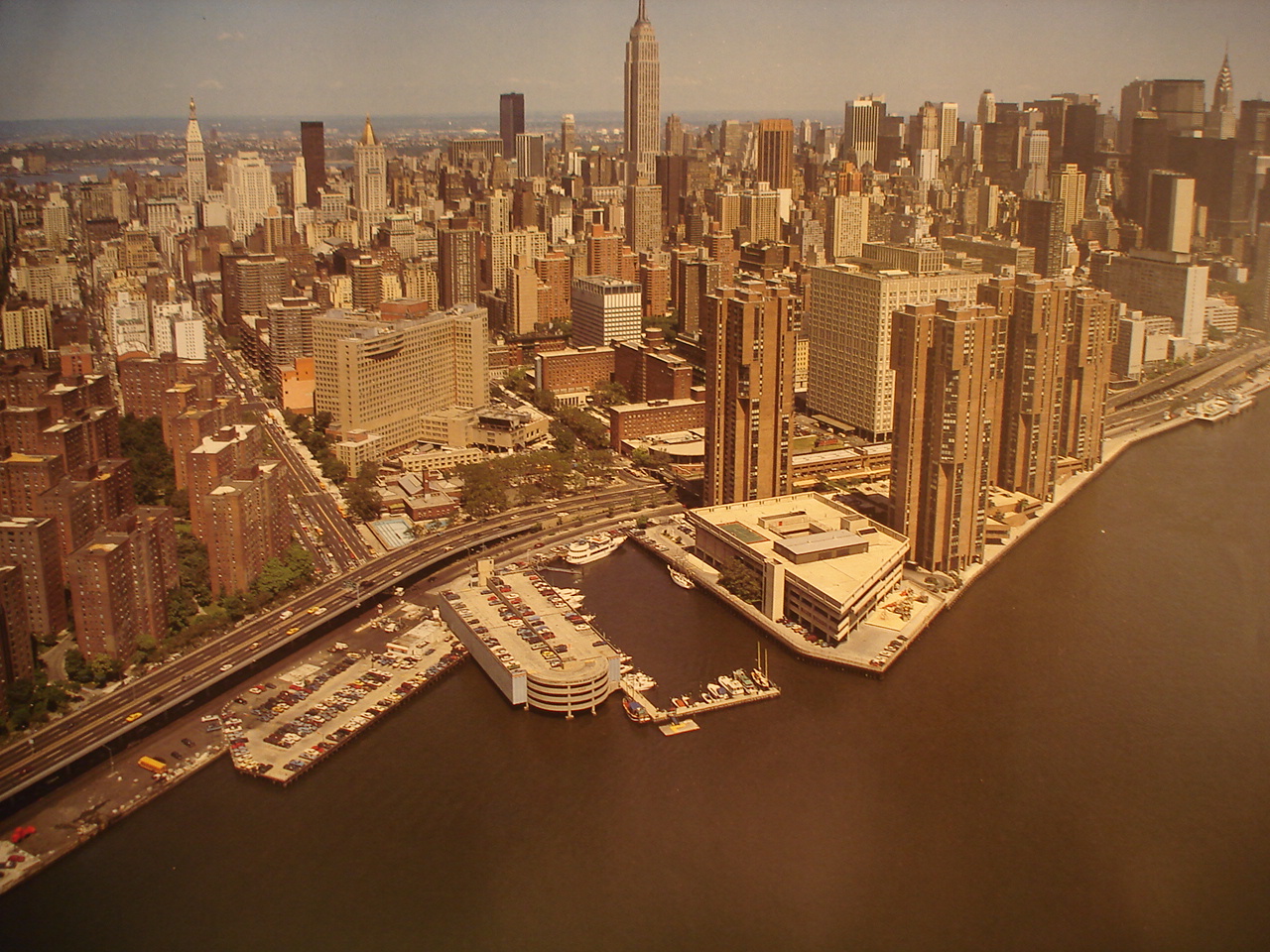 NEW YORK IN THE MODERN ERA
#68 New York City Marathon (1970 The first marathon)
#350 The World Trade Center in the 1970s (1973 Both towers open)
#104 CBGB & OMFUG (1973 Hilly Kristal opens club)
#43 Studio 54 (1977 Disco opens)
#5 Blackout (1977 Blackout occurs)
#214 Bronx Trilogy: The Bronx Was Burning (1977 Game 2 of the World Series at Yankee Stadium)
#255 The Rescue of Grand Central (1978 The fate of Grand Central heads to the Supreme Court)
#248 Sitting Down with Roz Chast (1978 Chast begins working at the New Yorker)
#123 TRUMP (1978 — Trump develops Grand Hyatt Hotel)
#210 Digital City: New York and the World of Video Games (1978 Space Invaders takes New York by storm)
#111 Subway Graffiti 1970-1989 (1980s – Koch cracks down on subway graffiti)
#151 The Limelight: Church, Nightclub and Mall (1983 Limelight Club opens)
#319 The Tale of Charging Bull and Fearless Girl (1987 Charging Bull created)
#393 Capturing History: An Interview With Ric Burns and James Sanders (1999 New York: A Documentary Film debuts)
Hurricane Sandy Update (2012)
#175 Bowery Boys 2014 Year In Review (2014)
#229 LIVE IN BROOKLYN! The Bowery Boys: Ten Years of Podcasting (2017)